CNA Classes & Programs in Oregon
Certified nursing assistants (CNAs) in Oregon perform vital patient care tasks in hospitals, long-term care facilities, and nursing homes including transferring and positioning patients, assisting patients with their daily activities such as eating, bathing and using the restroom, and taking and recording vital signs. Working under the supervision of licensed practical nurses and registered nurses, CNAs often use this entry-level position as a starting point to a lifelong career in nursing. In Oregon, CNAs earn an average annual salary of $32,190, according to the U.S. Bureau of Labor Statistics.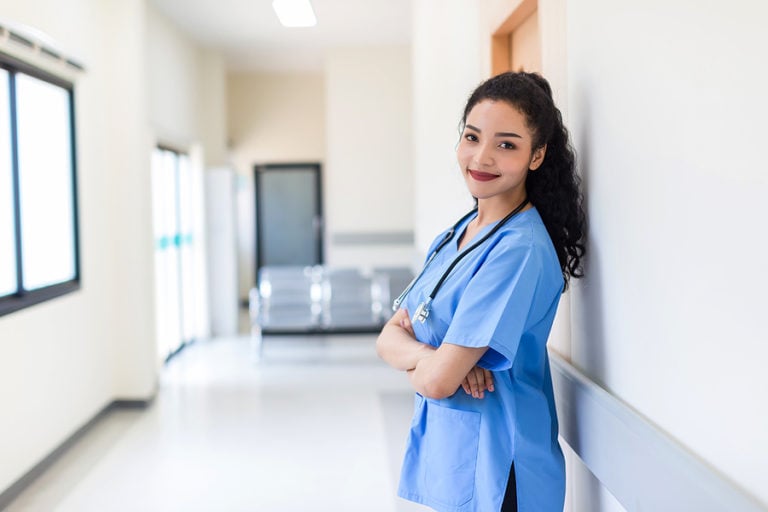 Choosing the Best CNA Programs in Oregon
The first step in becoming a CNA is to complete a state-approved training program and pass your state's certification exam. There are two levels of CNA certification in Oregon, the entry-level CNA I which requires a training program and certification exam, and CNA II for experienced CNAs to gain additional skills. Training programs are quick to complete and generally only require the applicant to be 16 years of age or older with a high school diploma as a recommended education level. For more information about CNA training admissions requirements, please visit our CNA Training Programs Admissions page.
Program Length: CNA training programs in Oregon must consist of at least 80 hours of classroom instruction and 75 hours of clinical practice. The time it takes to complete a training program can vary from school to school but generally, CNA training programs last between 6 and 12 weeks for CNA I certification. Training programs are offered in many community colleges, vocational schools and healthcare facilities across the state.
Program Cost: The cost of a CNA training program varies from school to school. In some cases, nursing homes or other healthcare facilities may offer low-cost or free training to students who sign employment contracts with them. As one example of program costs, the CNA training program at Pacific Healthcare Training in Central Point costs $995 for tuition. Additional costs not included in the tuition include criminal background check and fingerprinting fees, certification exam fee, American Heart Association CPR class fee, lab fees, uniform and stethoscope, and textbook costs.
Board Approved Programs: Each state has its own requirements for CNA certification, so it is important to select a program that is approved by your home state. In Oregon, the State Board of Nursing regulates training programs and maintains the state's CNA registry. For a full list of state-approved training programs, visit the Board of Nursing website. To learn more, check out the CNA certification requirements for Oregon.
Online/In-Person Options: In Oregon, some schools, including Caregiver Training Institute, offer a portion of the CNA training program in an online format. While lab work and clinical practice must be completed in person, the classroom training portion may be available online, which is particularly convenient for students who have busy schedules that make it unrealistic to attend classes in person.
2023 List of CNA Classes in Oregon
To get a feel for the CNA curriculum in Oregon, see our list of classes and courses available in the state:

Albany, OR
Astoria, OR
Baker City, OR
Bend, OR
Central Point, OR
Eugene, OR
Glide, OR
Gresham, OR
Happy Valley, OR
Hillsboro, OR
Klamath Falls, OR
Medford, OR
Newport, OR
Ontario, OR
Oregon City, OR
Portland, OR
Roseburg, OR
Salem, OR
The Dalles, OR
Troutdale, OR
Wilsonville, OR
Are we missing your school's program or need to update information listed? Please contact us so we can make the necessary changes.