CNA Classes & Programs in South Carolina
Certified Nursing Assistants/Aides (CNAs) play a crucial role in healthcare delivery, helping nurses and the rest of the healthcare team by answering call lights, recording patient vitals, and many other tasks. In South Carolina, the CNA field is growing, making it a great opportunity for those looking to start out in the medical field. With the average mean annual wage for a nursing assistant in South Carolina clocking in at $25,390 (according to the Bureau of Labor Statistics) and with room to move up in the field to medical assisting, registered nursing, and more, entering this career has numerous advantages.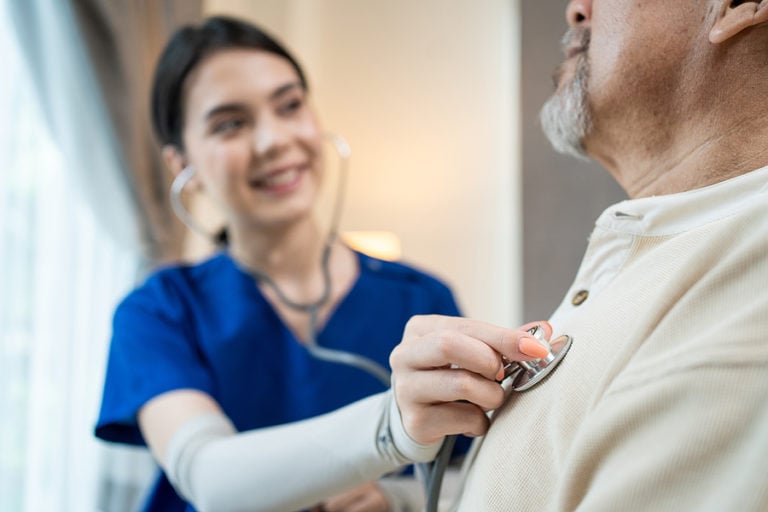 Choosing the Best CNA Programs in South Carolina
To become a CNA in the state of South Carolina, you must first enroll in a state-approved nursing assistant training program. These are typically found in community and vocational colleges across the state. A good training program can be worth its weight in gold, as healthcare facilities are eager to hire competent graduates from reputable schools. For more detailed information about enrolling in a CNA program in South Carolina, check out our CNA Training Programs Admissions page. To help you narrow down the schools that are right for you, take the following into consideration as you research available options:
Program Length: CNA training programs can vary in length from a few weeks to a few months. The curriculum will consist of classroom learning and clinical experiences. Make sure to check out some sample schedules to see what the days and hours are like. Some schools may accommodate night and/or weekend courses, but generally take longer to finish than those that run during regular daytime hours.
Program Cost: This is another area that can fluctuate wildly depending on the school. Students will need to factor in the expenses of tuition, textbooks, scrubs, and other supplies. Some schools include all of this in their program price, while others will list these costs separately. It's important to fully understand the scope of expenses before you settle on a CNA program. As an example, the CNA program through the Professional Medical Training Center, with locations in Florence and Conway, will run students roughly $835 for tuition and tuberculosis testing. This does not include additional required expenses, including books, exam fees, and more.
Online/In-Person Options: Some schools allow students to take the classroom portion of the program online. This type of delivery method is ideal for those who are continuing to work or have other obligations that might make attending a traditional on-campus program difficult. Keep in mind that clinical hours must still be attended in-person. For those who enjoy the collaborative environment of a classroom, a traditional in-person program may make more sense.
2023 List of CNA Classes in South Carolina
To get a feel for the CNA curriculum in South Carolina, see our list of classes and courses available in the state:
Anderson, SC
Beaufort, SC
Columbia, SC
Conway, SC
Denmark, SC
Florence, SC
Graniteville, SC
Greenville, SC
Greenwood, SC
Greer, SC
Inman, SC
Kingstree, SC
Lake City, SC
Lancaster,, SC
North Charleston, SC
Orangeburg, SC
Rock Hill, SC
Spartanburg, SC
Sumter, SC
Walterboro, SC
Are we missing your school's program or need to update information listed? Please contact us so we can make the necessary changes.