CNA Classes & Programs in South Dakota
Many South Dakotans looking to enter the healthcare industry choose to start their careers as a Certified Nurse Aide/Assistant (CNA). CNAs take direction from the medical team, including registered nurses, licensed practical nurses, and physicians to ensure efficient and effective patient care is delivered. In South Dakota, the average mean wage for a nursing assistant is $26,820 according to the latest available data from the U.S. Bureau of Labor Statistics. This rewarding career easily lends itself to upward mobility within the nursing sector, making it a great choice for those who want to dip their toe into the world of nursing.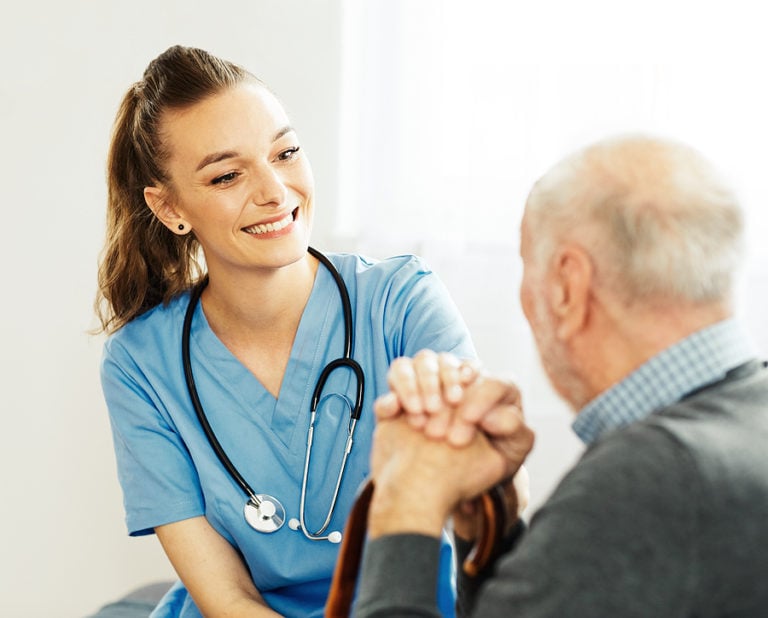 Choosing the Best CNA Programs in South Dakota
Those interested in becoming CNAs must first enroll in a nurse aide training program. Most commonly offered at community and technical schools, CNA programs train students to become proficient in tasks such as taking vitals, feeding and bathing patients, setting up medical equipment, and more. They can be found in cities all across South Dakota, and online offerings may also be a possibility. To learn more about CNA programs in South Dakota, visit our CNA Training Programs Admissions page. To choose the absolute best program, keep the following in mind as you research CNA schools:
Program Length: South Dakota CNA programs typically take 4-12 weeks to complete, depending on the school and whether the student chooses part-time or full-time attendance. Students will need to complete both a didactic (classroom) portion of the curriculum, as well as a hands-on clinical portion.
Program Cost: CNA program expenses can differ from school to school, so it's important to look at the total financial picture. Students typically need to cover the costs of tuition, books and supplies, and other mandatory fees. The one-semester CNA program at Southeast Tech in Sioux Falls runs approximately $710. This does not include additional expenses for background checks, drug screens, textbooks and supplies.
Board Approved Programs: Choosing a CNA program that has been approved by the state should be at the top of every prospective student's list. This ensures that the program is in-line with state-mandated guidelines and that there won't be any issues becoming certified to work in South Dakota. To learn more, check out the CNA certification requirements for South Dakota.
Online/In-Person Options: Students often have the option to complete the classroom portion of the CNA program online. This offers maximum convenience for busy working students and/or those who live in more rural areas. Check your school of choice to see if they offer online courses if you are interested in this program delivery method. Traditional, classroom-based programs are also available for those who enjoy a face-to-face learning environment.
2023 List of CNA Classes in South Dakota
To get a feel for the CNA curriculum in South Dakota, see our list of classes and courses available in the state:
Mission, SD
Nemo, SD
Rapid City, SD
Sioux Falls, SD
Watertown, SD
Yankton, SD
Are we missing your school's program or need to update information listed? Please contact us so we can make the necessary changes.