CNA Classes & Programs in Wisconsin
The elderly and chronically ill need thoughtful and compassionate nurses to help them with their daily medical and grooming needs. Entry-level Certified Nursing Assistants (CNAs) in Wisconsin can help these nursing home residents and improve their quality of life. Such healthcare professionals can earn nearly $29,000 on average per year (per the Bureau of Labor Statistics) and choose from a large number of job openings.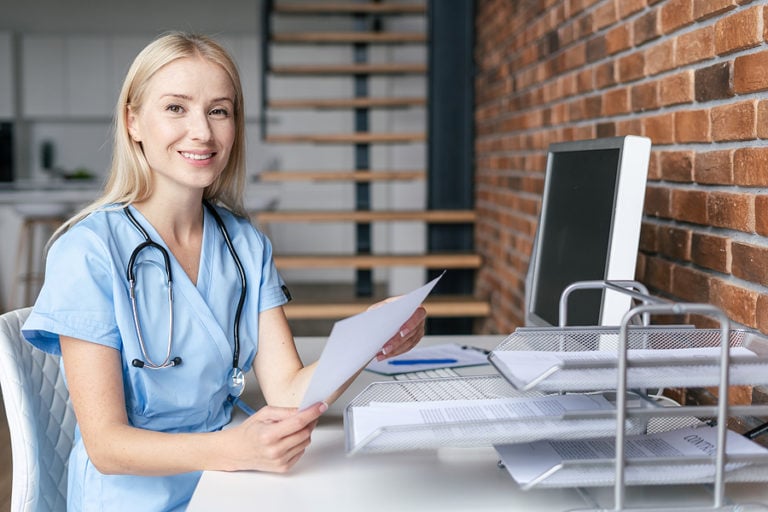 Choosing the Best CNA Programs in Wisconsin
Vocational schools, community colleges and career institutes across the state of Wisconsin offer instructional programs that ready graduates to sit for the CNA competency exam. When reviewing schools, be sure to choose one that is approved by the state. Other qualities to look for include low student to instructor ratios in the classroom, costs, school reputation, and testing pass rates of graduates. Learn about admission requirements by going to our CNA Training Programs Admissions page.
Program Length: Those seeking an entry-level career as Certified Nursing Assistants in Wisconsin are often surprised to learn that they can complete their training and launch their new roles in about a month and a half. This timeframe may not include the time it takes to schedule and complete the exam.
Program Cost: Tuition, fees, and testing costs for CNA programs vary across Wisconsin. Generally speaking, most cost $500 – $1000. Accelerated programs tend to cost more than standard paced ones. Some prospective employers or nursing homes will offer bonuses to students completing CNA programs if they agree to work for them upon graduation.
Board Approved Programs: CNAs in training must attend a state-approved program in order to qualify to sit for the competency exam. Graduates of non-approved programs will not be able list their name on the state registry of CNAs, which means they will be unable to find work. For more information, check out the CNA certification requirements in Wisconsin.
Online/In-Person Options: Assisting nursing home residents with their feeding, dressing, grooming and medication administration is all part of the job for CNAs in Wisconsin. The work CNAs perform is primarily hands-on and to date, this experience cannot be duplicated via online instruction. That's why most CNA training in Wisconsin is classroom and clinical based; online offerings are uncommon.
2023 List of CNA Classes in Wisconsin
To get a feel for the CNA curriculum in Wisconsin, see our list of classes and courses available in the state:
Adams, WI
Eau Claire, WI
Fond du Lac, WI
Green Bay, WI
Hayward, WI
Janesville, WI
La Crosse, WI
Laona, WI
Madison, WI
Marshfield, WI
Milwaukee, WI
Monona, WI
Oshkosh, WI
Racine, WI
Rhinelander, WI
Rice Lake, WI
Stevens Point, WI
Waukesha, WI
Wausau, WI
Wisconsin Rapids, WI
Are we missing your school's program or need to update information listed? Please contact us so we can make the necessary changes.