DNP Programs in Alaska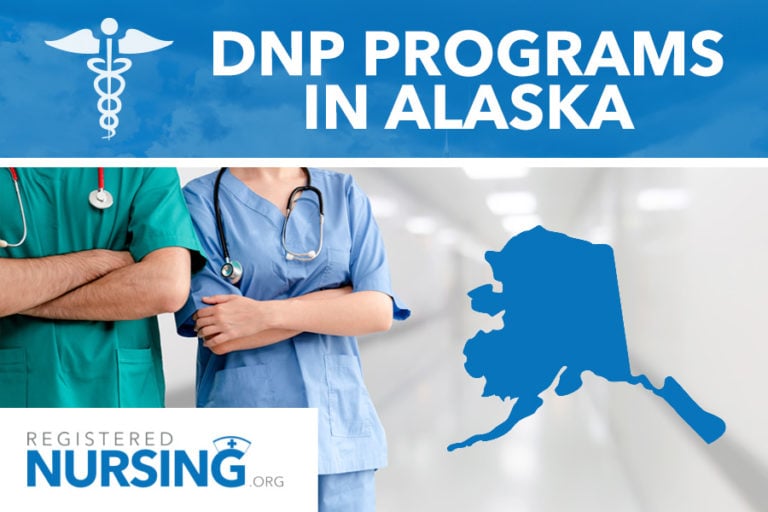 The highest educational credential in the field of nursing is the Doctor of Nursing Practice (DNP) degree. This degree type is considered 'terminal' since one cannot progress to another degree that's superior to it in the field. Nurses progressing through DNP degrees have the choice to concentrate their studies on advanced practice nursing or organizational/educational leadership. In clinical settings, nurses who have obtained their DNPs act as role models, problem solvers and advocates for RNs, CNAs and other medical professionals. Conversely, DNPs who have taken the organizational route tend to think about things on a macro level and focus their mental energy on systems and analysis.
Nurses with DNPs often work as nurse practitioners or university nursing faculty. They can also be found working in executive roles like nursing administration and leadership and as clinic or hospital directors.
The one and only DNP program in the state of Alaska requires students to have already completed their MSN degrees. DNP students build upon the knowledge they have already acquired in their advanced nursing practice master's degree program. Students are required to complete a total of 37 credits to obtain a DNP degree.
Choosing a Doctor of Nursing Practice Program
The state of Alaska has only one DNP program. It is offered by the University of Alaska Anchorage. Before applying to the University of Alaska Anchorage's DNP program, there are a few important aspects to consider.
What to Consider When Choosing a DNP Program
Program Cost— The total estimated cost for the complete program without living expenses is approximately $25,000. The per unit hour cost comes out to $675.
Online/Campus options—The post-graduate DNP program is offered to students in an online format with a mandatory on-campus orientation at the start of the program. There are part-time and full-time options, however, once admitted you must maintain continuous registration and can take no longer than one year to complete the capstone after completing all other coursework.
Accreditation– The Doctor of Nursing Practice program at the University of Alaska Anchorage is accredited by the Commission on Collegiate Nursing Education (CCNE) and the Accreditation Commission for Education in Nursing (ACEN).
Residency Options— Clinical practicum hours are included as part of the course curriculum through the University of Alaska Anchorage DNP program.
Admission & State Licensing or Certification Requirements
Because the University of Alaska Anchorage DNP program is the only one in the state of Alaska, all prospective nursing students will be required to have fulfilled the following requirements prior to matriculation:
Admission
Complete and submit the online UAA Graduate School application for the Post MS to DNP. This will require the following:

 A $75 application fee.
All official college/university transcripts for undergraduate and graduate degree coursework.
A copy of nursing licenses, including RN, APRN, etc.

Possess a Master's degree in nursing from an accredited nursing school with a nurse practitioner specialty
Minimum graduate GPA of 3.00 (B) on a 4.00 scale
Active unencumbered Advanced Nurse Practitioner license in the State of Alaska
National certification as an Advanced Nurse Practitioner
Engaged in practice as an Advanced Nurse Practitioner
Submit CV and Personal Goal Statement to the School of Nursing
Provide three professional letters of recommendation
All students must complete an interview process to be admitted to the program.
Certification
Like many other states, in Alaska, completion of DNP programs permit students to sit for certification exams in specialty areas including, but not limited to the following:
Licensing
Individuals who have successfully completed a DNP program will need to be licensed by the Alaska Board of Nursing. Requirements for licensure as an APRN include the following:
Completion of an application
Provide transcripts from all educational institutions
Submit verification of specialty certification
Pass a criminal background check
Complete fingerprinting
In order to be eligible for initial prescriptive authority, advanced practice nurses will need to demonstrate 15 hours of recent coursework in advanced pharmacology and drug therapy management.
Alaska BSN to DNP Program Options
The University of Alaska Anchorage is the only university in the state that offers a DNP program. Unfortunately, their DNP program is only available to students who have already earned their master's degree. Currently, there is no BSN to DNP track available in the state of Alaska.
Related Education Paths
Helpful DNP Agencies and Organizations in Alaska
List of Campus and Online DNP Programs in Alaska
Are we missing your school's program or need to update information listed? Please contact us so we can make the necessary changes.
Find DNP Programs By City: