Clinical Nurse Leader (CNL)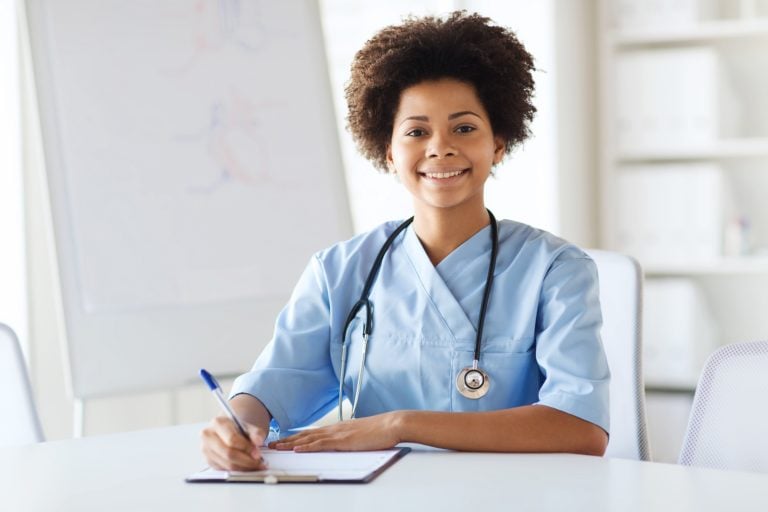 What Is a Clinical Nurse Leader?
A relatively new specialty, the clinical nurse leader (CNL) is a master's level educated nurse who is focused on improving the quality of care for a specific set of patients. Working together with a multi-disciplinary team of physicians, pharmacists, social workers, clinical nurse specialists, and nurse practitioners, the clinical nurse leader collects and evaluates treatment results and works to improve those outcomes by advocating for evidence-based change. Unlike the clinical nurse specialist, the clinical nurse leader has advanced knowledge in general medicine as opposed to one primary discipline, often manages other nursing staff, and serves as a resource to the entire care team.
Why Are Clinical Nurse Leaders So Important?
Clinical nurse leaders make it their mission to identify ways to improve the quality of patient care by consistently evaluating patient outcomes, assessing cohort risk, changing care plans, advocating for change, and mentoring fellow nurses. While other nurse leadership positions may focus on managerial or administrative tasks, the clinical nurse leader focuses on patient care.
According to HealthLeaders Media, units with clinical nurse leaders have experienced the following benefits:
Shorter patient lengths of stay
Lower readmission rates
Improvements in quality and patient safety, such as decreased infection and fall rates
Lower RN turnover
In addition, a core principle of the clinical nurse leader's role is identifying and implementing methods for reducing healthcare costs for the institution. In fact, as part of their 2015 survey of certified CNLs, the Commission on Nurse Certification found that the majority of clinical nurse leaders report often suggesting a cost-saving idea or process that improves institutional efficiency.
Becoming a Clinical Nurse Leader
RNs interested in becoming clinical nurse leaders require strong problem-solving and critical thinking skills, which are needed in evaluating patient results and making strategic changes to improve the quality of care for their patients. Unlike other leadership positions, the clinical nurse leader is a patient-facing role, so nurses should enjoy working with patients as well as mentoring their fellow nurses. In a relatively new specialty, clinical nurse leaders have the opportunity to shape a new career in nursing.
What Are the Educational Requirements for Clinical Nurse Leaders?
The clinical nurse leader is an advanced clinician with education at the master's degree level. Graduate-level education is necessary because the CNL must bring a high level of clinical competence and knowledge to the point of care and also serve as a resource for the entire nursing team. The MSN degree will prepare nurses for this advanced role.
In order to earn an MSN degree, nurses must first complete their Bachelor of Science degree and pass the NCLEX-RN exam. RNs may then advance to a Master's of Science Clinical Nurse Leader program, in which they will take advanced courses in pathophysiology, clinical assessment, and pharmacology. The final step in becoming a clinical nurse leader is obtaining the CNL certification from the Commission on Nurse Certification.
Find a clinical nurse leader program.
Educational Prerequisites
Requirements for clinical nurse leader MSN programs vary from school to school. The American Association of Colleges of Nursing lists the schools currently offering a clinical nurse leader MSN degree program. These schools offer a variety of program options, including online and traditional in-person classroom programs, as well as full-time and part-time courses of study.
In general, the curriculum for a clinical nurse leader program includes the following courses and clinical practice requirements:
Advanced Pharmacology
Advanced Pathophysiology
Quality and Safety in Healthcare
Research Methods & Biostatistics
Advanced Health Assessment & Diagnostic Reasoning
Advanced Ethical Issues and Decision Making
The Business of Healthcare
Evaluation of Health Outcomes
Advanced Epidemiology: Tracking Health & Disease
Are Any Certifications or Credentials Needed?
Most clinical nurse leader positions require a Clinical Nurse Leader Certification, offered by the American College of Colleges of Nursing's Commission on Nurse Certification. Eligibility requirements for this certification include an active RN license and completion of a master's or post-master's degree program in nursing with a focus on the clinical nurse leader role.
Read more about clinical nurse leader programs.
What Does a Clinical Nurse Leader Do?
A clinical nurse leader focuses on improving the quality of patient care outcomes. They work together with a patient's entire care team to collect and analyze treatment results, assess risk, stay up-to-date on the latest technologies and treatment innovations, and then incorporate that knowledge into improved systems for patient care. Clinical nurse leaders become team leaders, educators, and advocates for patients, continually seeking new ways to improve patient outcomes.
A typical job posting for a clinical nurse leader position would likely include the following qualifications, among others specific to the type of institution and patient population:
Master's degree level education, active RN license, and Clinical Nurse Leader Certification
Prior professional nursing experience with demonstrated leadership capabilities
Strong problem-solving and organizational skills needed to analyze treatment results and develop evidence-based systems and solutions
Strong interpersonal and communication skills for working with patients, caregivers, and medical teams on an ongoing basis, as well as experience managing a nursing team
To search and apply for current clinical nurse leader positions, visit our job boards.
What Are the Roles and Duties of a Clinical Nurse Leader?
Day-to-day job duties for a clinical nurse leader include the following:
Collect and evaluate treatment results and develop and implement evidence-based solutions to improve care and patient outcomes
Perform risk assessments and analyses to ensure patient safety
Responsible for ensuring cost-effective care and addressing barriers to efficiency
Remain up-to-date on relevant research to ensure patients benefit from the latest innovations in care
Serve as a generalized knowledge resource to the entire care team, often directly managing nursing staff
Provide direct patient care and patient education on an ongoing basis
Workplace Settings
There are a number of settings in which clinical nurse leaders work, including hospitals, private clinics, acute care institutions, and research facilities. They may also work as nursing educators in medical colleges, where they develop and implement educational programs aimed at improving the quality of patient care.
Clinical Nurse Leader Salary & Employment
In an emerging advanced nursing role, there is a significant demand for certified clinical nurse leaders who will improve patient safety and outcomes while providing cost-efficiency measures and nurse leadership for the institution.
Clinical nurse leaders can expect a median salary of around $75,000, with a range of $50,975 – $100,094. Geographical location is the biggest factor impacting a clinical nurse leader's salary, followed by career length and experience level.
While a fairly new specialty, many healthcare employers seek clinical nurse leaders who can create new policies and procedures to improve patient outcomes. Further, an increasing number of healthcare facilities are looking for nursing professionals with higher degrees, which means the demand for nurses with this type of education, including the clinical nurse leader, will likely rise.
Helpful Organizations, Societies, and Agencies