DNP Programs in Colorado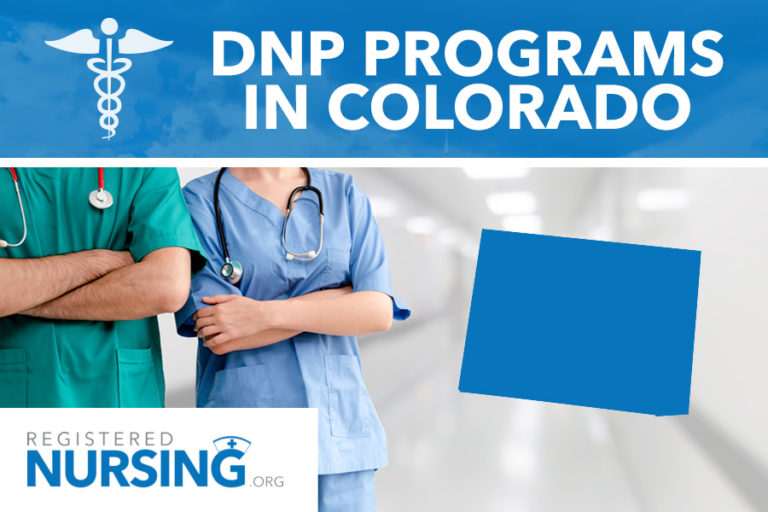 For some nurses, working at the bedside performing nursing tasks may be fulfilling, but some choose to expand their role to advanced-practice or executive-level nursing. To do so, nurses must obtain a doctoral degree for executive, administrative, or education-focused positions.
In recent years, there has been a push for advanced-practice nursing to implement a doctoral degree in nursing (DNP) as the minimum degree requirement. Doctoral programs in nursing are similar to master's degree programs but may involve concepts such as:
Leadership and management
Healthcare policy
Research
Project management
Choosing a DNP Program
Currently, Colorado has six accredited DNP programs. When choosing a school, there are a few things students should keep in mind.
What to Consider When Choosing a DNP Program
Cost-The average cost for DNP programs in Colorado is around $700 per credit hour. This figure only reflects the cost per credit for Colorado residents; out-of-state students may pay a higher rate depending on the school. This number also does not include the cost of books, supplies, or additional university fees.
Online Options– All the six DNP programs in Colorado offer online, or distance learning. Depending on the course of study, campus visitation may or may not be required. For example, the University of Northern Colorado offers online education, but those in the FNP track must visit the campus once a week.
Accreditation-All of the DNP programs in Colorado are accredited by either the Commission for Collegiate Nursing Education (CCNE) or the Accreditation Commission for Education in Nursing (ACEN). Students should ensure any nursing program is accredited by either one of these agencies to make surer strict educational standards are met.
Residency Options-For DNP tracks requiring supervised clinical hours, students need to find a preceptor in the chosen clinical area. Some schools assist with preceptor and residency placement. Required clinical hours may vary from 500 hours to 1000 or more, depending on the school and the specialty track. Post-graduation, DNP students that become advanced-practice nurse practitioners can look into fellowship or residency programs to further their hands-on skills. Colorado has three residency programs available.
One school in Colorado, Colorado Mesa University, offers an FNP DNP program open to both BSN nurses and post-master's degree nurses. The program involves 27 hours of core curricula as well as 36 hours of advanced-practice nursing as well as 1000 hours of supervised clinical practice and a capstone project. Their website has a fantastic information packet for prospective DNP nurses.
Admission & State Licensing or Certification Requirements
Admission
Depending on the program, admission requirements may include:
A BSN or MSN degree from an accredited nursing program
Current RN or APRN license
GPA of 2.75 or higher (requirement may vary between schools)
Ensure transcripts are transferred from all prior educational institutions
Letters of recommendation
Written statement of purpose/essay
Resume/CV
GRE or TOEFL scores may be required
Faculty interview
Certification
Nurses working as advanced-practice nurses (i.e., nurse practitioner, CRNA, nurse midwife, clinical nurse specialist, etc.) are usually required to become certified in their specialty. The American Nurses Credentialing Center (ANCC) is one nationally recognized certification agencies. Certification is required before applying for licensure in Colorado.
Licensing
Colorado is part of the nursing compact agreement, which means that nurses who practice in another compact state can submit license verification to the board to practice in Colorado. New graduate APRNs must complete the full licensing procedure. Requirements for licensure include:
Hold a current RN license
Provide proof of certification
Identify one population focus on the registry
Provide educational transcripts
Obtain liability insurance
Provide official state of residence
Complete the application and pay required fees
Complete the application for prescriptive authority
The Colorado Board of Nursing has additional licensing information based on resident status, multiple population foci instructions, etc. Applicants are urged to visit the website to determine specific requirements for their practice.
Colorado BSN to DNP Program Options
Five of the six DNP programs in Colorado offer a BSN to DNP track. Admission requirements may vary, so prospective students should research each school to determine specific requirements. Most programs offer this option for BSN nurses for nurse practitioner tracks. BSN to DNP can take three to four years to complete. The curriculum may vary slightly between schools, but core concepts may include:
Advanced physiology/ pathophysiology
Advanced Pharmacology
Ethics
Leadership
Healthcare policy
Fiscal management
Research
Regis University is one of the schools that offer a BSN to DNP track, and they have the core requirements for graduation listed on their website. They offer neonatal and family nurse practitioner tracks.
Related Education Paths
Helpful DNP Agencies and Organizations in Colorado
List of Campus and Online DNP Programs in Colorado
Aurora, CO
Denver, CO
Grand Junction, CO
Greeley, CO
Are we missing your school's program or need to update information listed? Please contact us so we can make the necessary changes.
Find DNP Programs By City: