DNP Programs in Delaware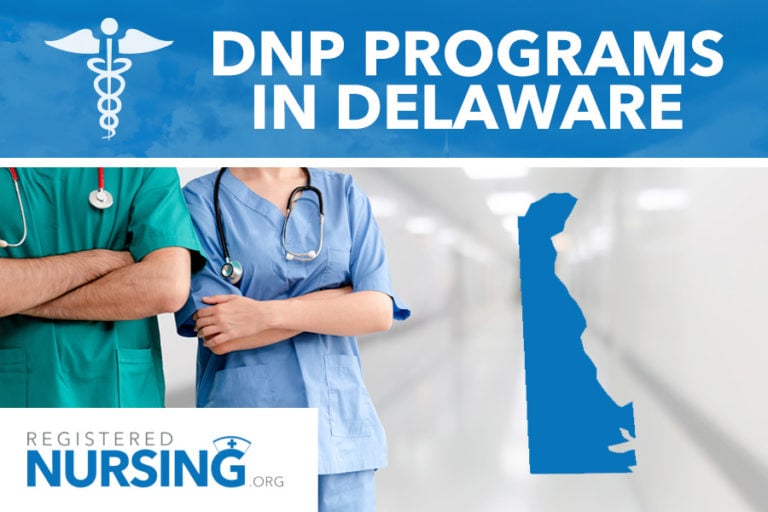 Many nurses are born leaders. Those that choose to advance their practice towards a more leadership-focused specialty of nursing can earn either a master's degree or a doctorate in nursing practice (DNP). DNP-prepared nurses may focus on concepts that are critical in today's healthcare arena, such as:
Organizational systems
Business management
Leadership in nursing
Policy-making
Additionally, DNP nurses can choose clinical practice tracks such as nurse practitioners, nurse anesthetists, or midwifery. Depending on their starting point, it may take students three to four years to complete a DNP program. Time to completion also depends on full or part-time status.
Choosing a DNP Program
Delaware has only one DNP program based in-state–Wilmington University. However, the neighboring states of Maryland, Pennsylvania, and New Jersey have over thirty available!
There are specific items students should consider when choosing a DNP program.
What to Consider When Choosing a DNP Program
Cost – Currently, the tuition at Wilmington University for DNP students is $617 per credit. This figure does not include additional university fees. Tuition is the same for both in-state and out-of-state students. The university has a detailed breakdown of cost and expenses on its website and includes financial aid information.
Online Option – The DNP program at Wilmington University is 100% web-based. No campus visitation is required. In fact, students have the choice of presenting their final DNP project virtually or in-person.
Accreditation – Wilmington University's DNP program is accredited by the Commission on Collegiate Nursing Education (CCNE). This ensures the curriculum has met national educational standards in nursing.
Residency Options – Wilmington University requires DNP students to complete 500 experiential engagement hours. This means that students must utilize nursing theory and apply it to professional nursing practice. University faculty provides oversight, and students work alongside a mentor. Following graduation, students may choose to apply for formal residencies or fellowships. While Delaware does not have one of these programs available, neighboring Maryland, Pennsylvania, and New Jersey have quite a few opportunities.
As stated earlier, Wilmington University is the only DNP program based in Delaware. Their webpage provides a wealth of information about the program. The program is 100% online which is beneficial for students who must work full-time. The program can be completed in as early as 28 months. The following tracks are offered:
Traditional DNP: Advanced Practice

For NPs, CNMs, CNSs, and nurse anesthetists

Traditional DNP: Leadership
Accelerated MSN to DNP: NP to DNP or Leadership to DNP
Combination NP/ DNP

FNP and DNP
Adult-Gerontology NP and DNP
Psychiatric/ Mental Health NP and DNP (available in 2018)
Admission & State Licensing or Certification Requirements
Admission
Admission requirements for the DNP program at Wilmington University vary depending on which track the student chooses. Requirements include:
Current APRN license
Proof of specialty certification
Current employment in an advance-practice setting (i.e., administration, executive leadership, etc.)
Transcripts from a CCNE accredited program
Resume/CV
Letter of recommendation
Completion of a 1,000-word essay
Certification
The DNP program at Wilmington University requires existing national certification as an admission requirement for those in the advanced-practice concentration. In the combined post-master's certificate and DNP option, graduates are eligible for APRN licensure as well as national certification.
For those interested in the DNP-Leadership concentration, national certification is recommended, but not required. Students who complete the DNP-Leadership track are eligible to become certified in:
Executive Nursing Practice
Nurse Manager and Leader
Nurse Executive-Board Certified
Nurse Executive, Advanced-Board Certified.
Licensing
Delaware is part of the Nurse Licensure Compact (NLC). This means that nurses and advanced-practice nurses can provide care to patients in other NLC states without having to obtain additional licenses. For first-time APRN licensing in Delaware, requirements include:
Master's degree (or higher)
Post-basic program certificate in a nursing specialty (with certification)
Practice in his/her clinical specialty for either 600 hours in the previous two years, or 1,500 hours over the last five years OR graduate from a specialty program within the last two years
Establish a collaborative agreement (if the applicant has practiced as an APRN for less than two years or fewer than 4,000 hours)
Provide proof of certification
Arrange for transcripts to be submitted
Complete the application for prescriptive authority (for controlled and non-controlled substances) if applicable
Complete the APRN application form and pay any applicable fees
Additionally, Delaware allows APRNs to apply for independent practice. Those approved do not need to establish a collaborative agreement. Delaware also allows APRNs to apply for a temporary license.
Delaware BSN to DNP Program Options
Unfortunately, Wilmington University's DNP program requires a minimum of an MSN for admission- no BSN to DNP option is available at the school.
Related Education Paths
Helpful DNP Agencies and Organizations in Delaware
List of Campus and Online DNP Programs in Delaware
Newark, DE
25 North College
Newark
,
DE
19716
(302) 831-1253
Are we missing your school's program or need to update information listed? Please contact us so we can make the necessary changes.
Find DNP Programs By City: