DNP Programs in Hawaii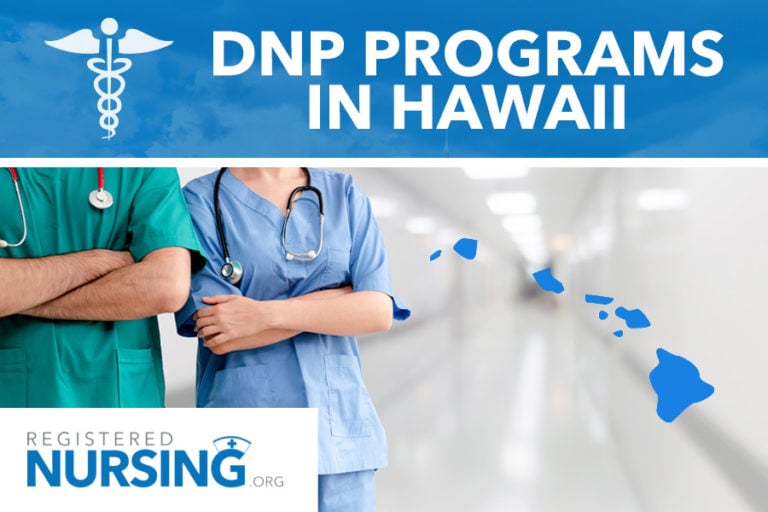 When one thinks of Hawaii, one might imagine sandy beaches and palm trees swaying in the warm breeze. However, as in any other state, hospitals and clinics in Hawaii are running full-force and are staffed with highly skilled nurses who use cutting-edge technology to care for patients.
Registered nurses or advanced-practice nurses may seek to further their degree and obtain a Doctor of Nursing Practice, or DNP. The DNP is considered the "terminal" degree for nurses, as there is no higher level of study in nursing. It demonstrates that the nurse is practicing at the highest level attainable and is a clinical expert in his or her specialty area. Nurses may either choose to practice as a nurse practitioner, nurse anesthetist, or midwife or may select an executive role in leadership or as a clinical nurse specialist.
Whether one is a resident or is looking to work and attend school in the state, there are several DNP opportunities available for nurses in Hawaii.
Choosing a DNP Program
Nurses returning to school to obtain a DNP may benefit from considering the following when selecting a DNP program.
What to Consider When Choosing a DNP Program
Cost– Two schools in Hawaii offer DNP degrees- The University of Hawaii at Manoa and the University of Hawaii Hilo. The current graduate tuition rate in Manoa is $650 per credit, compared to $484 at Hilo. These figures are for Hawaii residents only. Out-of-state tuition is higher than in-state. Additionally, these numbers do not include university fees or supplies.
Online Options– Both schools offer online and hybrid courses, but face-to-face campus visitation may be required. Clinical hours are also required.
Accreditation– Nursing programs must be accredited by either the Commission for Collegiate Nursing Education (CCNE) or the Accreditation Commission for Education in Nursing (ACEN). Both schools offering the DNP in Hawaii are accredited by the CCNE.
Residency Options– Both the University of Hawaii at Manoa and the University of Hawaii Hilo require a specific number of supervised clinical hours to graduate. For post-MSN students, the clinical hours completed in the MSN program may count toward the DNP hours necessary to graduate. Additionally, project hours are required.
The University of Hawaii at Manoa offers tracks for both BSN and MSN nurses. BSN nurses can choose the Adult/Gerontology primary nurse practitioner track or the family nurse practitioner track. MSN nurses can obtain a DNP through an organizational leadership track.
The BSN-DNP track is full time and designed to be completed in three years. 77 credits are required to graduate. 630 supervised clinical hours are needed along with 405 supervised hours to complete the DNP project.
The MSN track is 36 to 53 credits, plus 6-17 credits for the DNP project. It is designed to be completed in two years (part-time). Project hours vary depending on documented post-baccalaureate hours. Additionally, six-semester credits of graduate elective coursework are required. Electives must meet program requirements.
Admission & State Licensing or Certification Requirements
Admission
Both universities in Hawaii have similar admission requirements for the DNP program, which include:
Valid RN license
MSN or BSN degree
GPA of 3.0 or higher
Submit transcripts from prior educational institutions
Submit a personal and professional goal statement
Identify a practice-based problem of interest that may be applied to a future DNP project
Submit three letters of recommendations
Provide a resume/CV
Verification of APRN certification, if applicable
Interview with faculty
Possess malpractice insurance
Provide documentation of health clearance
Certification
Students enrolled in DNP programs in Hawaii are eligible to become certified in their specialty. MSN students who are already advanced-practice nurses do not need to be re-certified unless they changed their specialty track or are seeking dual-certification. Graduates should choose nationally recognized agencies such as:
In Hawaii, specialty certification is required for licensure.
Licensing
Graduates from DNP programs in Hawaii will need to apply for APRN licensure if they are not yet licensed or if their specialty track requires it for licensure (i.e., nurse practitioners, nurse midwives, CRNAs, etc.). Requirements for initial licensure in Hawaii include the following:
Current, unencumbered RN or APRN license (Hawaii or another state)
Completion of an accredited graduate-level nursing program
Current specialty certification
Ensure transcripts are sent from the graduate school directly to the board
Complete application and pay any fees
Complete a background check
Additionally, APRNs who will be prescribing medications (controlled and non-controlled substances) in their practice must meet the above requirements, plus:
Have, or are applying for a Hawaii APRN license
Must have completed one of the following within three years preceding the date of application:

At least 30 hours of graduate-degree advanced pharmacology as part of an accredited MSN/DNP program, to include advanced pharmacotherapeutics
At least 30 contact hours of advanced pharmacology (including pharmacotherapeutics) from an accredited university
At least 30 hours of continuing education from a recognized certifying agency which is approved by the Hawaii Board of Nursing. Must include advanced pharmacology and advanced pharmacotherapeutics related to the specialty area in which the APRN is to practice
Hawaii BSN to DNP Program Options
Both DNP programs in Hawaii offer BSN to DNP tracks. The University of Hawaii at Manoa offers tracks in Adult-Gerontology primary care or family nurse practitioner for those in the BSN-DNP entry point, while the University of Hawaii Hilo provides a family nurse practitioner track. The programs are designed to be completed in three years. Both tracks include courses in:
Advanced pathophysiology
Advanced Pharmacology
Leadership and role development
Principles of evidence-based practice
Healthcare policy
Primary care essentials
Additionally, the University of Hawaii Hilo includes courses in rural health.
Related Education Paths
Helpful DNP Agencies and Organizations in Hawaii
List of Campus and Online DNP Programs in Hawaii
Hilo, HI
School of Nursing
200 W. Kāwili St.
Hilo
,
HI
96720
(808) 932-7446
Honolulu, HI
1 Aloha Tower Drive
Honolulu
,
HI
96813
(180) 854-4020 x0
2528 McCarthy Mall, Webster Hall
Honolulu
,
HI
96822
(202) 887-6791
Are we missing your school's program or need to update information listed? Please contact us so we can make the necessary changes.
Find DNP Programs By City: