Nurse Practitioner Schools in Hawaii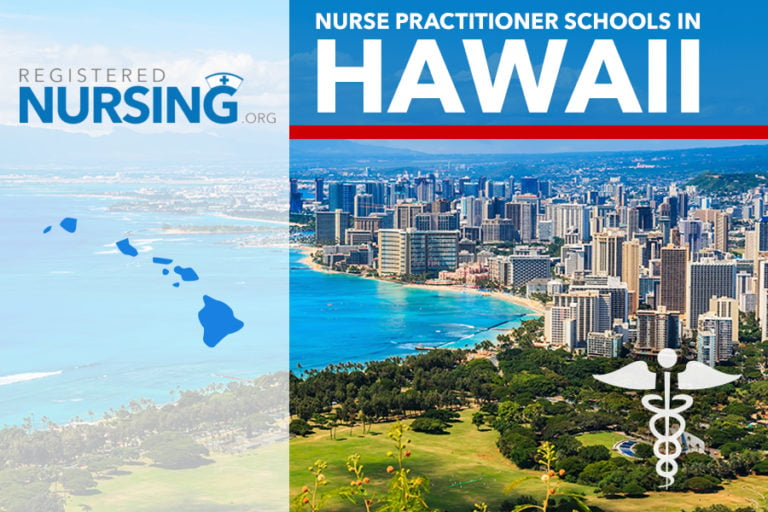 For licensed registered nurses looking to take their nursing career to new heights in the state of Hawaii, becoming Nurse Practitioner is certainly one way to do so. Like most of the other states in the United States, becoming a Nurse Practitioner in the state of Hawaii also requires a registered nurse (RN) to obtain either a Master of Science in Nursing (MSN) or a Doctorate of Nursing Practice (DNP). Individuals who have achieved these advanced nursing degrees will have demonstrated an exceptional level of both academic knowledge and clinical mastery of their specialty field.
Those who choose to complete a Master of Science in Nursing (MSN) will end up specializing in areas like women's health, psychiatry, acute/primary care in pediatric or adult-gerontology, family practice, among others.
The apex or highest level of nursing education resides with a Doctorate of Nursing Practice (DNP). This degree program can only be completed after a nursing student has completed his or her BSN or MSN degree.
Choosing a Nurse Practitioner Program
There are some important factors that a prospective nurse practitioner should seriously take into account when choosing which college or university program to attend. Important factors include:
Accreditation— Nursing education institutions in the state of Hawaii are accredited by the Commission of Collegiate Nursing Education (CCNE). This accrediting organization is a sovereign agency whose primary aim is to contribute to the both the maintenance and improvement of the overall health of the public. CCNE seeks to ensure the value and integrity of baccalaureate, graduate, and residency programs in nursing.
Program cost—Those seeking to earn their MSN in the state of Hawaii can expect to pay somewhere between $1,390 to $1,452/credit unit hour for in-state students and $1,896/credit hour for out-of-state students.
Masters to DNP programs in the state of Hawaii will cost students paying in-state tuition $1,452/credit hour while students paying out-of-state tuition will pay around $1,896/credit hour
Program length—Students who have already obtained bachelors degrees in nursing, who wish to earn their MSN can expect to finish in a year if attending full-time, and two years if attending part-time. Furthermore, students who have already obtained a BSN, who wish to go on and earn their DNP can expect to do so in three years if they are enrolled as full-time students. Students who have already obtained an MSN, who seek to obtain a DNP, can expect to complete the program in two years if studying part-time.
Online VS Traditional Campus Options—Most of the advanced nursing programs offered in the state of Hawaii use both online and traditional classroom mediums in their approach.
Admissions Requirements
For individuals who seek enrollment in the MSN programs, they should meet the following requirements:
The RN to MSN pathway offers Registered Nurses without a Bachelor's degree in nursing (i.e., those with nursing diplomas or Associate's degrees in nursing) to transition into the MSN program. Students are granted conditional admission status to the MSN program until a set of core undergraduate bridge courses have been completed with a 3.0 GPA.
Applicants to the BSN to MSN programs should hold a Bachelor of Science in Nursing degree from a nationally accredited nursing program in the US (or an international program that has been analyzed and approved by the university) with an undergraduate GPA of 3.0 or higher
Applicants to the RN to MSN program should hold a nursing diploma or Associate's degree in nursing. Based on transcript evaluation, and clinical experience, prospective students entering the program might be obligated to complete up to seven bridge courses and maintain a 3.0 cumulative GPA on those courses before being allowed to transition into the actual MSN courses.
For individuals who seek enrollment in the DNP:
Be a licensed registered nurse (RN) with a bachelor's degree in nursing (BSN)
Be a licensed registered nurse (RN) with an associate degree in nursing and a non-nursing bachelor's degree
RNs with a master's degree (MSN
Hawaii Nurse Practitioner Agencies and Organizations
Schools That Offer Nurse Practitioner Programs in Hawaii
In the state of Hawaii, there are only two accredited university nursing programs. As a result, there are very few options for MSN or DNP programs in the state. Both college nursing programs offer students the ability to complete didactic credit hours online. One of the programs uniquely provides a track which allows RNs who have only obtained their ADN, to earn their MSN without first obtaining a BSN.
Honolulu, HI
Graduate Certificate ProgramsMSN Programs
1 Aloha Tower Drive
Honolulu
,
HI
96813
(180) 854-4020 x0
2528 McCarthy Mall, Webster Hall
Honolulu
,
HI
96822
(202) 887-6791
Are we missing your school's program or need to update information listed? Please contact us so we can make the necessary changes.