DNP Programs in Illinois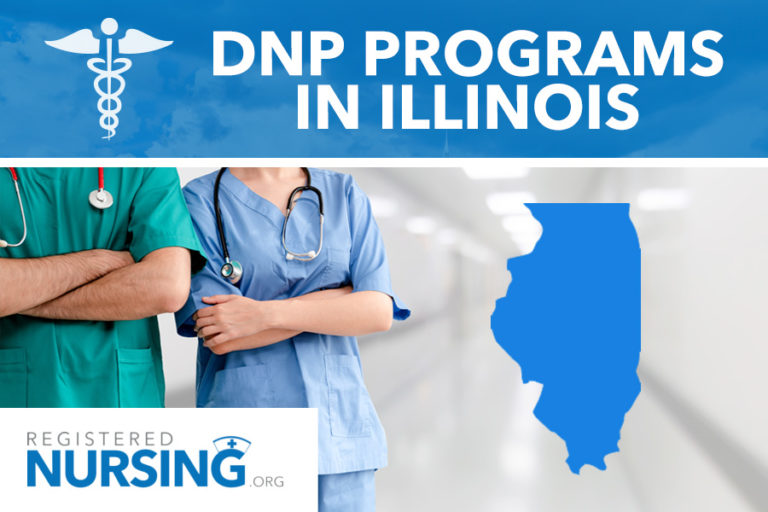 The terminal degree type within the field of nursing is the doctor of nursing practice (DNP) degree. The DNP degree is considered 'terminal' because it's the highest ranking degree type within nursing education and in the field. Depending on the pathway a nursing student chooses to take, DNPs can prepare them to work either in organizational/educational settings or in clinical settings.
Depending on the state and depending on the university program, BSN to DNP students will be expected to successfully complete 65 to 95 unit hours along with a number of supervised clinical clerkship hours to be awarded the degree. Most MSN to DNP programs will expect students to complete at minimum 39 unit hours to earn the degree. Depending on the prospective students starting place prior to matriculating (i.e. BSN or MSN), the amount of time it will take to complete a DNP program will vary. In most cases, a full-time BSN to DNP program will take most students approximately three to four years to complete, whereas a full-time MSN to DNP program takes only two years.
Core competencies to be mastered by students during DNP programs will include:
Advanced pharmacology
Health and Physical Assessment
Clinical Research for Advanced Practice Nursing
Quantitative Research Methods and Evidence Based Practice
Public Policy
Choosing a Doctor of Nursing Practice Program
The state of Illinois offers eleven different DNP programs. There are a few important factors to consider before applying.
What to Consider When Choosing a DNP Program
Program Cost— Tuition costs for DNP programs in Illinois vary. For in-state students, prices can range from $950 to $1,100 per unit hour. For out-of-state students, DNP programs will cost around $1,200 to $1,500 per unit hour. Online DNP programs will typically cost students anywhere from $850 to $1000 per unit hour regardless of whether they are in-state or out-of-state.
Online Campus options—
Accreditation— DNP programs in Illinois are accredited by the Commission on Nursing Education (CCNE).
Clinical Residencies—Residencies or fellowships are a stage in a nurse practitioner's clinical education where they provide care to patients under the supervision of either a physician or another nurse practitioner, while being paid a salary. Options in the area include:
Admission & State Licensing or Certification Requirements
Admission
Although admission requirements to DNP programs in Illinois will vary from university to university, generally, to be accepted for admission to most programs in the state, candidates must meet the following prerequisite requirements:
Be in possession of an unencumbered RN license
Possess a BSN or MSN degree issued by a CCNE or ACEN accredited program
Minimum of two years of professional nursing practice as a Registered Nurse (RN)
Have maintained a 3.0 grade point average, based on a 4.0 system in either undergraduate or graduate degree programs
Provide academic transcripts
Write a Statement of Purpose
Pass a drug and background test
Provide resume or curriculum vitae (CV)
Verification/documentation of clinical hours
Provide two letters of recommendations from professions with graduate level education
Certification
Accredited DNP programs in the state of Illinois allow successful students to sit for certification upon completion of programs. DNP tracks offered at universities in Illinois allow students to become certified in the vast majority if not all advanced practice nursing specialty disciplines.
Licensing
Illinois advanced practice nurses are licensed by the Illinois Department of Financial and Professional Regulation (IDPR). Becoming licensed as an APRN requires the following:
Complete an application
Pass a criminal background check
Provide transcripts from all educational institutions
Submit proof of all clinical hours worked during your graduate studies, as well as any other clinical experiences acquired
Submit verification of specialty certification
Complete fingerprinting
Apply for prescriptive authority
Illinois BSN to DNP Program Options
Six universities have programs that offer BSN to DNP pathways in the state of Illinois:
University of Illinois at Chicago, Chicago— Post MSN and BSN-DNP options
Southern Illinois University Edwardsville, Edwardsville— Post MSN and BSN-DNP options
Rush University, Chicago— Post MSN and BSN-DNP options
Loyola University Chicago, Maywood— Post MSN and BSN-DNP options
DePaul University, Chicago— Post MSN and BSN-DNP options
Chamberlain College of Nursing, Downers Grove— Post MSN and BSN-DNP options
Related Education Paths
Helpful DNP Agencies and Organizations in Illinois
List of Campus and Online DNP Programs in Illinois
Chicago, IL
DeKalb, IL
Decatur, IL
Edwardsville, IL
Joliet, IL
Normal, IL
Peoria, IL
Rockford, IL
Romeoville, IL
Springfield, IL
Are we missing your school's program or need to update information listed? Please contact us so we can make the necessary changes.
Find DNP Programs By City: