DNP Programs in Massachusetts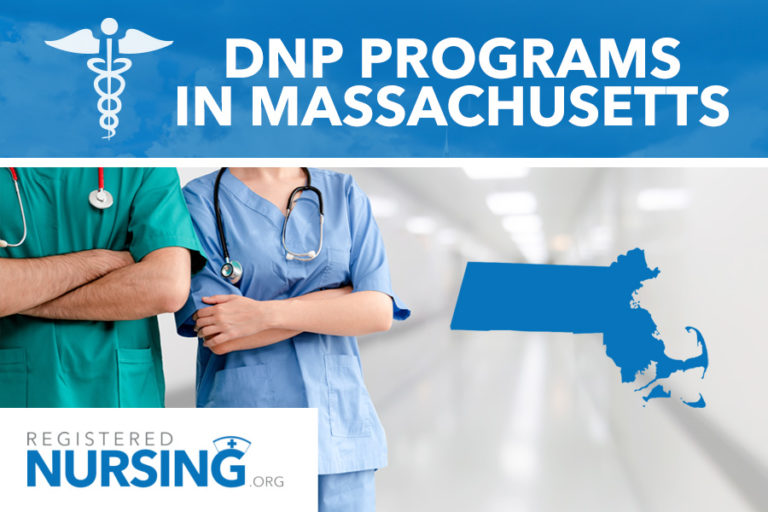 Nurses looking to explore careers in advanced-practice nursing can work at the bedside as nurse practitioners, nurse midwives, or nurse anesthetists. They can also seek careers in technology, administration, and leadership. For both advanced-practice roles, earning a Doctor of Nursing Practice (DNP) demonstrates that nurses are clinical experts in their field.
The DNP is a terminal degree, meaning there is no higher degree for registered nurses to earn. It is the step after obtaining a master's degree. DNP core curriculum includes courses in:
Evidence-based practice
Organizational leadership
Healthcare policy
Information systems/ technology
Preventive health/Population Health
Choosing a DNP Program
Whether a nurse holds a BSN or an MSN, returning for a doctorate is a significant step in one's career, and selecting a DNP program requires research. However, there are a few things that may serve as a starting point for prospective students.
What to Consider When Choosing a DNP Program
Cost– The average cost of DNP tuition in Massachusetts is around $1200 per credit. This figure is for tuition only- most schools have additional fees such as registration and graduation fees, as well as added expense for supplies. Out-of-state tuition is also higher.
Online Options– Most DNP programs operate with the understanding that most students work while earning a higher degree. Because of this reason, the DNP schools in Massachusetts have distance learning options. The majority are "hybrid" courses, meaning students do much of the work online, but also must attend classes once or twice a month. Some have weekend "intensives" to accommodate students better. In general, most MSN-DNP tracks have a higher level of online options available.
Accreditation– All nursing programs must have the proper accreditation to ensure the highest educational standards are met. Nursing schools need to be accredited by either the Accreditation Commission for Education in Nursing (ACEN) or the Commission for Collegiate Nursing Education (CCNE). Massachusetts has ten accredited schools- nine of which are accredited by the CCNE, and one with ACEN.
Residency Options– DNP students in advanced-practice nursing tracks must complete at least 1000 hours of supervised clinical hours before graduation. Massachusetts has a wealth of teaching hospitals around, and there are many options for DNP students. Students pair up with practicing physicians or advanced-practice nurses, and many schools offer assistance in finding a mentorship. Additionally, Massachusetts offers many fellowship options for advanced-practice nurses following graduation which helps to further their education or specialty.
The University of Massachusetts Amherst has a DNP program that is available for both BSN and MSN nurses. It was one of the first online programs in the country, and the curriculum is 100% online. The specializations nurses can choose from include:
Family Nurse Practitioner
Adult/Gerontology Nurse Practitioner
Psychiatric Nurse Practitioner
Public Health Nurse Leader
Post-MS DNP completion
Students complete the foundation courses in the first 1-2 years, then branch into their specialty areas. Following graduation, students can sit for certification exams (if applicable).
Additionally, for ADN nurses, the University of Massachusetts Amherst offers an online RN to BSN as well as accelerated BSN program.
Admission & State Licensing or Certification Requirements
Admission
Admission requirements may vary and is dependent on the school as well as the student's entry point (i.e., BSN or MSN). Requirements may also vary depending on the specialty track of interest. A generalized list of admission requirements may include the following:
Valid Massachusetts RN or APRN license
BSN or MSN degree from an accredited school
Submission of transcripts from all educational institutions attended
GPA of 3.0 or higher (may vary between schools/programs)
Completion of a statistics course
Provide letters of recommendation
Resume/CV
Written statement of purpose/other writing samples
Interview
Certification
DNP graduates in Massachusetts who have completed an advanced-practice specialty track are eligible to sit for a certification exam. Nurses can become certified in many specialty areas, including:
NP specialties (i.e., Adult/ Gerontology, Pediatrics, Women's Health, Psychiatric-Mental Health)
Midwifery
Nurse Anesthesia
Emergency care
Clinical Nurse Specialist
Public Health
In many states, specialty certification is required for licensure, and Massachusetts is one of those states.
Licensing
The Massachusetts board of nursing specifies requirements for initial APRN licensure, to include:
Current RN licensure
Ensure transcripts are sent to the board from the DNP school

Transcripts must indicate that the program prepared the applicant to practice as an APRN in the specialized clinical category in which he or she is applying

Submit proof of graduate level courses in:

Pathophysiology
Advanced Physical Assessment
Pharmacotherapeutics

Evidence of national certification
Complete application and pay any necessary fees
Additionally, once APRNs are licensed in Massachusetts, they may apply for prescriptive authority. Requirements for this step include:
Register for the Massachusetts Controlled Substances Registration
Establish prescriptive practice guidelines (written) with a supervising physician
Enroll in a prescription monitoring program through the Massachusetts Department of Public Health
Complete education requirements (as outlined on the website)
Apply for DEA registration
For more information, Massachusetts APRNs are advised to visit the board's website – there are many helpful links to help get started with prescriptive authority.
Massachusetts BSN to DNP Program Options
Of the ten accredited DNP programs in Massachusetts, seven offer BSN to DNP options, making Massachusetts a fantastic place for BSN nurses to earn the highest degree in nursing. One school, Regis College, offers both online and campus BSN to DNP options. There are five tracks available to choose from, including:
Adult/ Gerontology nurse practitioner
Family nurse practitioner
Psychiatric-Mental Health NP
Women's Health NP
Pediatrics NP
Coursework is 76-79 semester hours, which may take four years to complete if attending full-time.
While many BSN to DNP programs offer nurse practitioner tracks, some schools may provide tracks in informatics or public health as well.
Related Education Paths
Helpful DNP Agencies and Organizations in Massachusetts
List of Campus and Online DNP Programs in Massachusetts
Amherst, MA
Boston, MA
Chicopee, MA
North Worcester, MA
Weston, MA
Are we missing your school's program or need to update information listed? Please contact us so we can make the necessary changes.
Find DNP Programs By City: