DNP Programs in Minnesota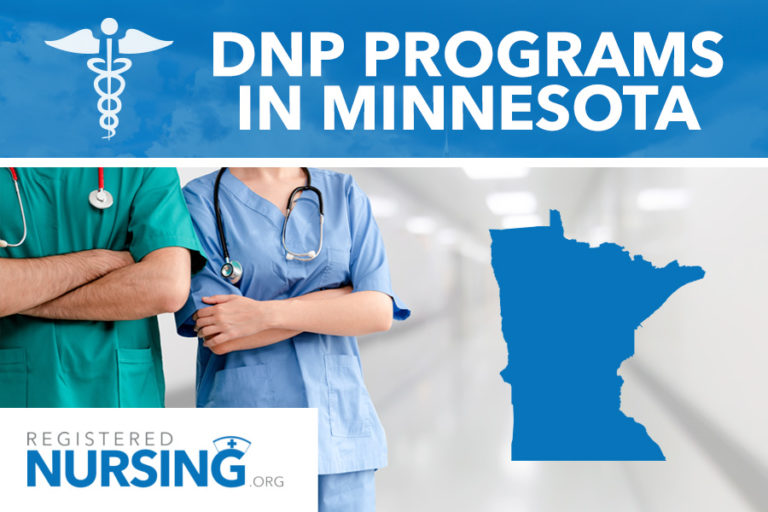 Earning a Doctor of Nursing Practice (DNP) indicates nurses have achieved the highest level of clinical expertise in their field. DNP programs may take from two to four years to complete, depending on the entry point (i.e., post-baccalaureate or post-master's degree). Typically, DNP programs include courses in:
Advanced pathophysiology and pharmacology
Advanced-practice role preparation
Leadership
Healthcare policy
Biostatistics
Additionally, DNP programs include a project on systems improvement and change.
A DNP is different from a Ph.D. in that doctoral nurses have more of a clinical focus, while PhDs in a more research and education-based focus.
Choosing a DNP Program
There are many considerations to keep in mind when choosing a DNP program In Minnesota. The state has eight programs to choose from. As a starting point, prospective students should factor the following in their decision.
What to Consider When Choosing a DNP Program
Cost– The average cost to attend a DNP program in Minnesota is around $900 per credit. However, some schools may charge a higher tuition rate for non-Minnesota residents. Also, this figure does not include the required university fees or supplies.
Online Option– Of the eight DNP programs in Minnesota, five offers online or hybrid options. Many schools recognize that DNP students are probably already working as nurses or APRNs and strive to make the program as convenient as possible. If campus visitation is required, it is usually on weekends and very minimal (i.e., once or twice a semester).
Accreditation– As stated earlier, there are eight DNP programs in Minnesota- all of which are accredited by the Accreditation Commission for Education in Nursing (ACEN) or the Commission for Collegiate Nursing Education (CCNE). Seven are approved by the CCNE, and one by the ACEN.
Residency Options– DNP students typically must complete around 1,000 hours of supervised clinical practice to earn the degree. However, some students may apply clinical hours completed in their MSN program towards the required DNP hours. Each school has variable requirements for this, so students are encouraged to visit each school's website to determine specific requirements. Clinical practice is usually out in the community with a physician or APRN mentor. Many schools offer placement assistance and mentorship pairing as well. Additionally, DNP students have the option of continuing residency after meeting the required hours needed for graduation. Minnesota has four post-graduation residency programs for nurse practitioners, three of which are at the Mayo Clinic.
The University of Minnesota offers both BSN and MSN students the opportunity to earn a DNP. The programs are online, and minimal campus visitation is required. For example, students are required to come to campus for only four days each semester. They have many courses of study available including tracks for APRN, Leadership, CNS, Midwifery, and nurse anesthesia.
Admission & State Licensing or Certification Requirements
Admission
Admission to DNP programs in Minnesota may vary depending on the school and entry point. BSN students may have slightly different requirements than MSN students. General admission requirements may include:
Current RN or APRN license
BSN or MSN degree from an accredited university
GPA of 3.0 or higher (specific requirement may vary)
GRE may be required, depending on the school
Submission of a resume/ CV
Provide an essay/ writing sample
Letters of recommendation
Proof of liability insurance
HIPPA training
Submit evidence of nursing experience
Interview with faculty
Certification
Specialty certification is often required for licensure, primarily for advanced-practice nursing. Nurse practitioners may become certified in family medicine, adult/gerontology, pediatrics, etc. Nurse midwives and nurse anesthetists must also obtain certification. Some states have lists of approved certification agencies, and the Minnesota Board of Nursing accepts the following:
Licensing
The Minnesota Board of Nursing recognizes for areas of APRN practice: Clinical Nurse Specialists, Certified Nurse Practitioners, Certified Nurse Midwives, and Certified Registered Nurse Anesthetists. A collaborative agreement is required for nurse practitioners and clinical nurse specialists for at least 2,080 hours. APRNs in Minnesota are also authorized to prescribe, dispense, and administer drugs, including controlled substances. However, a written prescribing agreement with a physician is not required.
For DNP graduates who are new to the APRN role, licensing requirements include:
Hold a current Minnesota RN license
Complete an accredited APRN program with education in:

One of the four recognized APRN roles (listed above)
One of the six recognized population foci-Family, Adult/Gerontology, Neonatal, Pediatrics, Women's Health, Psychiatric/Mental Health

Submit proof of current national certification, along with documentation of the certification being in good standing
Complete the Confirmation of Advanced Practice Registered Nurse Employment form
Report any criminal convictions and complete a background check
Minnesota BSN to DNP Program Options
Six of the eight accredited DNP programs in Minnesota offer a BSN-DNP option. The curriculum may vary depending on the specialty track and may take between three and four years to complete. While many programs offer online options, some campus visitation may be required along with the completion of a specific number of supervised clinical hours (usually around 1,000 hours). Tracks are mainly in the NP role, but some schools offer Leadership, Informatics, and Integrative Health roles as well.
The University of Minnesota offers a robust BSN-DNP program with twelve specialty tracks available:
Adult/Gerontology Clinical Nurse Specialist
Adult/Gerontology Primary Care NP
Family NP
Health Innovation and Leadership
Integrative Health
Nurse Anesthesia
Midwifery
Informatics
Pediatric Clinical Nurse Specialist
Pediatric Primary Care NP
Psychiatric/Mental Health NP
Women's Health NP
The University of Minnesota's BSN-DNP program is offered full-time only and can be completed in three years. A four-day campus visitation is required once per semester and includes core courses, enhancement programming, specialty courses, and advisor meetings.
Related Education Paths
Helpful DNP Agencies and Organizations in Minnesota
List of Campus and Online DNP Programs in Minnesota
Duluth, MN
Mankato, MN
Minneapolis, MN
Rochester, MN
St Paul, MN
St. Paul, MN
Are we missing your school's program or need to update information listed? Please contact us so we can make the necessary changes.
Find DNP Programs By City: