Nurse Practitioner Schools in Minnesota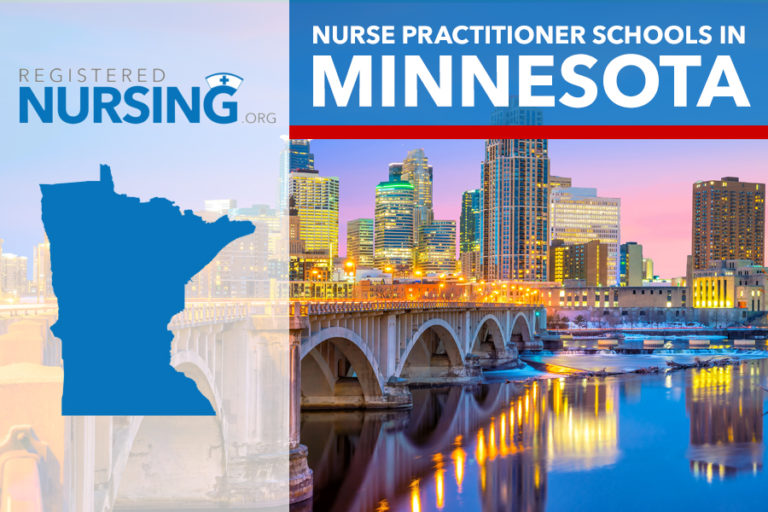 Minnesota state is known for its subzero temperatures in winter and beautiful warm summers. This mecca for business is increasing the population of Minnesota residents continuously. Due to this there are an increasing number of progressive nursing program developing. For individuals interested in obtaining a Master of Science in Nursing (MSN) or Doctor of Nursing Practice (DNP), Minnesota may be the perfect place.
Choosing a Nurse Practitioner Program
When choosing a nurse practitioner program, it is important to make sure you meet all of the application requirements and select the program that is best for you.
Admission Requirements
To enter a MSN program in the state of Minnesota, the requirements are as follows:
Undergraduate cumulative GPA of 3.0
Complete 5 of 9 prerequisite courses
May have non-nursing baccalaureate degree for some programs
Active, unrestricted RN license in the state of Minnesota for some programs
GRE test score
Essay, professional references and interview
To enter a DNP program in the state of Minnesota, the requirements are as follows:
Active, unrestricted RN in the state of Minnesota
Cumulative GPA of 3.0 or higher
BSN or MSN from accredited nursing program
No GRE required
Depending on specialty area, experience may be required working in that specialty
Essay, professional references and interview
There is a vast array of programs offered in Minnesota. The following list contains programs throughout Minnesota but most notably extensive is the Program at the University of Minnesota which offers 12 Doctorate of Nursing specialties alone.
Acute Care Adult/Gerontology Nurse Practitioner (AGACNP)
Primary care Adult/Gerontology Nurse Practitioner (AGPCNP).
Family Nurse Practitioner (FNP)
Nurse Anesthetist (CRNA)
Nurse Midwifery
Neonatal Nurse Practitioner (NNP)
Primary care Pediatric Nurse Practitioner (PNP)
Women's Health Nurse Practitioner (WHNP)
Psychiatric Mental Health Nurse Practitioner (PMHNP)
Nurse Educator
Nursing Informatics
Nursing Leadership/Management
Accreditation
Most programs in Minnesota are accredited by the Collegiate Nursing Education (CCNE) or the Accreditation Commission on Education in Nursing (ACEN) though it is important to check accreditation prior to applying for a program.
Program Length
In the state of Minnesota, a RN-MSN program is approximately 12-14 months. There are part time options as well that extend the length of the program. The route for an BSN-DNP is approximately four years and MSN-DNP is two to three years.
Program Cost and Credits
The average cost for MSN program is approximately $40,000 in total for a public university and $60,000 in total for a private university. The range per credit can be from $600-$1000 per credit.
MSN total credits: average 45 credits
DNP total credits: average 74 credits
Online options
The University of Minnesota which is well known in the state for having the most Nurse Practitioner specialties does not offer strictly online courses. Some courses have an online component as it is common to have courses with a percentage of classes online with infrequent campus meetings.
Schools That Offer Nurse Practitioner Programs in Minnesota
With many selections to choose from in Minnesota you can surely find a program that suits you best.
Duluth, MN
Minneapolis, MN
Rochester, MN
St Paul, MN
Are we missing your school's program or need to update information listed? Please contact us so we can make the necessary changes.