DNP Programs in Missouri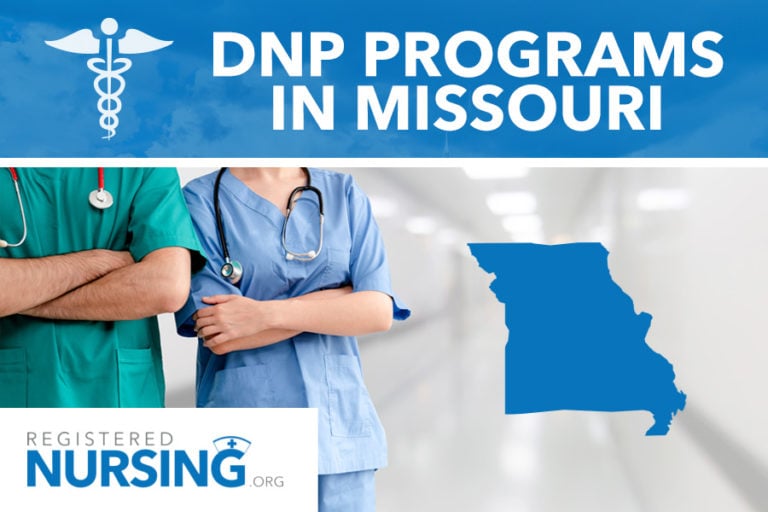 Nurses who earn a Doctor of Nursing Practice (DNP) demonstrate that they exemplify the highest level of clinical knowledge, leadership, and problem-solving in the field. Not only do they work as advanced practitioners, but they may also work in administrative and executive level roles to assist in creating change and innovation in nursing.
Earning a DNP also may lead to higher salaries for nurses.
DNP programs may take roughly one to four years to complete. Completion time is based on several factors. First, it is dependent on the nurse's entry point. BSN nurses obviously have a more prolonged educational path than a nurse who enters a DNP program with an MSN. Second, attending school part-time may lengthen the completion time.
DNP programs start with foundations in advanced-practice and DNP-level nursing, to include role preparation, advanced pathophysiology and pharmacology, epidemiology, organizational leadership, healthcare policy, and evidence-based research. Once the foundation courses are completed, nurses branch off into their tracks of interest such as:
Advanced-practice nursing (nurse practitioner, CRNA, midwifery, CNS)
Informatics
Nurse Leadership
Nurse Executive
Choosing a DNP Program
Missouri has seven accredited DNP programs based in the state. With many options to choose from, prospective students may not know where to begin when selecting a school. Below are some starting points to assist students in their decision.
What to Consider When Choosing a DNP program
Costs– The average cost to attend a DNP program in Missouri is around $600 per credit. However, there is a wide range of figures- from $298 to $1100 per credit. These figures do not represent the total cost- university fees and supplies are not included. Many schools offer financial aid options, so students are encouraged to visit each school's website to determine which program best fits their needs financially.
Online Option– All seven accredited DNP programs in Missouri offer either online or hybrid courses. Most schools recognize that nurses must often continue to work while in school, and they strive to make the programs as streamlined and convenient as possible. If campus visitation is required, many times classes are held on weekends or as "intensives" to limit the amount of time needed on campus.
Accreditation– Nursing programs must be accredited by the Accreditation Commission for Education in Nursing (ACEN) or the Commission for Collegiate Nursing Education (CCNE) to ensure the highest educational standards are met. In Missouri, the CCNE accredits seven DNP programs.
Residency Options– DNP students must complete a specified number of supervised clinical hours depending on their specialty track, usually around 1,000 hours. Students must also complete a DNP project, identifying a healthcare-related problem and proposing evidenced-based solutions. Students must find mentors in the community to achieve these requirements, although some schools assist with placement. Additionally, some states offer post-graduation residency/ fellowship programs to further clinical experience. For example, Children's Mercy Kansas City provides a fellowship for advanced practice nurses in Pediatric Hematology/Oncology.
Saint Louis University offers a DNP program for both BSN and MSN-prepared nurses. The program is online. However, BSN students must visit the campus four times, while MSN students must visit twice. BSN students may choose from five offered specialty tracks:
Adult/Gerontology Acute Care NP
Adult/Gerontology Primary Care NP
Family NP
Pediatric Primary Care NP
Family Psychiatric/Mental Health NP
Students must complete between 28 and 68 credits to graduate, along with around 1,000 clinical hours plus a DNP capstone project. Their website provides examples of previous capstone projects.
Admission & State Licensing or Certification Requirements
Admission
Admission into DNP programs in Missouri may vary between schools. BSN students have slightly different admission requirements than MSN students. Each school provides detailed admission requirements on their website. Requirements may include:
ADN, BSN, or MSN degree from an accredited program
Current RN or APRN license
GPA of 3.0 or higher (this may vary between schools or degree tracks)
Pass a criminal background check
Provide letters of professional reference
Essay/Goal statement
Liability insurance
CPR certification
Completion of a statistics course
Certification
In many states, specialty certification is required for licensure. Missouri allows APRNs to apply for licensure and register for the exam simultaneously. However, if the APRN does not pass the certification exam, they are no longer legally allowed to practice. Additionally, Missouri recognizes 22 APRN specialties in the state.
Examples of specialty certification include:
Nurse practitioner specialties

Adult/Gerontology (acute and primary care)
Pediatrics (acute and primary care)
Psychiatric/Mental Health
Family
Women's Health

Certified Registered Nurse Anesthesia
Midwifery
Clinical Nurse Specialist
Licensing
As stated earlier, certification and licensing can be done simultaneously. In Missouri, temporary licensure is also granted to new graduates only. BSN students who complete a DNP program are included in this group. Missouri has an in-depth publication on APRN licensing requirements, but general requirements include:
Current, unencumbered RN license in Missouri or another compact state
Complete application and pay any required fees
Provide evidence of completion of an advanced nursing degree program
Register for certification exams (if not yet certified)
Completion of advanced pharmacology education
Establish a collaborative prescriptive authority agreement with a physician (if applicable)
Missouri BSN to DNP Program Options
Five of the seven accredited DNP programs in Missouri offer BSN-DNP options. The University of Missouri-St Louis, for example, offers full or part-time plans of study for students entering the program with a BSN. Students can choose from the following tracks:
Adult/Gerontology NP
Family NP
Pediatric Primary Care NP
Pediatric Acute Care NP
Psychiatric/Mental Health NP
Women's Health NP
Leadership in Population Health and Healthcare Systems
The program is mainly online, but BSN-DNP students must attend six "intensives" on campus during the curriculum. A minimum of 70 credits and 600 residency hours are required to graduate and must be either direct or indirect patient care depending on the specialty track. For more information, the university has an excellent student handbook online as well as a detailed FAQ page.
Related Education Paths
Helpful DNP Agencies and Organizations in Missouri
List of Campus and Online DNP Programs in Missouri
Columbia, MO
Kansas City, MO
Saint Louis, MO
Springfield, MO
St. Louis, MO
Are we missing your school's program or need to update information listed? Please contact us so we can make the necessary changes.
Find DNP Programs By City: