Nursing Programs in Kansas City, MO
Nursing continues to be a promising and thriving career pathway, and Kansas City has plenty of educational opportunities for those who want to get on board. From entry-level to advanced practice, Kansas City schools have all the program types needed to take RNs where they want to go.
To get started in nursing or to advance your nursing career, check out our accredited program listings sections below: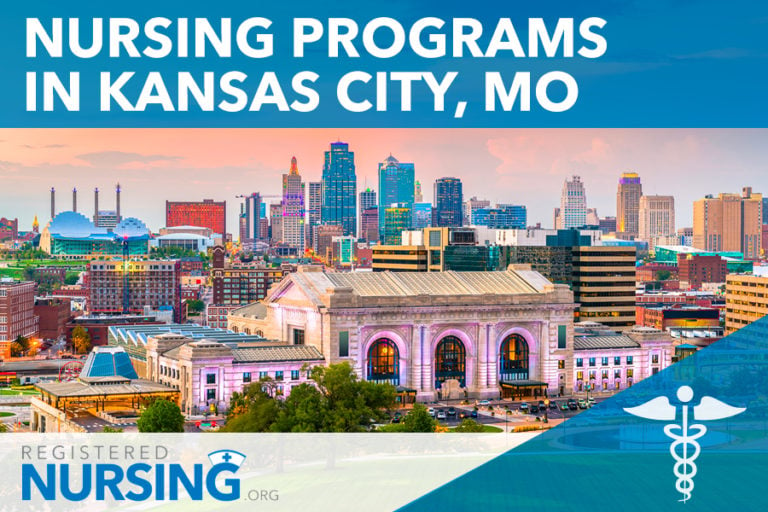 Entry Level ADN & BSN Programs in Kansas City, MO
For those starting from scratch to earn a nursing degree, Kansas City offers a few entry-level pathways. An Associate's Degree in Nursing (ADN) or a traditional Bachelor's of Science in Nursing (BSN) are perfect options for new students and don't require any prior nursing degrees or licenses.
LPN to RN Programs
Licensed practical nurses have experience working with patients on a daily basis and assisting them with their basic care needs such as feeding, bathing, and dressing. LPN to RN "bridge" programs take into account an LPN's training and experience and help them cross the bridge from LPN to associate's degree in nursing so they can further their careers as RNs. The one year LPN to RN program at Metropolitan Community College allows students to gain hands-on experience and professional instruction in the state-of-the-art Health Science Institute.
ADN Programs
The ADN is the most basic RN degree type, requiring just 2 years of study to complete. Students take courses in human anatomy and physiology, fundamentals of nursing, and more. Metropolitan Community College, for example, offers an ADN program at both its Penn Valley and Health Science Institute campuses. The program consists of 73-77 total credit hours and offers day and evening plans.
Direct-Entry BSN Programs
The 4-year bachelor's degree in nursing is increasingly becoming the educational standard in hospitals and many other healthcare facilities. Enrolled students learn concepts in population health nursing, pharmacology, and mental health nursing. William Jewell College offers a traditional BSN as well as an accelerated BSN for those who hold a bachelor's degree in another field.
Find out more about Missouri Accelerated BSN Programs.
Kansas City RN Program NCLEX-RN Pass Rates
Top Ranked Accredited Nursing Programs in Kansas City
Listed below are the top nursing schools in Kansas City based on our RegisteredNursing.org RN program rankings for Missouri out of 53 other accredited programs offered in the state:
Avila University - #19
Research College of Nursing - #13
St. Louis Community College - #7
University of Missouri-Kansas City - #5
RN to BSN/MSN Programs in Kansas City, MO
Bridge programs include both RN to BSN and RN to MSN programs. These shortened programs allow ADN or nursing diploma grads the ability to transfer previously earned credits towards a more advanced nursing degree type.
RN to BSN Programs
The RN to BSN pathway is ideal for nurses who wish to grow their practice, but need a flexible education program. The RN to BSN is often offered online, with full-time or part-time schedules available. For instance, Graceland University, located in Independence, offers an RN to BSN program that can be completed totally online.
Find out more about Missouri RN to BSN Programs.
RN to MSN Programs
Like the RN to BSN program, the RN to MSN pathway offers licensed RNs an accelerated route to a master's degree in nursing. Research College of Nursing offers an RN to MSN degree where students do not earn a BSN (some programs culminate in both a BSN and MSN degree). Most coursework in this program is able to be completed online.
Find out more about Missouri RN to MSN Programs.
APRN & Nurse Practitioner Programs in Kansas City, MO
Advanced nursing degrees allow RNs the opportunity to refine and specialize their practice. Options in Kansas City include the traditional MSN degree as well as a Doctor of Nursing Practice (DNP) degree. In addition to this, students have the option of specialized nurse practitioner tracks, including Pediatric Nurse Practitioner, Nurse Midwife, and many more.
MSN Programs
Open to those who have earned a BSN degree already, the MSN pathway can be completed in just 2 years of additional study. The University of Missouri-Kansas City offers multiple MSN pathways, including specialty tracks for Neonatal Nurse Practitioner, Nurse Educator, Women's Health Nurse Practitioner, and many more.
Find out more about Missouri Nurse Practitioner Programs.
DNP Programs
This terminal degree type, meaning the highest degree a nurse can hold, is popular for those who want to achieve the most prestigious nursing positions. The University of Missouri-Kansas City offers numerous DNP degree pathways, including BSN to DNP and MSN to DNP. A plethora of specialization tracks, from nurse anesthetist to clinical nurse specialist, are available.
Find out more about Missouri DNP Programs.