DNP Programs in New Mexico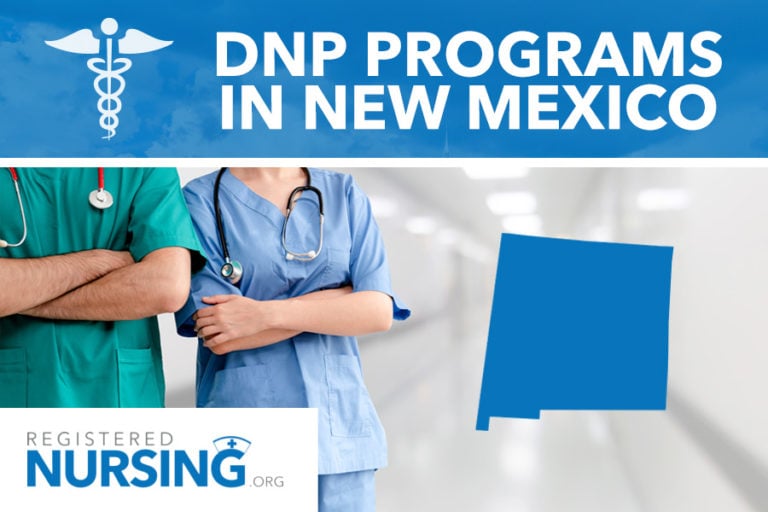 The Doctor of Nursing Practice (DNP) is the preeminent degree for clinical nursing practice. Nurses that graduate from a DNP program with an executive leadership track have a number of options ranging from clinical leadership to hospital administration.
In New Mexico, a post-master's DNP program will typically require students to complete between 28 and 38 credit hours, depending on the track selected. Conversely, BSN to DNP students will generally need to complete 65 to 72 unit hours in addition to clinical hours devoted to precepted NP practice.
Core competencies that DNP students will have mastered after finishing the program will include the following:
Information systems/technology and patient care technology for the improvement and transformation of health care
Scientific underpinning for practice
Organizational and systems leadership for quality improvement and systems thinking
Health care policy for advocacy in health care
Inter-professional collaboration for improving patient and population health outcomes
Clinical prevention and population health for improving the nation's health
Advanced health and physical assessment
Leadership
Advanced pharmacology
Evaluate systems responses to health and illness as a basis for the promotion, restoration, and maintenance of health and functional abilities and the prevention of illness
Advanced physiology and pathophysiology
Advanced quantitative research methods and evidence-based practice
Choosing a DNP Program
Prospective students are encouraged to research DNP programs thoroughly. By keeping a few key elements in mind, selecting the right program can be stress-free.
What to Consider When Choosing a DNP Program
Program Cost— Tuition for the University of New Mexico's DNP program is as follows:

If you are a resident of the state: $588/unit hour
If you are a non-resident of the state: $1,192/unit hour

Online Campus options— The University of New Mexico DNP program is offered fully online, however, students are required to attend an on-site orientation at the beginning of each year.
Accreditation— DNP programs in the state of New Mexico are accredited by the Commission on Nursing Education (CCNE).
Clinical Residencies— Clinical fellowships and residencies are a crucial part of the hands-on experience portion of the DNP learning journey. We do suggest that you consult with DNP faculty at your school of choice to see if there are any clinical residency opportunities in the state.
Admission & State Licensing or Certification Requirements
Admission
Successful DNP program applicants must document satisfaction of the following requirements:
BSN with a minimum undergraduate GPA of 3.0 or better
Current unencumbered RN license from the U.S. or U.S. territory
Eligible for licensure in New Mexico
Completion of an upper division (400-500 level) inferential statistics course within 5 years of the application date
Participation in a face-to-face interview with graduate faculty members
A letter of intent specifying career goals and a clear statement of how the DNP will advance the applicant's clinical practice
Current CV/resume
A two to four-page description of an example of a common occurrence in clinical practice that the applicant would like to see changed
Three references from colleagues in clinical practice
After acceptance into the program, applicants will be required to submit a criminal background check and toxicology screen. Failure to provide these screening items will result in dismissal and/or non-acceptance. Positive toxicology results and/or criminal background checks that do not meet the NM DOH clearance standards will mean dismissal or non-acceptance from the program
Certification
New Mexico DNP programs allow for students to sit for certification testing. Depending on the school and tracks offered, students may become certified in a number of advanced practice nursing specialties.
Licensing
For the state of New Mexico, nursing students who've completed the DNP track, they will need to be licensed by the New Mexico State Board of Nursing. Requirements for licensure include:
Complete an application
Provide transcripts from all educational institutions
Submit verification of specialty certification
Pass a criminal background checks
Complete fingerprinting
New Mexico BSN to DNP Program Options
At this time, there are no colleges in New Mexico that offer a BSN to DNP pathway. National online programs may be available to those who wish to pursue this degree type.
Related Education Paths
Helpful DNP Agencies and Organizations in New Mexico
List of Campus and Online DNP Programs in New Mexico
Albuquerque, NM
2502 Marble Ave NE
Albuquerque
,
NM
87131
(505) 272-0858
College of Nursing
Albuquerque
,
NM
87131
(505) 277-0111
Las Cruces, NM
P. O. Box 30001, MSC 3185
Las Cruces
,
NM
88003
(575) 646-3812
Are we missing your school's program or need to update information listed? Please contact us so we can make the necessary changes.
Find DNP Programs By City: