Nursing Programs in Albuquerque, NM
Are you interested in pursuing a career in nursing? Or are you an experienced practical nurse or RN who wants to expand your career opportunities and earn more money? If so, the Albuquerque area has nursing training programs that suit all of these needs and lead to a rewarding career in the nursing field. Outlined below are training program options for those new to nursing and those who want to earn a higher degree. Keep reading for details on all of your options in Albuquerque.
To get started in nursing or to advance your nursing career, check out our accredited program listings sections below: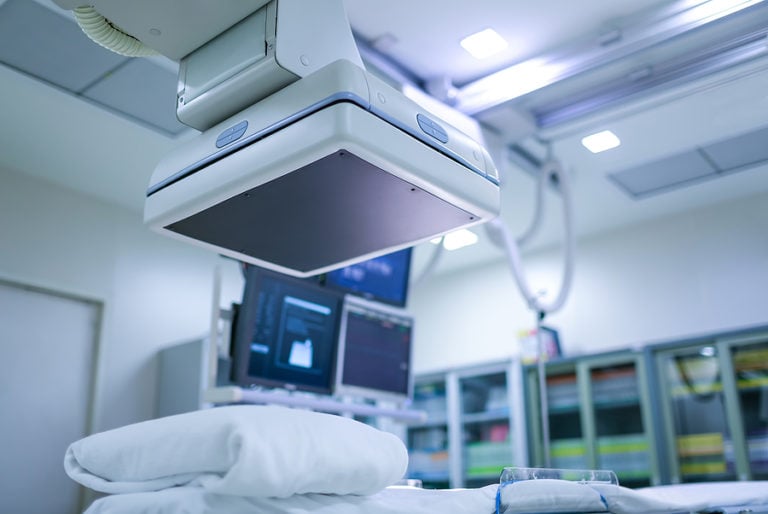 Entry-Level ADN & BSN Programs in Albuquerque, NM
If you are new to nursing, or if you are a practical nurse who wants to earn an RN license, an entry-level nursing training program is the right place to start. Entry-level nursing programs will provide a foundational education in nursing and prepare students to take the licensing exam and secure their first job as an RN. In Albuquerque, options for entry-level nursing programs include LPN to RN programs, Associate's Degree in Nursing (ADN) programs, and Bachelor of Science in Nursing (BSN) programs.
LPN to RN Programs
For experienced practical nurses who want to become RNs, an LPN to RN bridge program provides a streamlined pathway to either an ADN or BSN degree depending on the program and school. Central New Mexico Community College offers an LPN to RN program that provides course credit for some of the nursing curricula for students with a valid LPN license.
ADN Programs
Many ADN programs are found at community colleges and vocational schools, and are generally completed in two years of study. Pima Medical Institute offers an ADN program that can be completed in as little as 20 months of study. Coursework includes anatomy and physiology, growth and development, pharmacology, nutrition, nursing theory and patient care skills across the lifespan.
Direct-Entry BSN Programs
BSN programs are more commonly found at colleges and universities, and usually take four years to complete. Brookline College has a BSN program that offers year-round study to allow students to graduate with their degree faster than most schools. Courses offered in this program include health assessment, pharmacology, informatics, research and evidence-based practice, leadership, ethics and policy and adult health.
Find out more about New Mexico Accelerated BSN Programs
School
Contact Information

Brookline College

4201 Central Avenue N.W., Suite J

Albuquerque

,

NM

87105

(505) 880-2877

Carrington College

1001 Menaul Blvd. NE

Albuquerque

,

NM

87107

(505) 200-3745

Central New Mexico Community College

525 Buena Vista Dr SE

Albuquerque

,

NM

87106

(505) 224-3000

Grand Canyon University

6700 Jefferson St. NE, Suite D-2

Albuquerque

,

NM

87109

(866) 353-3531

PIMA Medical Institute

4400 Cutler Ave N.E.

Albuquerque

,

NM

87110

(800) 477-7462

University of New Mexico - Albuquerque

1 University of New Mexico

Albuquerque

,

NM

87131

(800) 690-0934

University of New Mexico - Valencia

280 La Entrada Rd.

Los Lunas

,

NM

87031

(505) 925-8500
RN to BSN Programs in Albuquerque, NM
Increasingly, healthcare employers are looking for skilled nurses who hold a bachelor's degree. Nurses with their BSN earn more than those with an ADN, and have a wider range of job openings to consider. For nurses with an ADN and a valid RN license, special RN to BSN bridge programs allow students to earn their bachelor's degree in nursing in less time than a traditional four-year BSN. These programs take into account previous nursing coursework and experience, allowing students to finish their studies at a quicker pace.
RN to BSN Programs
Many RN to BSN programs are available online, and may be offered by schools based outside of New Mexico but allow students to complete clinical hours near their homes. In Albuquerque, the University of New Mexico offers an RN to BSN program in an online program that allows students the flexibility to continue working while they complete their studies.
Find 0ut more about New Mexico RN to BSN Programs
School
Contact Information

University of New Mexico

2502 Marble Ave NE

Albuquerque

,

NM

87131

(505) 272-6284
APRN & Nurse Practitioner Programs in Albuquerque, NM
Advanced practice nursing degree programs teach experienced nurses the skills needed to become nurse practitioners, educators, administrators, and other leadership roles. Generally, these programs require a BSN degree and experience as a working nurse prior to enrollment. In Albuquerque, students can choose from online programs offered by out-of-state schools or programs offered by the University of New Mexico.
MSN Programs
Master of Science in Nursing (MSN) programs provide students with advanced theoretical knowledge, health assessment skills, practice techniques, and leadership skills. Most programs allow students to focus their studies alongside their career goals. The MSN program at the University of New Mexico allows students to choose from various nurse practitioner specialties, nurse-midwifery, nursing administration, and nursing education specialties.
Find out more about New Mexico Nurse Practitioner Programs
Post-Master's Certificate Programs
Post-graduate certificate programs are designed for nurses who already hold a master's degree and would like to specialize in an area of nursing not covered by their initial master's program. In these programs, students can gain certification in a new specialty by completing master's-level courses in their chosen area of specialty, such as nurse-midwifery, pediatric nurse practitioner, family nurse practitioner, adult-gerontology nurse practitioner or psychiatric-mental health nurse practitioner, which are the certificate programs available at the University of New Mexico.
Find out more about New Mexico Post-Master's Certificate Programs
DNP & Ph.D. Programs
The University of New Mexico offers a Doctor of Nursing Practice program as well as a Doctor of Philosophy in Nursing program, which provide the highest levels of education available to nurses. The DNP program allows students to concentrate in clinical practice or nurse executive organizational leadership. The Ph.D. program offers two tracks: an individualized track in which each student chooses coursework tailored to meet his/her individual career goals, and a health policy concentration that focuses on the factors that shape and influence health-related policy decisions.
Learn more about New Mexico DNP Programs
School
Contact Information

The University of New Mexico

DNP ProgramsGraduate Certificate ProgramsMSN ProgramsPhD Programs

2502 Marble Ave NE

Albuquerque

,

NM

87131

(505) 272-0858

University of New Mexico

DNP Programs

Albuquerque

,

NM

87131

(505) 277-0111