Nurse Practitioner Schools in New Mexico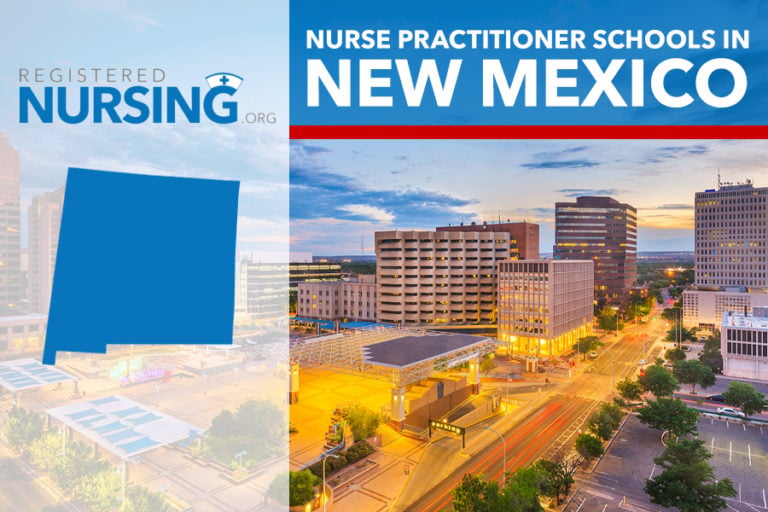 The United States is currently experiencing a physician shortage. In fact, a shortage of between 40,800 and 104,900 physicians is expected by the year 2030, according to the American Association of Medical Colleges (AAMC). Advanced-practice nurses, including nurse practitioners, are already bridging the gap between patient care demand and health care provider access, making advanced-practice nursing a career that is in high demand.
New Mexico is a state that has already begun using nurse practitioners to their full scope-they can diagnose, treat, and prescribe medications without physician involvement, and can independently prescribe medications.
Choosing a Nurse Practitioner Program
Registered nurses interested in becoming a practitioner must earn either a master's degree in nursing (MSN) or doctoral degree in nursing (DNP) and complete a nurse practitioner track. When choosing a graduate program, several key factors should be considered:
Accreditation- Prospective students should find a program accredited by the Commission on Collegiate Nursing Education (CCNE) or the Accreditation Commission for Education in Nursing (ACEN). New Mexico has three accredited programs for graduate-level nurses.
Program Length- To earn an MSN, students can spend two to three years in school if attending full time. For a DNP, students can expect to spend three to four years in school. Some schools require a bachelor's degree in nursing before enrollment; ADN nurses can expect a slightly longer amount of time in school
Internship/Externship Opportunities- Nurse practitioner students are required to spend a pre-determined number of hours out in the health care field to gain essential patient care skills needed to practice independently. While clinical training is mandatory and sufficient to meet established educational standards, some nurse practitioners consider NP residency programs to further their experience. These programs are not mandatory, but many NP graduates find they are beneficial in preparing them for practice. Unfortunately, New Mexico does not currently have these programs, but neighboring Arizona, Colorado, and Texas have them available.
Online/Campus Options-Online options are an ideal choice for nurses who need to work while attending school or who live in rural areas. Online learning allows for self-paced and self-directed learning, which can be more effective for some. According to the American Association of Nurse Practitioners (AANP), New Mexico State University offers a post-baccalaureate/ post-master's DNP that is more than 50% distance learning. The University of New Mexico offers distance learning, but at a smaller percentage.
Admission and Certification Requirements
Admission criteria to graduate-level programs may vary between schools, but students may be required to:
Hold a BSN degree
Have an active RN license
Have maintained a GPA of 3.0 or higher in undergraduate coursework
Provide letters of recommendation
Submit resume/ CV
Have prior clinical experience as an RN
Students are encouraged to review the individual program prerequisites before enrollment.
Licensing/Certification
Students in the nurse practitioner track can choose which specialty in which to practice. Examples include:
Adult-Gerontology nurse practitioner
Family nurse practitioner
Psychiatric nurse practitioner
Pediatric nurse practitioner
American Nurses Credentialing Center (ANCC).
New Mexico requires nurse practitioners to have active, valid certification to be licensed. Other licensing requirements include:
Hold a valid RN license
Completion the education verification form
NPs must maintain a prescribing formulary
NPs must obtain a separate New Mexico Controlled Substance License (if prescribing controlled medications)
Applying for a federal DEA license
Completion of the online application
New Mexico Nurse Practitioner Agencies and Organizations
Schools That Offer Nurse Practitioner Programs in New Mexico
Nurse practitioners in New Mexico enjoy independent practice. Nurses who value autonomy and self-direction would thrive practicing as an NP in New Mexico. Additionally, Eastern New Mexico University boasts the most affordable tuition in the state- which helps New Mexico nurses achieve their dreams of advancing their careers.
Albuquerque, NM
Graduate Certificate ProgramsMSN Programs
2502 Marble Ave NE
Albuquerque
,
NM
87131
(505) 272-0858
Las Cruces, NM
P. O. Box 30001, MSC 3185
Las Cruces
,
NM
88003
(575) 646-3812
Are we missing your school's program or need to update information listed? Please contact us so we can make the necessary changes.