DNP Programs in Oklahoma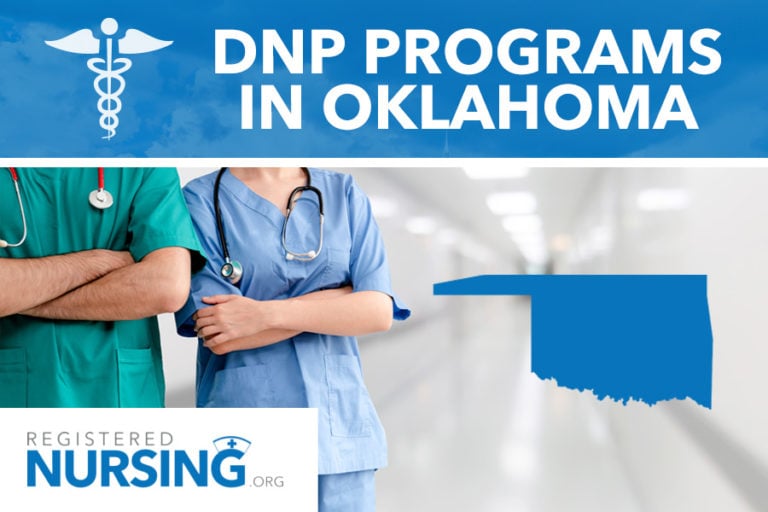 Nurses looking to expand their role to a clinical or executive-level expert can obtain a Doctor of Nursing Practice (DNP) to reach these levels of nursing. The DNP is the highest degree level for nurses, and it allows nurses to work in not only clinic settings, but also in:
Quality Improvement
Education
Administration
Informatics
Public Health
DNP curriculum typically begins with the foundations of advanced-practice nursing, to include courses in:
Advanced pathophysiology and pharmacology
Role preparation
Evidence-based practice
Information systems
Healthcare policy
After the foundation courses are complete, the student chooses which DNP track they wish to pursue. Depending on the school and DNP program, as well as the entry point of the student, tracks may be in advanced clinical practice (i.e., nurse practitioner, nurse midwife, clinical nurse specialist, etc.) or a more administrative or leadership role. It may take about two years for an MSN-prepared nurse to complete the DNP program, and between three and four years for a BSN nurse.
Choosing a DNP Program
It is a weighty decision to return to school, and students have personalized reasons for why they wish to advance their nursing degree. Oklahoma has two accredited DNP programs-the following information may assist in choosing the right one based on individual needs.
What to Consider When Choosing a DNP Program
Cost– The University of Oklahoma Health Sciences Center's website has detailed tuition and fees (estimated) page. Oklahoma resident tuition is currently $481.95 per credit. Non-resident tuition is $1158.40 per credit. There are additional fees imposed by the university as well. Oklahoma City University's DNP tuition is $995 per credit, not including other expenses. Tuition cost may vary per semester, and students are encouraged to check the school websites to find the most up-to-date tuition and fee schedules.
Online Option– Nurses are busy. Many nurses work full time and work non-traditional business hours, so returning to school is an added responsibility in day-to-day life. Luckily, educational institutions recognize this and strive to make learning as flexible as possible. Both programs in Oklahoma have online or hybrid learning options to accommodate nurses. For campus visitation, schools condense into multi-day "intensives" to minimize trips to the school. Intensive is usually only once a semester.
Accreditation– The Accreditation Commission for Education in Nursing (ACEN) and the Commission for Collegiate Nursing Education (CCNE) are the two nationally-recognized accreditation bodies for nursing programs in the United States. In Oklahoma, one DNP program is accredited by the CCNE, and one by the ACEN.
Residency Options– To fulfill DNP requirements, a minimum of 1,000 supervised residency hours are needed to graduate. However, students who already have their MSN may be able to apply some of their hours from the MSN program towards the DNP requirement. Residency hours depend on which track the DNP student chooses- it may be in a clinical area or administrative area. Additionally, a DNP project is required to graduate. Students much identify an issue related to health care delivery and propose evidenced-based solutions. Students work with a mentor or preceptor to complete these requirements.
The University of Oklahoma Health Sciences Center offers a post-master's DNP for nurses. Between 38-44 credits are required to graduate depending on the specialty track and may be completed in around two years (if attending full-time). The program is almost entirely online, except for an orientation at the beginning of the program. The school has an excellent student handbook with more detailed information about the program.
Admission & State Licensing or Certification Requirements
Admission
Admission requirements may vary between schools and can be depended on resident status and entry point (i.e., BSN or MSN). General requirements include:
Possess a BSN or MSN from an accredited university
Current RN or APRN license (in Oklahoma or elsewhere in the U.S.)
GPA of 3.0 or higher
Completion of a faculty interview
Submit an essay or another writing sample
Proof of specialty certification (form MSN-prepared applicants)
Provide letters of professional reference
Submit a current resume/ CV
Health clearance/ up-to-date immunizations
Background check and drug screening may be required
Certification
Specialty certification is required for APRN licensure in Oklahoma. Certification may be in a clinical specialty such as:
Nurse Practitioner

Adult/Gerontology
Pediatrics
Psychiatry/Mental Health
Women's Health

Nurse Midwife
Nurse Anesthetist
Certification may also be in Public Health or Informatics. The Oklahoma Board of Nursing recognized the following certification entities:
American Midwifery Association
American Nurses Credentialing Center
National Certification Corporation
Pediatric Certification Board
American Academy of Nurse Practitioners
American Association of Critical-Care Nurses
National Board on Certification & Recertification of Nurse Anesthetists
Licensing
For nurses who entered the DNP program with an MSN, re-licensure with the state is not required (unless there is a change in practice or title). Oklahoma recognizes four APRN roles: Certified Nurse Practitioner, Certified Nurse Midwife, Clinical Nurse Specialist, and Certified Registered Nurse Anesthetist. Additionally, the Oklahoma State Board of Nursing describes the following requirements for initial APRN licensure:
Completion of an ACEN or CCNE graduate-level nursing program
Hold current, national specialty certification
Hold a current RN license (in Oklahoma or multi-state license as per compact state guidelines)
Complete a background check
Pay any fees
Complete an application for prescriptive authority. Detailed instructions can be found on the board's website and are broken down by APRN role.
 Oklahoma BSN to DNP Program Options
Oklahoma City University's Kramer School of Nursing offers a BSN to DNP track, and graduates can choose to become a Family Nurse Practitioner or Adult-Gerontology Acute Care Nurse Practitioner. The program is "hybrid," meaning some courses are online and some campus visitation is required; for example, a three-day intensive is required every semester. Both tracks take around four years to complete, and 67-69 credits are needed to graduate.
The curriculum varies between the two tracks. For more information, students can visit the website for more detailed information on curriculum as well as specific admission criteria:
Related Education Paths
Helpful DNP Agencies and Organizations in Oklahoma
List of Campus and Online DNP Programs in Oklahoma
Oklahoma City, OK
2501 N Blackwelder
Oklahoma City
,
OK
73106
(405) 208-5000
1100 N Stonewall Ave
Oklahoma City
,
OK
73117
(405) 325-0311
Tulsa, OK
800 S Tucker Dr
Tulsa
,
OK
74104
(918) 631-2000
Are we missing your school's program or need to update information listed? Please contact us so we can make the necessary changes.
Find DNP Programs By City: