Nursing Programs in Tulsa, OK
Caring, compassionate nurses motivated to provide quality care for patients will find many employment opportunities in Tulsa, Oklahoma. According to the National Council of State Boards of Nursing, the state currently has an RN to patient ratio of 700 to 100,000, far lower than it should be. To meet this rising demand, several colleges and universities in the Tulsa region are creating working nurse focused educational programs to ready students to enter or advance in the field. Many entry-level, mid-level and advanced level educational offerings in Tulsa, OK have distant learning options.
To get started in nursing or to advance your nursing career, check out our accredited program listings sections below: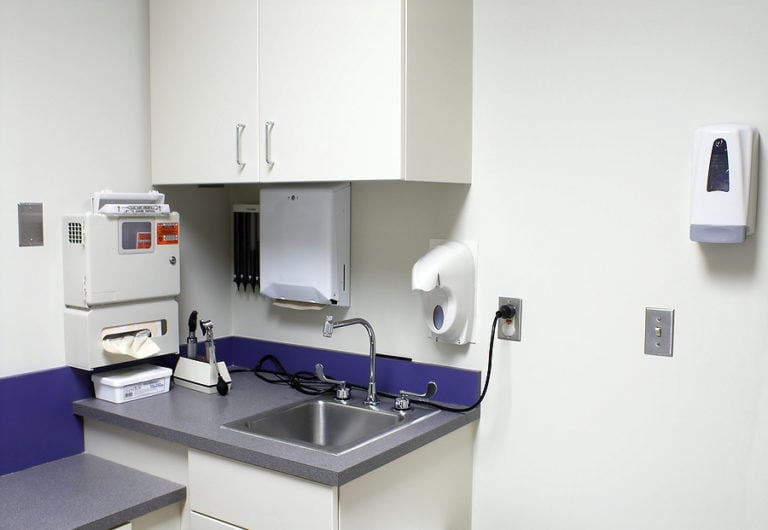 Entry-Level ADN & BSN Programs in Tulsa, OK
It can feel intimidating to enter a new profession. Program developers at Tulsa, Oklahoma know this and have designed ADN and BSN transition programs with this new-career anxiety in mind. With flexible schedules and online classes, nursing programs in Tulsa make starting a career a bit less stressful.
LPN to RN Programs
Hospitals, medical centers, and senior care facilities need the help of Licensed Practical Nurses to assist with patient care. LPNs, however, can take on potentially more rewarding job duties by becoming RNs. In addition to receiving higher compensation, RNs are more involved in direct patient care. Oklahoma State University outside of Tulsa gives LPNs with an active license the opportunity to get their RN in an efficient, cost-effective manner. By making the most of their recent training, LPNs can make every credit count at OSU's LPN to RN bridge program.
ADN Programs
Two-year associate degree programs allow students to enter the field of nursing directly from the ground level. With low barriers to entry, these Associate Degree in Nursing (ADN) programs tend to include general education courses as well as hands-on and theoretical nursing coursework. Since 1971, Tulsa Community College has been offering a locally recognized nursing education program that prepares students to sit for the NCLEX. The ADN program has a pass rate of 84%, which rivals the state's pass rate.
Direct-Entry BSN Programs
Launch your nursing career with a bachelor's degree and you can likely enter the workforce at a higher salary than those with an associate degree. A BSN also allows you to take on greater patient responsibilities from the gate allowing you to have an instant effect on patient care. Rogers State University outside of Tulsa, Oklahoma offers a traditional BSN program that focuses on the ethics of nursing and patient-focused care. It also hones in on the use of contemporary information technology systems so graduates are prepared to enter today's workforce.
Find out more about Oklahoma Accelerated BSN Programs.
Tulsa RN Program NCLEX-RN Pass Rates
Top Ranked Accredited Nursing Programs in Tulsa
Listed below are the top nursing schools in Tulsa based on our RegisteredNursing.org RN program rankings for Oklahoma out of 46 other accredited programs offered in the state:
Oral Roberts University - #12
University of Oklahoma - Tulsa - #8
University of Tulsa - #16
RN to BSN/MSN Programs in Tulsa, OK
Earning a bachelor's or master's degree becomes less strenuous when you are given a straight-forward path to completion. Due to the big demand for nurses with advanced capabilities, more universities are offering no-frills, just-the-facts bridge programs so Registered Nurses can earn their BSN fast and at times that are convenient to them.
RN to BSN Programs
Registered nurses who want to get ahead in their careers without taking time away from work can benefit from "bridge" RN to BSN programs. Built specifically for busy nurses, these bridge programs offer expedience and flexibility, two features that are required for today's adult students. Oral Roberts University in Tulsa, Oklahoma offers an  RN to BSN program for interested students. It offers working nurses the ability to take courses so that they can earn their degrees without slowing down their careers.
Learn more about Oklahoma RN to BSN Programs.
APRN & Nurse Practitioner Programs in Tulsa, OK
Advanced practice registered nurses and nursing administrators in Tulsa, OK are stepping up to take on high-level roles in healthcare.  Nurses often work chaotic schedules, and in the past, this has been a barrier for returning to school. Today, universities offer MSN, post-graduate certificates, and doctorate programs at times that are conducive to non-standard work shifts. As a result, more nurses are continuing their education.
MSN Programs
Master's degree programs train and educate veteran nurses to become administrators or advanced practice nurses, who take on broader roles in healthcare. Those nurses seeking to mentor, teach and inspire others can begin their advanced education at Oklahoma Wesleyan University, a faith-based institution of higher education. The MSN offering has an education and an administrative track and offers some distance learning options.
Find out more about Oklahoma Nurse Practitioner Programs.
Post-Master's Certificate Programs
Nurses with advanced degrees who seek to enter a specific area of care can earn a post-graduate certificate. As specializing becomes more common across healthcare, nurses with a specialty can earn a higher wage and become sought-after by preferred employers. These specialties often require their own examination. The University of Oklahoma offers the Family Nurse Practitioner Certificate in a mostly distance learning setting (though some on-campus attendance is required). It prepares students for the AANP - FNP primary care certification exam.
Find out more about Oklahoma Post-Master's Certificate Programs.
DNP & Ph.D. Programs
To affect the larger field of healthcare rather than individual patient care, nurses must earn a terminal degree such as a Doctor of Nursing Practice or a Doctor of Philosophy. By becoming industry leaders, nurses can become researchers as well as and university deans or professors. The University of Tulsa offers multiple DNP degree specialties.
Find out more about Oklahoma DNP Programs.