DNP Programs in Pennsylvania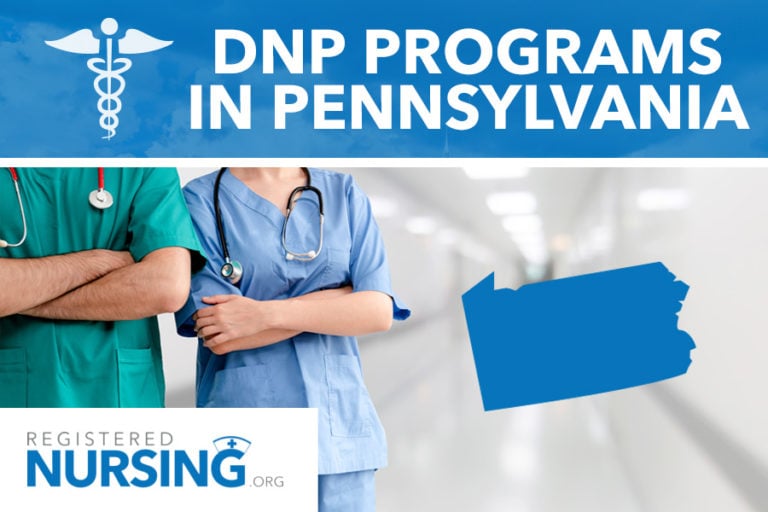 Many bedside nurses, while enjoying the day-to-day care of patients in all types of settings, are drawn to certain aspects of healthcare. Some are natural born leaders, some are extremely vocal with patient advocacy, and some seek to change specific methodologies used in their field.
These kinds of nurses would do well in earning a Doctor of Nursing Practice (DNP). The DNP is the terminal degree a nurse can receive, and it allows nurses to not only work in advanced-practice but in executive and administrative nursing roles to help facilitate change. DNP-prepared nurses translate research into evidence-based practice to improve patient care outcomes.
The structure of a DNP program depends on a nurse's entry point (BSN or MSN) as well as track of study (advanced practice vs. executive role development). The first part of the program covers the foundations for a DNP degree, and the latter part of the program includes concepts specific to the specialty track. Clinical practicum hours are required as is a final DNP project. The DNP project may cover issues such as:
Practice change initiatives
Policy/Practice change analysis
Design and evaluate programs
Developing health programs for specific populations
Choosing a DNP Program
When nurses decide to return to school to earn a DNP, they are faced with many choices. The majority of DNP programs have online options, which are attractive to working nurses. However, online programs are many times open to nurses nation-wide. It may be easier to choose a program within one's home state.
Below are considerations Pennsylvania nurses can use to decide. Pennsylvania has nineteen accredited DNP programs to choose from.
What to Consider When Choosing a DNP Program
Cost– The average cost of a DNP program in Pennsylvania is around $940 per credit. This figure is for tuition only- university fees and additional costs are added expenses. Also, while this figure is the average cost per credit, it's important to recognize that tuition cost can vary significantly between the nineteen schools. For example, the lowest tuition found is $650 per credit, while the highest is $1228 per credit. Luckily many programs offer part-time options which help to offset the cost. Financial aid is also available at most schools.
Online Option– Working nurses benefit from online study. All nineteen schools offer online or hybrid options. Campus visitation, when required, is often minimal and offered on weekends. "Intensives" are also offered, which means students attend for several days only (rather than once or twice a week throughout the semester).
Accreditation– The Commission for Collegiate Nursing Education (CCNE) and the Accreditation Commission for Education in Nursing (ACEN) are the two nationally-recognized accreditation bodies for nursing programs in the United States. All nineteen accredited programs in Pennsylvania are recognized by the CCNE.
Residency Options– Nurses must complete a total of 1,000 clinical practice hours to earn a DNP. In some cases, hours earned in an MSN program may be carried over to the DNP program. Part of the 1,000 is the final DNP project.
Another type of residency option is for DNP students who earn a new advanced-practice license. For example, Pennsylvania has five residency/fellowship options that allow new nurse practitioners to gain additional clinical skills, as well as more specialized skills in their field of study.
DeSales University offers a DNP degree for MSN students in several areas:
DNP-Clinical Leadership
DNP-Clinical Leadership with an MBA
DNP-Executive Leadership
DNP-Executive Leadership with an MBA
The MBA options are unique in that it prepares nurses to obtain expertise in not only nursing care but the business and financial aspect of healthcare organizations as well. The program is between 35 and 69 credits depending on which track is chosen, and online and hybrid courses are available. For more information, the school's website has a great FAQ section.
Admission & State Licensing or Certification Requirements
Admission
With nineteen different DNP programs to choose from in Pennsylvania, admission criteria can be quite variable. General admission requirements include:
Current RN or APRN license
BSN or MSN degree from an accredited university or nursing program
GPA of 3.0 or higher in all previous coursework (specific requirements may vary between institutions)
Proof of nation certification (for APRNs)
One year or more of previous nursing experience (required length of time may vary)
Interview with faculty
Provide a writing sample
Proof of liability insurance
Certification
Specialty certification is required for new APRN licensure in Pennsylvania. Specialties are in various population foci such as:
Adult/Gerontology
Family
Women's Health
Pediatrics
Midwifery
Clinical Nurse Specialist
CRNA
BSN to DNP graduates will need to obtain certification (if applicable to their role). Usually, MSN-DNP students are already certified, or certification is not required (for example, in executive roles). While certification for nurse executives is not required for licensure, there are several certifications available that allow DNP nurses to be recognized as "board certified." For example, the American Nurses Credentialing Center offers certification in:
Nurse Executive
Nurse Executive-Advanced
Informatics Nursing
Public Health Nursing-Advanced
Licensing
As stated earlier, specialty certification is required for initial APRN licensure. Additional requirements DNP graduates should prepare for include:
Current, unrestricted RN license
Verification of MSN/DNP program
Arrange for transcripts to be sent to the board
Complete application/ pay necessary fees
Undergo a criminal background check
Pennsylvania BSN to DNP Program Options
Seven DNP programs in Pennsylvania allow BSN applicants. The BSN to DNP path can take three to four years to complete, and often a master's degree is earned along the way. The number of credits needed to graduate can be upwards of 78-80 (although the exact number can vary between schools).
Thomas Jefferson University offers a BSN to DNP path. According to their website, the program may take between four and six years to complete. Online learning is available. They offer eight specialty tracks for students:
Adult/Gerontology-Acute Care NP
Adult/Gerontology-Primary Care NP
Community Systems Administration
Family/Individual NP
Neonatal NP
Nursing Informatics
Pediatrics-Primary Care NP
Women's Health Gender-Related NP
Additionally, Thomas Jefferson University offers an entry-level Nurse Anesthesia DNP program. This option is 36 months, and 92 credits are needed to graduate. 2,000 hours of clinical practice must be completed, with a minimum of 600 anesthetics administered to patients under supervision. The school is affiliated with 18 facilities in which the student can gain essential anesthesia experience. Travel to some of the sites is required.
Related Education Paths
Helpful DNP Agencies and Organizations in Pennsylvania
List of Campus and Online DNP Programs in Pennsylvania
Bloomsburg, PA
Center Valley, PA
Clarion, PA
Edinboro, PA
Erie, PA
Mechanicsburg, PA
Millersville, PA
Moon Township, PA
Philadelphia, PA
Pittsburgh, PA
West Chester, PA
York, PA
Are we missing your school's program or need to update information listed? Please contact us so we can make the necessary changes.
Find DNP Programs By City: