Nursing Programs in Philadelphia, PA
Careers that serve others are rewarding in innumerable ways. For this reason, nursing is a preferred choice for those seeking to help others while also earning a good wage for themselves. In Philadelphia and the surrounding suburbs, nurses can earn a salary in the mid-$70,000s according to a recent media report. Demand for nurses of every level is high as the city's population is aging and thus requiring more healthcare services. Area colleges are responding to the shortage by offering barrier-free entry-level nursing programs as well as advanced offerings.
To get started in nursing or to advance your nursing career, check out our accredited program listings sections below: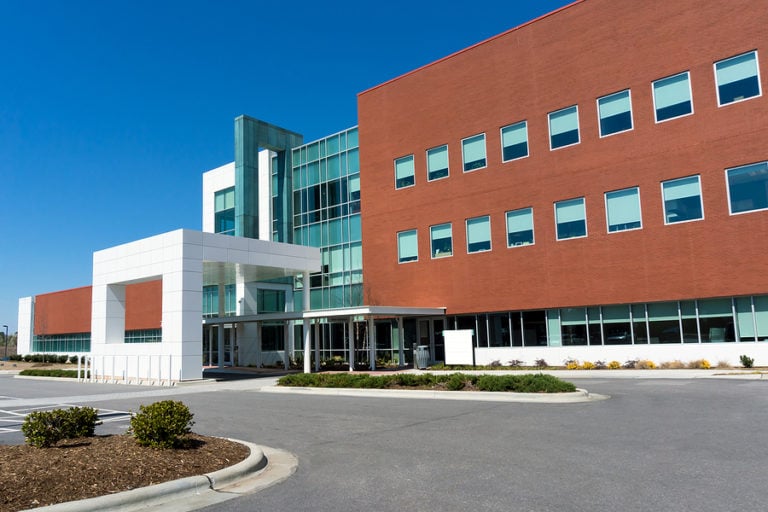 Entry-Level ADN & BSN Programs in Philadelphia, PA
Some vocations are more difficult to enter than others. In order to attract career changers, two-year colleges in Philadelphia, PA are offering fuss-free enrollment. Area colleges are enticing career changers and others to nursing by making it easy to apply to their Associate Degree in Nursing and Bachelor of Science in Nursing programs.
ADN Programs
Associate's Degree in Nursing (ADN) programs are popular entry points for nurses. Within reach of most high school graduates, ADN programs in Philadelphia, Pennsylvania can be completed in two years. ADN programs educate students to test for the NCLEX. The Community College of Philadelphia, named a Center of Excellence by the National League for Nursing, offers an Associate of Applied Science degree. Using state of the art medical equipment and technology, it prepares students to pass the NCLEX exam.
Direct-Entry BSN Programs
With so many different ways to earn a Bachelor's of Science in Nursing (BSN) degree in Philadelphia, PA, working RNs are likely to find the program and format that works best for them. Jefferson College of Nursing, a premier academic healthcare center, offers both accelerated and traditional BSN paths for those with some college, no college, and a non-nursing bachelor degree. All programs are offered in an accelerated format; even the traditional BSN path can be completed in 2 years.
Find out more about Pennsylvania Accelerated BSN Programs
Philadelphia RN Program NCLEX-RN Pass Rates
Top Ranked Accredited Nursing Programs in Philadelphia
Listed below are the top nursing schools in Philadelphia based on our RegisteredNursing.org RN program rankings for Pennsylvania out of 77 other accredited programs offered in the state:
Drexel University - #10
Eastern University - #17
University of Pennsylvania - #11
Villanova University - #12
West Chester University - #8
RN to BSN/MSN Programs in Philadelphia, PA
For most lines of work, getting ahead in your career usually means going back to school and attaining a degree. Registered Nurses can take advantage of the demand by employers in Philadelphia, PA and enroll in accelerated RN to BSN or RN to MSN speed-track program.
RN to BSN Programs
Because they are built off coursework you have previously earned, RN to BSN pathways are commonly completed in less than 18 months allowing nurses to rev up their careers in a short period of time. Holy Family University, a Catholic institution of higher learning in Philly, offers a "RAPID" RN to BSN path for current RNs. Those who are able to transfer the right number of credit hours can complete the program in 15 months.
Find out more about Pennsylvania RN to BSN Programs
RN to MSN Programs
Created for those comfortable moving at a fast pace, RN to MSN programs enable registered nurses in Philadelphia, PA to obtain their Master's of Science in Nursing (MSN) without disrupting work. LaSalle University, a Catholic university, has two pathways RNs can follow to earn their MSN. One allows students to complete master's level coursework in the BSN program and the other allows those with non-nursing bachelor's degrees to fast-track to an MSN.
Find out more about Pennsylvania RN to MSN Programs
APRN & Nurse Practitioner Programs in Philadelphia, PA
Advanced Practice Registered Nurses (APRNs) in Philadelphia are leaders in the field. and are tasked with performing higher level, patient-focused roles in healthcare. For RNs who are up for the challenge, earning a Master's of Science in Nursing degree, post-graduate certificate or doctorate degree can be done in a more convenient format of online and on-ground learning.
MSN Programs
Leading others to serve can often be just as much as a calling as becoming a nurse. Veteran RNs who seek to lead, teach, or take on administrative roles can earn their Master of Science in Nursing (MSN). The University of Pennsylvania, an Ivy League school, offers MSN programs in a number of specialties, including Nurse Practitioner, Advanced Specialty, and Administration. The research-based university partners with the best hospitals in the larger Philadelphia community giving students a second-to-none experience.
Find out more about Pennsylvania Nurse Practitioner Programs
Post-Master's Certificate Programs
Nurses who have an advanced degree can complete a post-grad certificate in highly specialized areas. Located outside of Philly, Gwynedd Mercy University offers a one-year Nurse Practitioner Certificate that can be completed in a mix of online and in-person instruction. The intensive program has three specialties including Adult-Gerontology, Primary Care, and Pediatric Primary Care. A precepted clinical practice is included in the program.
Find out more about Pennsylvania Post-Master's Certificate Programs
DNP & Ph.D. Programs
Nurses can complete their terminal level of study from Philadelphia area universities. With a focus on research, academia, or advanced practice, these doctoral programs elevate the nursing profession. Drexel University offers Doctor of Nursing Practice and Doctor of Philosophy degrees to prepare nurses for executive positions and to apply modern evidence-based practice to the clinical healthcare setting.
Find out more about Pennsylvania DNP Programs