DNP Programs in Washington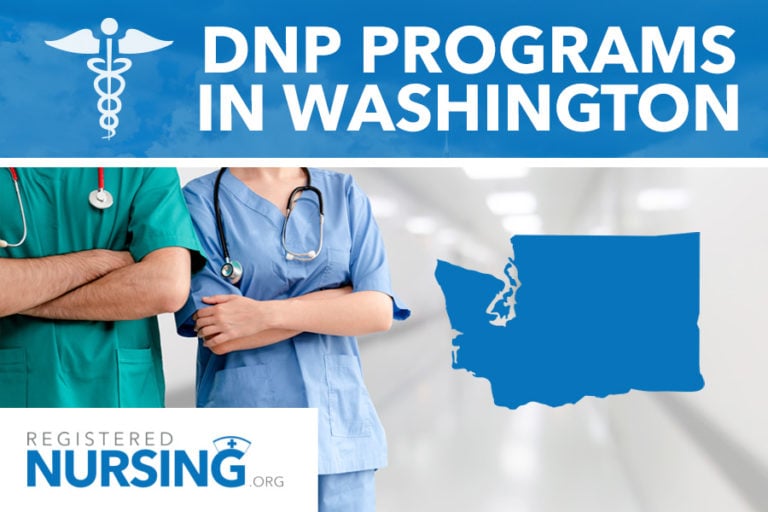 As the gap between patient demand and physician supply widens, advanced-practice nurses are entering the workforce at an increasing rate. Additionally, healthcare organizations are looking to increase efficiency to meet patient care demands. Advanced nursing degrees are necessary for those in executive or advanced-practice roles, and the highest degree a nurse can earn is a Doctor of Nursing Practice. The DNP not only brings nursing experience the table, but also leadership and innovation.
DNP programs can take two to six years to complete, depending on the nurse's entry point and if they attend full time or part-time. The program begins with core courses, introducing the nurse to the DNP role. After, nurses focus on their specialty track as well as complete a final DNP capstone project.
Choosing a DNP Program
Many nurses seeking a higher degree have been away from academia for a while and may be unsure where to start. Washington has five accredited DNP programs to choose from, so prospective students may feel overwhelmed at where to start. The following describes which essential items should be considered.
What to Consider When Choosing a DNP Program
Cost– The average tuition cost for DNP programs in Washington is $930 per credit hour. This figure does not include the cost of books, supplies, or university fees. Many DNP programs offer part-time study which helps offset the cost. Additionally, most schools provide financial aid options.
Online Options– Most schools recognize that DNP students are likely already working. For this reason, programs are set up to be as convenient as possible. Almost all the DNP programs in Washington offer online learning. However, in some cases (and in some specialty tracks), in-person campus visitation is required. Sometimes schools set up campus visitation in "intensive" or "block" formats, so students only need to spend a block of time per semester on-site.
Accreditation– The Commission on Collegiate Nursing Education (CCNE) and the Accreditation Commission for Education in Nursing (ACEN) are the two nationally-recognized accreditation bodies for nursing programs in the United States. The five accredited DNP programs in Washington are authorized by the CCNE.
Residency Options– To fulfill the DNP requirement, 1,000 hours of clinical practicum hours are needed to graduate. However, MSN-DNP students may be able to carry over hours worked in their MSN program. Most schools are contracted with healthcare facilities in the area to provide experience for students.
A DNP capstone project is also required. This involves identifying a healthcare-related issue and proposing evidence-based solutions to improve patient care outcomes.
Another type of "residency" involves post-graduate work in a fellowship-type position. For example, nurse practitioners can work in a specialty area to further their learning experience and build upon skills learned in the DNP program. Washington has multiple residency programs in areas such as Family Medicine, Pediatrics, hospital medicine, and gastroenterology.
Seattle University offers not only BSN and MSN applicants opportunity to earn a DNP, but non-nurses as well. For non-nurses, they provide an "Advanced Practice Nursing Immersion" program to prepare students to become licensed as an RN. For nurses, the following specialty tracks are available:
Adult-Gerontology Acute Care Nurse Practitioner
Adult-Gerontology NP
Family NP
Family Psychiatric Mental Health Nurse Practitioner
Certified Nurse Midwifery
Advanced Community Public Health Nurse
For more information, prospective students are encouraged to visit their website.
Admission, Licensing, and Certification Requirements
Admission
Criteria for admission to a DNP program in Washington may vary between schools. Generally, students should expect to:
Have a valid RN or APRN license
Have earned an MSN or BSN degree
Have a GPA of 3.0 or higher (specific requirements may vary between schools)
Provide letters of professional reference
Submit a resume/CV
Provide a writing sample, such as a written statement of purpose or goal statement
Have completed a statistics course
Have a specified number of years of clinical experience
Have completed a statistics course
Certification
Nurses enrolled in DNP programs who are not yet APRNs or CNSs, or those who wish to change their specialty, are eligible to sit for certification exams after graduating. Examples of specialty certification include:
Nurse Practitioner

Adult-Gerontology
Pediatrics
Psychiatric-Mental Health
Women's Health
Family Medicine
Neonatal

CNS
Certified Nurse Midwife
Certified Registered Nurse Anesthesia
Additionally, DNP graduates can obtain certification in Nurse Leadership, Nurse Executive, or Public Health.
Licensing
Specialty certification is required for licensure in Washington (if applicable). Additional requirements include:
MSN or DNP degree from an accredited program
Unencumbered RN license
Complete an HIV/AIDS training attestation
Complete application/ pay any fees
Complete a statement addressing felony convictions, disciplinary actions, loss of license, or chemical dependency
Washington BSN to DNP Options
It may come as a surprise to RNs that one can obtain a DNP without first graduating from an MSN program. BSN nurses can apply for admission to a DNP program in Washington; in fact, four out of the five accredited schools have a BSN to DNP option. Most of the time, an MSN is earned along the way.
Washington State University offers several options for BSN to DNP students:
FNP
Psychiatric-Mental Health NP
Population Health Nurse
The learning method for students follows a "hybrid" model. Most of the courses are taught online, while in-person classes are in a 1-2 day "block" format. Additionally, in-person courses may be completed at multiple sites. Full or part-time study is available, and students can expect to finish the program in about 3-4 years if attending full-time, and 4-5 years if attending part-time. Also, the school has research and teaching assistant positions available.
For more information, students are encouraged to visit the university's WSU DNP website.
Related Education Paths
Helpful DNP Agencies and Organizations in Washington
List of Campus and Online DNP Programs in Washington
Pullman, WA
Seattle, WA
Spokane, WA
Tacoma, WA
Vancouver, WA
Are we missing your school's program or need to update information listed? Please contact us so we can make the necessary changes.
Find DNP Programs By City: