Nurse Practitioner Schools in Washington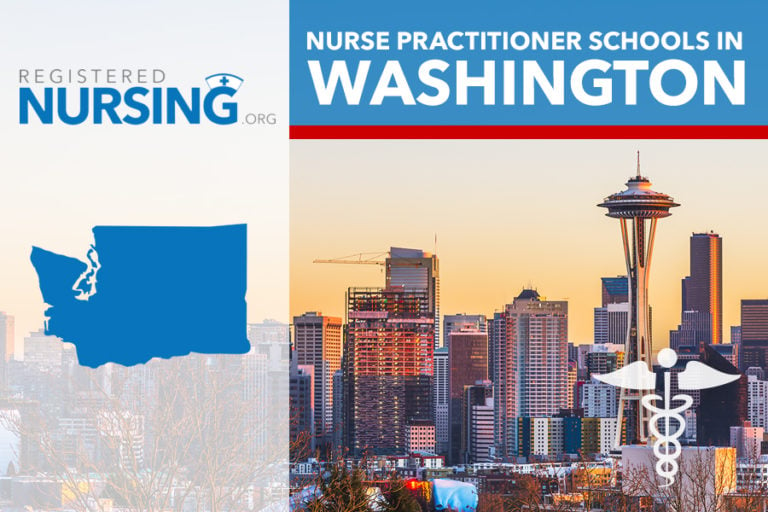 Savvy RNs who want to take advantage of the growing demand for highly skilled and educated nurses are increasingly opting to become nurse practitioners (NPs). This rewarding career pathway provides the framework for advanced nursing practice, including higher levels of responsibility, leadership duties, and more. Washington offers a number of opportunities for its nurses to gain the education necessary to become an NP, including both master's and doctoral level programs.
Choosing a Nurse Practitioner Program
Choosing the right nurse practitioner program can seem daunting, but keeping the following key elements in mind when checking out programs should make the process much easier:
Accreditation- Proper accreditation through the Accreditation Commission for Education in Nursing (ACEN) or the Commission on Collegiate Nursing Education (CCNE) is essential to finding a reputable program. Around 10 schools in Washington offer nurse practitioner programs at either the MSN or DNP level.
Program Cost- Things like location, school, and degree level chosen can dramatically impact tuition fees. Generally, in-state students will find tuition for both MSN and DNP programs in the $800 per credit hour range. These tuition rates typically do not include additional expenses such as books, lab fees, and other mandatory program costs.
Program Length- Most nurse practitioner programs require that a student starts out with at least a BSN degree. From there, a master's program typically takes 2-3 years to complete, and a DNP program will take 3-4 years from start to finish. Part-time or full-time study will determine the exact length of the program.
Internship/Externship Opportunities- Clinical hours are a requirement for nurse practitioner programs in Washington. Many NP programs have lists of pre-approved preceptor sites at which students can complete the necessary internships/externships required to complete this portion of the degree.
Online/Campus Options- Online programs have grown in popularity over the last few years, leading many schools to start providing them as an option in addition to traditional campus-based programs. Hybrid programs are also increasingly available, in which students complete a portion of the coursework online, with some on-campus visits.
Admission and Certification Requirements
Washington nurse practitioner programs typically require the following in order to be eligible for admission:
Hold a BSN from a regionally accredited institution
Current, unencumbered RN license
Copies of official transcripts from all colleges attended
GPA of 3.0 or higher preferred
Two letters of recommendation
Statement of purpose/personal essay
MAT or GRE may be required if undergrad GPA is under 3.0
Current professional resume or CV
Licensing/Certification
Certification for many of the nurse practitioner specialties are available via examination by the American Nurses Credentialing Center (ANCC). Applicants must have an active RN license and have completed a graduate-level nursing program in an applicable specialty.
The Washington State Board of Nursing requires nurses to be licensed as Advanced Registered Nurse Practitioners (ARNPs). Licensing requirements include:
Graduation from an approved nurse practitioner program and active RN license in Washington
Must show a work history of at least 250 hours in within the past 2 years (applies only to applicants reactivating a lapsed license)
Personal statement
HIV/AIDS training
Documentation of current certification
Washington Nurse Practitioner Agencies and Organizations
Schools That Offer Nurse Practitioner Programs in Washington
With nurse practitioner careers expected to grow by 31% by 2024, nurses in Washington state have a great opportunity to obtain the education necessary to meet the rising demand. With online or classroom-based programs, multiple degree level options, and part-time or full-time study, nurse practitioner programs in the state offer something for everyone.
Pullman, WA
Seattle, WA
Spokane, WA
Tacoma, WA
Vancouver, WA
Are we missing your school's program or need to update information listed? Please contact us so we can make the necessary changes.