DNP Programs in West Virginia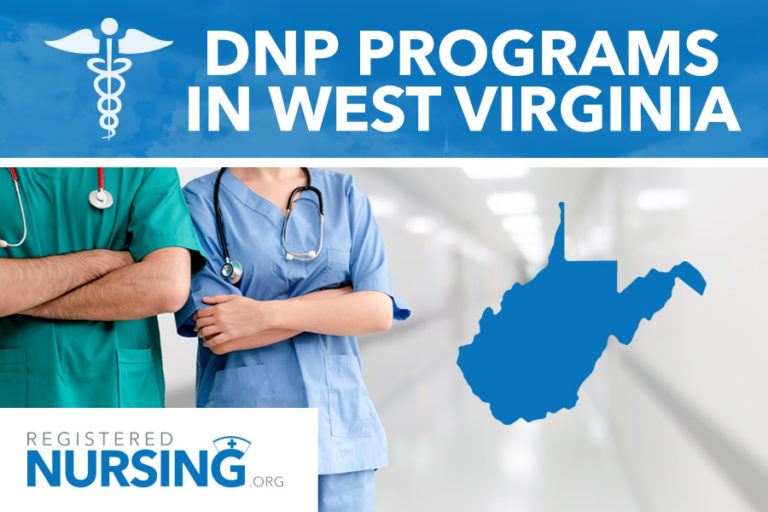 The Doctor of Nursing Practice (DNP) degree is the highest degree a nurse can earn. It typically follows a master's degree (MSN). Earning a DNP demonstrates that the nurse is a leader in his or her specialty as well as nursing in general, applies evidenced-based research to their day-to-day practice, and helps to develop policy and change within an organization to improve patient care outcomes. DNP nurses can work in a variety of care settings and distinct roles including:
Advanced-practice nursing
Executive-level nursing
Informatics
The pathway to a DNP may vary depending on a nurse's starting point. BSN-prepared nurses can expect to spend between three and six years in school, depending on whether they attend full or part-time. MSN nurses can expect a shorter journey, between two and three years. The curriculum usually starts with core courses that are specific to the DNP role, followed by courses in a specialty track. A DNP project is also required to graduate.
Choosing a DNP Program
Nurses choosing to return to school should consider specific options that schools offer. Each prospective student's needs may differ, but some of the primary considerations are listed below.
What to Consider When Choosing a DNP Program
Cost– The average cost of a DNP program in West Virginia is around $660 per credit. This fee is for tuition only – university fees, supplies, and living expenses are an additional cost. Luckily, many schools offer tuition assistance and financial aid. Attending part-time also helps offset the cost.
Online Options– There are pros and cons with online learning. While distance education can be flexible, and students can learn at their own pace, hands-on, interactive learning may not be available. There are online options in West Virginia.
Accreditation– There are two nationally-recognized agencies in the United States that accredit DNP programs- the Commission on Collegiate Nursing Education (CCNE) and the Accreditation Commission for Education in Nursing (ACEN). Accreditation by one of these two agencies is necessary for licensing, and it ensures that strict educational standards are met.
Residency Options– To earn a DNP, nurses must acquire 1,000 clinical practicum hours. Sometimes, MSN hours can be applied to the required DNP hours. Many times, the school is contracted with nearby healthcare facilities and students may find preceptors or mentors there. A DNP project is also required to graduate. Examples of DNP projects include:

Practice change initiative
Quality improvement
Design and evaluating programs
Developing and implementing healthcare programs
West Virginia University offers a DNP program for both BSN and post-master's students. The program is online only, and 33-62 credits are required to graduate. MSN students may choose to earn their DNP while BSN to DNP students can select APRN tracks in pediatrics and FNP. For more information, students are encouraged to visit the university's website.
Admission & State Licensing or Certification Requirements
Admission
Admission to DNP programs in West Virginia may vary. Criteria are dependent on the school and the nurse's entry point. Requirements may include:
Current RN or APRN license
MSN or BSN degree
Specialty certification (if applicable)
Specified GPA (varies per school)
Completion of a statistics course
Written goal statement, statement of purpose, or other writing samples
Submission of a resume/CV
Letters of professional reference
Documentation of prior clinical experience as an RN or APRN
Liability insurance
Health clearance
Certification
Specialty certification is a chosen area of focus for APRNs. MSN to DNP graduates may not need certification, as they may already hold current certification, or it is not required for their role (i.e., as an executive). However, DNP graduates who started as a BSN RN, or those changing their specialty, must obtain certification. Examples of specialty certification include:
Nurse practitioner specialties (i.e., adult-gerontology, pediatrics, psychiatric-mental health, women's health, etc.)
Certified nurse midwife
Certified Registered Nurse Anesthetist
While not required, some DNP graduates in non-practitioner roles may choose to become certified in a specialty area. For example, the American Nurses Credentialing Center (ANCC) offers certification in:
Informatics Nursing
Nurse Executive
Nurse Executive-Advanced
Nursing Professional Development
Public Health Nursing-Advanced
Licensure
As stated earlier, specialty certification is required for APRN licensure in West Virginia. Additional requirements include:
Current RN license
Completion of a graduate program (MSN or DNP)
Ensure an official hard copy transcript is sent to the board
Complete an online application for prescriptive authority (if necessary for practice)
Complete online application
Pay any necessary fees
West Virginia BSN to DNP Program Options
BSN nurses have the opportunity in West Virginia to obtain a DNP directly. There are accredited programs in the state that offer a BSN-DNP pathway. MSN degrees are earned along the way, and nurses are prepared for roles in advanced practice as well as administration.
For example, Shepherd University in Shepherdstown offers BSN students the opportunity to become a Family Nurse Practitioner or a role in nursing leadership. The BSN-DNP program may require 75-84 credits (depending on which track is chosen) and the program may be completed in three years if attending full-time. For more information, and to view the BSN-DNP plan of study and curriculum schedule, prospective students may view their DNP handbook online.
Related Education Paths
Helpful DNP Agencies and Organizations in West Virginia
List of Campus and Online DNP Programs in West Virginia
Morgantown, WV
6700 Health Sciences South
Morgantown
,
WV
26506
(304) 293-0111
Shepherdstown, WV
301 N King St
Shepherdstown
,
WV
25443
(304) 876-5000
Wheeling, WV
316 Washington Ave
Wheeling
,
WV
26003
(304) 243-2072
Are we missing your school's program or need to update information listed? Please contact us so we can make the necessary changes.
Find DNP Programs By City: