MSN Degree Programs in Arkansas
The south-central state of Arkansas provides many opportunities to work in a wide range of nursing roles. There are plenty of educational establishments to take your experience and career opportunities forward. The most common educational program for this is the Master of Science in Nursing (MSN). These graduate programs give greater career choices, better pay and job security, and allows you to niche into specialized areas.
Nursing education establishments across Arkansas have many choices of nursing master's degrees. So, if you're looking for an online or campus-based study, accelerated or standard paced, you will find plenty of RN to MSN and BSN to MSN on offer.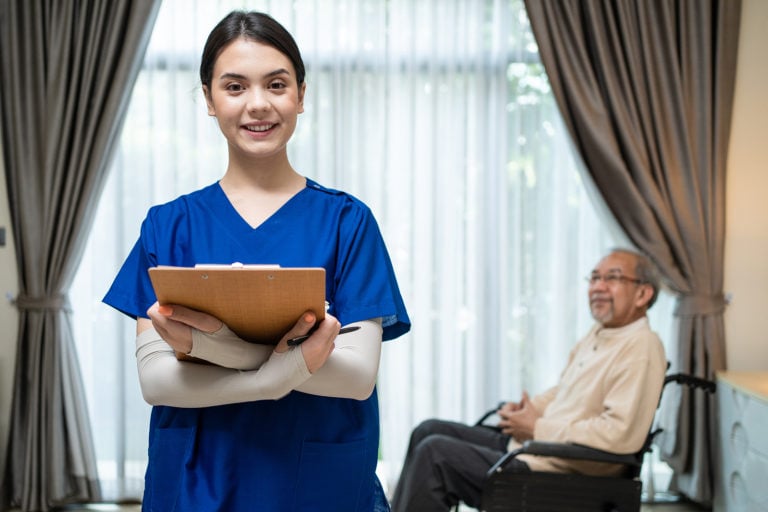 RN to MSN and BSN to MSN Programs
If you want to study a Master of Science in Nursing, you have two current pathways depending on your background. The first is for Registered Nurses (RNs) with an Associate Degree in Nursing (ADN). The other is for Bachelor of Science in Nursing (BSN) graduates. Both types have fully online and fully offline options. However, to offer students the best of both worlds, some have hybrid programs too. Both types will cover the same subjects. The former choice will require more in-depth study as BSN graduates will have some background that ADN graduates will not. Such a program will also take longer to complete.
Typical Program Length
Four semesters over 12-14 months for BSN to MSN
Six semesters over 24-30 months for RN/ADN to MSN
Typical Admission Requirements
Current RN license and a good record
ADN or BSN (accredited by the regional board)
A GPA of 3.0 GPA
Resume detailing clinical experience. Three recommendation letters may suffice
CPR certification
Completion of any stated prerequisite courses
Accelerated & Master's Entry Nursing Programs
Accelerated Nursing Master's, which go by a variety of similar names such as MENP (Master's Entry Nursing Program) or Accelerated Masters Nursing Program are for non-nursing graduates who wish to convert their existing bachelor's degree to nursing. These are rapid and intense ways to shift career paths. Harding University is one such educational establishment offering MENPs in Arkansas. The first of its kind in the state, you can work as a nurse in Arkansas and also springboard your new career towards a specialization.
Typical Program Length:
Harding University's Master's Entry into Professional Nursing will take between 12 and 15 months full-time and two years part-time.
Typical Admissions Requirements:
MAT or GRE scores
Fulfill all health tests and requirements
A GPA of 3.2 on the 4.0 scale. Science GPA must be over 3.0
Provide academic transcripts
Pass the HESI A2 Admission Exam
A resume and three references
A relevant written sample
Evidence of CPR certification
Completed CNA course (though certification is not required)
An interview may be requested
A baccalaureate degree or 90 credit hours of prerequisite courses
2023 List of MSN Programs in Arkansas
Moving from RN to MSN degree could find nurses working in areas of patient education, mental health, and an array of other specialties. Several colleges throughout the Arkansas offer the option of online, campus courses or a blend of both methods to help the RN to MSN transition. Arkansas encourages individuals to make the decision to move forward in your career by obtaining your MSN degree.
MSN Programs By City:
Conway, AR
Fayetteville, AR
Little Rock, AR
Searcy, AR
State University, AR
Are we missing your school's program or need to update information listed? Please contact us so we can make the necessary changes.