Nurse Practitioner Schools in Arizona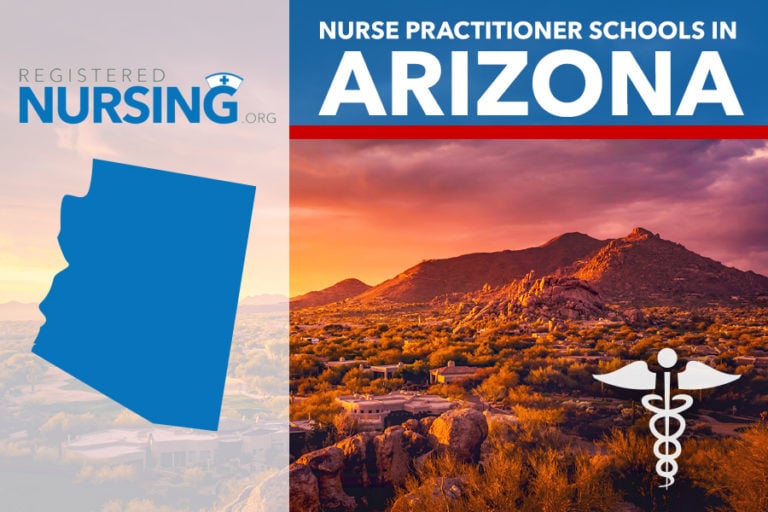 The role of nurse practitioner (NP) is a valued one in the nursing field; NPs are often leadership-based positions with high levels of responsibility and autonomy. Arizona nurses looking to further their careers can complete specialized NP programs at the master's or doctoral levels, and even enter popular sub-specialties such as nurse midwife, certified registered nurse anesthetist, and more. Completing a nurse practitioner program can lead to rewarding relationships with patients, improved care, and a higher salary.
Choosing a Nurse Practitioner Program
Choosing the right nurse practitioner program in Arizona doesn't need to be daunting, especially when the following key elements are considered:
Accreditation- Checking schools for accreditations is one of the first things prospective students should do to ensure quality. The Accreditation Commission for Education in Nursing (ACEN) and the Commission on Collegiate Nursing Education (CCNE) are two well-respected accreditations to watch for. Arizona boasts over five schools with accredited NP programs.
Program Cost- Arizona students can generally expect NP program tuition to range from roughly $600 through $975 per credit hour. Location, degree level chosen, and program type (online or campus) can affect tuition amounts. It's important to keep in mind that tuition typically doesn't include additional mandatory expenses like books, labs, and other program fees.
Program Length- Many programs require a student to already hold a BSN degree before being accepted into a graduate nurse practitioner program. From this point, MSN programs take roughly 2-3 years to complete, with up to 50 credits required, while DNP programs can take 3-4 years, with up to 90 credits required. Total length can also fluctuate based on full-time or part-time attendance.
Internship/Externship Opportunities- Both MSN and DNP level nurse practitioner programs require that a set number of clinical hours be completed before graduation. Many schools will happily list the hospitals and medical centers in the area which regularly offer internship/externship opportunities to their students.
Online/Campus Options- NP students are able to choose from a range of program attendance types, including online (also known as 'distance learning') and traditional campus-based programs. Some programs even offer a 'hybrid' option, combining the convenience of online courses with the socialization and face-to-face benefits of campus visits.
Admission and Certification Requirements
Students will typically find the following admissions requirements in Arizona:
BSN or higher from accredited educational institution
Minimum undergraduate GPA of 3.0
Current RN license
1-2 years of professional nursing experience
Comprehensive statement about experiences and goals
Three professional letters of recommendation
Licensing/Certification
Certification for most of the nurse practitioner specialty areas can be obtained through the American Nurses Credentialing Center (ANCC). Generally, applicants must hold an active RN license and have completed a graduate-level nursing program in an applicable specialty.
In Arizona, an advanced practice nurse is defined by a registered nurse practitioner, certified nurse midwife, clinical nurse specialist, or certified registered nurse anesthetist. Licensure is granted by the Arizona State Board of Nursing, and eligibility requirements include:
Hold a current Arizona RN license
Submit an official application and pay applicable fee
Provide evidence of national certification as an advanced practice registered nurse in a specialty
Submit an official transcript from a completed graduate level nurse practitioner program
Arizona Nurse Practitioner Agencies and Organizations
Schools That Offer Nurse Practitioner Programs in Arizona
The demand for highly skilled nurse practitioners is growing, and is slated to continue to grow by 31% through 2024. Arizona offers a variety of quality nurse practitioner programs with rewarding sub-specialties, for those who desire either the MSN or DNP pathway.
Flagstaff, AZ
Phoenix, AZ
Tempe, AZ
Tucson, AZ
Are we missing your school's program or need to update information listed? Please contact us so we can make the necessary changes.