MSN in Health Informatics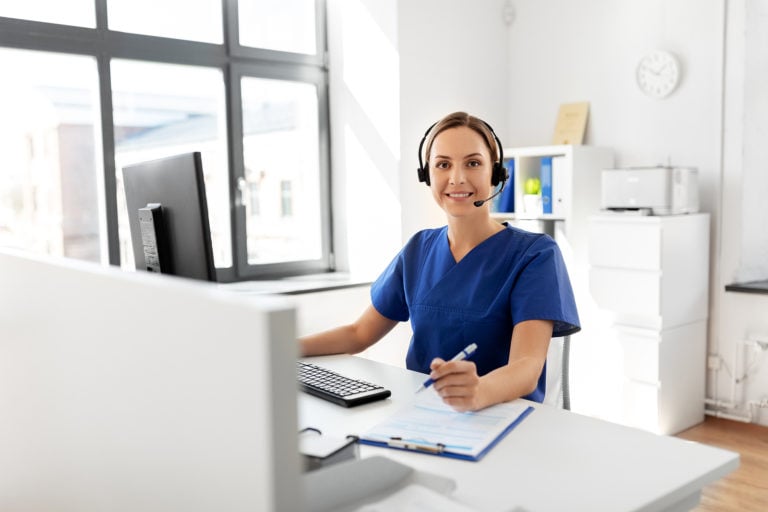 Nurses interested in computer and information technology have a great deal of career mobility. These nurses can start as "super users" in their care area, training new nurses and staff on electronic medical record usage as well as system upgrades and changes. They can also advance into more leadership and management roles, including project management.
Health or healthcare informatics is critical because all members of the healthcare team need the information to care for patient safety. Nursing documentation provides the interdisciplinary team with the information they need to treat patients, as well as evaluate results. Additionally, information is used to create and design systems to improve patient care outcomes.
Nurses who wish to pursue an advanced degree specializing in informatics can complete a master's degree in healthcare informatics. It may help the nurse gain admission into an informatics program if they have completed technology-related courses such as statistics or leadership and management. MSNs in healthcare informatics are open to those in a variety of healthcare careers, including (but not limited to) nursing.
Which MSN in Health Informatics Program is Right for Me?
Choosing an informatics program may be a difficult one for nurses. Deciding which program to choose depends on many factors. Cost, scheduling, and flexibility are some of the main considerations. The following breaks down the top considerations and may serve as a starting point for nurses seeking a master's degree in healthcare informatics.
Do MSN in Health Informatics Programs Offer Campus or Online Options? Many nurses seeking a higher degree are already out in the workforce. Returning to school may be a challenge because of work hours as well as responsibilities at home. Many nurses looking into master's degree programs look for a school with online options to increase flexibility when it comes to studying.
Is the MSN in Health Informatics Accredited? Nursing programs in the United States must be accredited by either the Commission on Collegiate Nursing Education (CCNE) or the Accreditation Commission for Education in Nursing (ACEN). A school might be accredited by local or regional agencies, but national accreditation is usually required for licensure. Students should research specific licensing requirements in their state before selecting an informatics program.
MSN in Health Informatics Program Course Topics – Students should have an interest in healthcare technology and information systems. Course topics may include database management, project management, information security and privacy, informatics theory, and research.
Associated Tuition Costs – Tuition costs vary between schools. Factors such as residency status and the program's reputation affect the cost as well. Tuition can be a few hundred dollars per credit, or several thousand. Many schools have financial aid options as well as a part-time curriculum which helps to offset the cost.
Online MSN in Healthcare Informatics Program Advantages
Flexible Schedule
The ability to study at one's own pace and around current work hours is one of the advantages of enrolling in an online master's program. Many students are continuing to work as nurses while they advance their degrees, and not all workplaces allow for education leave flexibility. Nurses often need the freedom to study when they can squeeze it in, around work hours as well as family obligations. Being able to have a flexible schedule facilitates a healthy work/life/school balance.
Tuition and Costs
As stated earlier, the cost of tuition and the master's program as a whole can vary greatly. Tuition can be higher in some states than others and can vary between cities as well. Residency status can also affect tuition. Out-of-state residents usually have to pay a higher rate than in-state residents. However, some online programs charge a flat tuition rate for both in-state and out-of-state residents.
Tuition for a Master's in Healthcare Informatics can range from several hundred dollars credit to well over a thousand. It's important to note that this is just for tuition; university fees and supplies are an additional cost. Those enrolled in online programs may need to pay for technology supplies such as a laptop, webcam, and other items.
Accessibility and Convenience
Many students continue to work as nurses while they advance their degrees, and as any nurse will tell you, nurses can work odd hours. From early mornings to late evenings, weekends, holidays…not to mention 12-hour shifts or 24 hours on call! Nurses returning to school need to be able to plan around those unusual hours to achieve a higher degree.
With online programs, students can study any time and any place, as long as they have a computer and an internet connection. Learning content is easily accessed, at any time of day or night, and students can reach out to peers and faculty electronically. Moreover, students can learn at their own pace and by their learning style, which increases retention.
Fast Completion
Online Master's in Healthcare Informatics degree programs also allow for self-paced learning. Many online programs present a sample curriculum, which students can adjust based on their needs. For example, a sample curriculum for a part-time student can include four classes per semester, but students can take only one if they need to. In many cases, the MSN students can complete their program in as little as 12 months. Similarly, a nurse can load up on courses to get through the program faster and out into the workforce with their new degree.
Students should review the school's website closely to find out of there are any restrictions, however. Some schools have a time limit as to when a program needs to be completed (i.e., within six years) and how many courses can be taken per semester.
Program Curriculum
The online program curriculum can be adjusted based on a student's needs. Most programs offer full or part-time study. The program usually starts with a series of "core" courses. These are classes that every master's student in the field of healthcare informatics needs to learn. Then, depending on the school, students can choose a specialty track. Examples of such may include clinical or health administration informatics or health technology.
The master's program also includes a capstone or thesis project. This project demonstrates that the student can apply what they've learned to real-world situations, and also demonstrates the ability to identify a clinical issue and develop evidence-based solutions.
Accreditation of MSN in Healthcare Informatics Programs
The United States Department of Education endorses agencies that accredit nursing programs across the nation. By having the school accredited by nationally-recognized organizations (such as the CCNE or ACEN), students can be assured that courses can be transferred to other schools, are eligible for federal financial aid, and will fulfill licensing requirements in most states.
MSN in Healthcare Informatics Classes and Courses
The required MSN in Healthcare Informatics classes and courses may differ slightly between programs. Core courses may include:
Overview of health care in the U.S.
Introduction to healthcare informatics
Legal issues in informatics
Ethics
Leadership
Informatics security
Depending on the program, students can further specialize. For example, Northwestern University offers specializations in Clinical Informatics, Health Technology Informatics, and Health Administration Informatics, with courses specific to those tracks.
What Are the Tuition and Costs of an MSN in Health Informatics Program?
Tuition and fees vary from school to school and from program to program. To get an idea of the specifics of costs, Temple University lists tuition costs per credit for part-time study. The MS in Healthcare Informatics is an online program under the College of Public Health, and tuition fees currently range from around $800 to $1200 per credit, depending on in-state or out-of-state residency. Cost also varies for online vs. on-site classes.
Additional fees (for example, university fees) are also often required. These fees are based on the credits taken per semester and range from around $100 to $445. University fees are used to help fund the expansion and maintenance of facilities, provide equipment and technology to students, and assist with on-campus healthcare availability.
Other costs students may be responsible for are:
Matriculation fees
Course fees
Late registration fees
Late payment fees
International student fees
Parking
Books/supplies
Reviewing the costs of a master's program can be daunting. However, students should be aware that most schools offer financial aid counseling and loan services. Private loans are another option; students are encouraged to shop around for the best offers. Students can also choose to attend in part-time status, which helps spread the cost over a longer period of time.
What Are the Career Options for Nurses with an MSN in Health Informatics?
Nurses with a Master's in Healthcare Informatics have several career options such as:
Moreover, graduates can work in a variety of settings, including:
Hospitals
Clinics
Military hospitals/VA
Mental health facilities
Educational institutions
Non-profit organizations
Federal or state health organization
Organizations and Helpful Resources
Other Nursing Degree Programs/Career Options
List of MSN Health Informatics Programs
As a growing field in healthcare, graduate degree programs in health informatics are cropping up at colleges and universities around the nation. We have compiled a comprehensive list of schools that offer this degree pathway to make finding the right program easier for prospective students.
Jump to Your State Listings
Arizona
College of Nursing and Health Care Professions
3300 West Camelback Road
Phoenix
,
AZ
85017
(855) 428-5673
North Carolina
School of Nursing
307 Trent Drive
Durham
,
NC
27710
(919) 684-3786
Are we missing your school's program or need to update information listed? Please contact us so we can make the necessary changes.