MSN in Healthcare Policy
Are you interested in shaping healthcare policies that improve patient outcomes and benefit entire populations? If so, a Master's of Science in Nursing (MSN) with a focus in Healthcare Policy may be a good fit for you.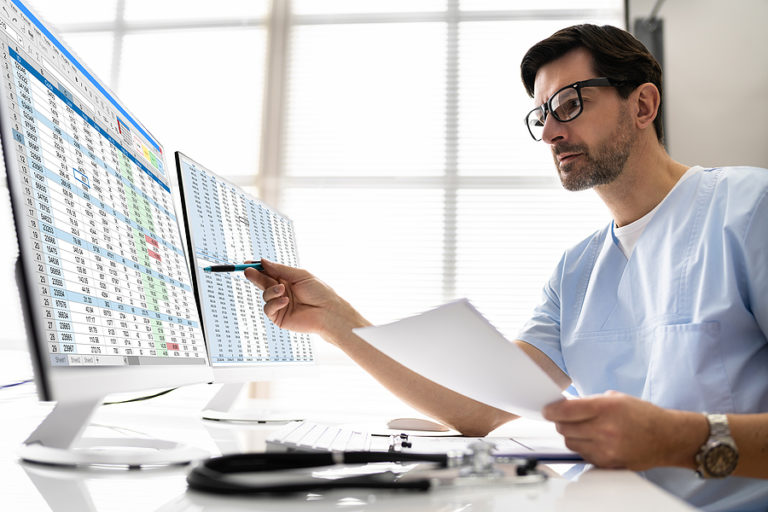 MSN Healthcare Policy programs train experienced nurses to research, design, and implement healthcare policies, analyze policies using a variety of metrics, and advocate for positive healthcare change on both organizational and population levels. With a leadership and advanced practice degree, graduates of MSN in healthcare policy programs are prepared for careers as:
Public Policy Writer/Advocate
Healthcare Policy Consultant
Healthcare Policy Researcher/Research Coordinator
Legislative Consultant
Global Health Director
MSN Healthcare Policy programs train nurse leaders who have the ability to influence healthcare policy at the local, state, national, and global levels, which opens the door to a world of career possibilities.
Choosing an MSN in Healthcare Policy Program
MSN Healthcare Policy programs are a niche category of MSN degree programs, and selecting the right school is a critical first step in attaining your healthcare policy career goals. When researching programs, there are a few crucial factors to keep in mind, including:
Accreditation
As with any MSN pathway, selecting a program that is accredited by a credible third-party accrediting organization is an important way to evaluate a school's quality and reputation. The Commission on Collegiate Nursing Education (CCNE), the Higher Learning Commission (HLC) and the Accreditation Commission for Education in Nursing (ACEN) are all reputable organizations that ensure a school is providing high-quality nursing education to its students.
Program Cost
The cost of an MSN in Healthcare Policy program varies from school to school and can depend on a number of factors including a school's geographic location and reputation, a student's residency status, online vs. on-campus format, and whether a student takes a part-time or full-time course load. As one example of program costs, the Master's in Nursing – Healthcare Policy program at the University of California San Francisco School of Nursing costs $30,580 per year for California residents based on the 2019-2020 academic year, which includes tuition and mandatory fees. When comparing school costs, make sure to factor in the cost of books, supplies, mandatory school and lab fees, and housing and/or commuting costs in addition to the stated tuition price.
Program Length
Program length also may vary from school to school. Typically, a master's in healthcare policy program takes between 1.5 and 2 years of full-time study to complete, but in some cases, students can finish their program in as little as 12 months. Some schools may offer part-time study options, which would take a bit longer to finish.
Online/On-Campus Options
In addition to traditional campus-based master's programs, students interested in earning their MSN in healthcare policy can also choose to take classes online. For students who need to fit in their studies around work or family obligations and those who don't live near a school that offers a healthcare policy program, online programs like the one offered at Chamberlain University make a lot of sense.
Admissions Requirements
While admissions criteria may vary slightly, in general applicants to MSN Healthcare Policy programs should be able to meet the following entrance requirements:
Bachelor's degree or higher in nursing from an accredited college or university
Cumulative GPA of 3.0 or higher on all undergraduate coursework
Current, active unrestricted RN license
Must submit the following documents along with a completed application: transcripts from all undergraduate schools attended, current resume, professional recommendations, and a personal statement or essay
MSN in Healthcare Policy Curriculum
Students of an MSN in healthcare policy can expect to take courses on the following topics:
Healthcare Systems, Politics & Policy
Communication & Policy Leadership
Health Policy Research
Global Healthcare
Healthcare Economics
Evidence-Based Nursing Practice
Nursing Informatics
Advanced Research Techniques
In addition to coursework covering major topics in advanced practice nursing, leadership and policy issues, students will also complete a practicum or internship where they can put these skills into practical use before completing their degree program.
Helpful Links
OTHER SPECIALTY MSN PROGRAMS
List of Colleges Offering MSN in Healthcare Policy Programs
To find the perfect MSN in Healthcare Policy program, peruse our state-by-state listings below.
Jump to Your State Listings
California
Department of Social and Behavioral Sciences
3333 California St., Suite 455
San Francisco
,
CA
94118
(415) 476-3047
Illinois
Virginia
School of Nursing
1971 University Blvd
Lynchburg
,
VA
24515
(800) 424-9595
Are we missing your school's program or need to update information listed? Please contact us so we can make the necessary changes.