Master's in Executive Nurse Leadership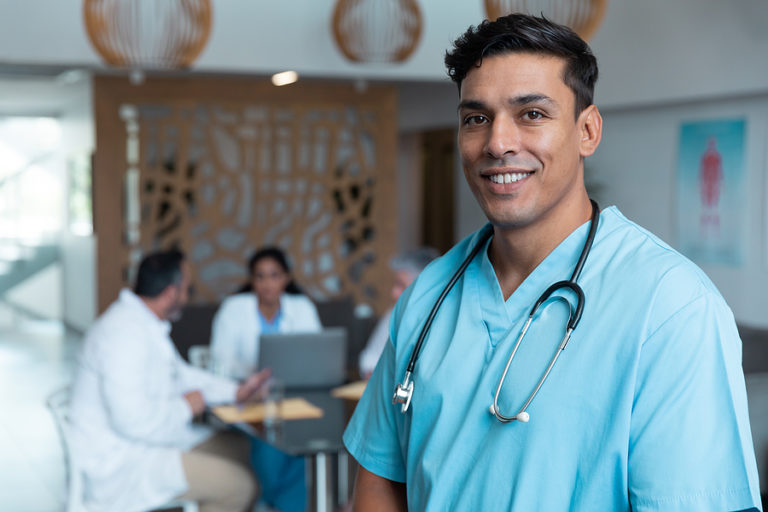 Nurses who are passionate about taking a leadership role in their organization, coupling best practices in nursing with effective business principles, and managing others may benefit from pursuing a Master of Science in Nursing (MSN) in Executive Nurse Leadership degree. These advanced nursing degree programs prepare nurses to be leaders in their field and secure rewarding jobs as nurse executives, nurse consultants, and even Directors of Nursing. In addition to the opportunity to help patients and take a leadership role in a healthcare organization, a career in medical and health services management offered a median salary of $101,340 in 2021, according to the U.S. Bureau of Labor Statistics.
Which MSN in Executive Nurse Leadership Program is Right for Me?
There are a number of Executive Nurse Leader MSN programs to choose from, so making the right choice for your career goals can be an overwhelming decision. In order to simplify your options, take the following elements into consideration when researching schools:
Program Accreditation – A critical first step is determining if a program is properly accredited. Program accreditation means that the school has been vetted by a third-party organization and you can be sure it will provide high-quality nursing education and prepare nurses for the next phase of their careers. It is smart to make sure that every program you consider is accredited by an organization such as the Commission on Collegiate Nursing Education (CCNE) or the Accreditation Commission for Education in Nursing (ACEN).
On-Campus vs. Distance Learning – MSN programs are offered in traditional classroom formats as well as fully online "distance learning" and hybrid formats that combine on-campus study with online coursework. Many nurses considering an advanced degree are working full-time or have family obligations to fulfill, so online programs can provide the flexibility that makes attaining an MSN degree more convenient.
Sample Coursework – Most schools provide an overview of the program curriculum on their websites or by email if requested. Before you select a program, ensure that the course subjects cover what you need to learn to reach the desired next step in your career. Typical courses for a Nurse Executive Leader program include financial management and resource allocation, nurse leadership, and quality improvement and safety.
Time Commitment – Most MSN degrees take between 2 and 3 years to complete, and in some cases, one year. However, the time it takes to complete an MSN in Executive Nurse Leadership can vary based on a number of factors, including whether a program is taken on a full- or part-time basis, if the program is a distance learning format that allows you to complete your coursework on your own schedule, and how many clinical or on-campus hours are required to complete the program.
Program Cost– The tuition cost for an MSN in Executive Nurse Leadership program varies from school to school and can be influenced by the geographic location, type of school, online versus on-campus program format, and a student's residency status. When calculating the total price of a school, be sure to include the cost of materials, books, housing, and/or commuting if necessary in addition to the tuition fees.
Advantages of Online MSN in Executive Nurse Leader Programs
Online MSN programs provide students with several benefits, including the flexibility to complete coursework around their own schedules. The major advantages of selecting an online MSN program include:
Affordability
Oftentimes, online programs are the more cost-effective options for students, when comparing them with traditional on-campus programs. While tuition rates vary widely from school to school, online students do not have to consider commuting costs or campus housing when calculating the full price of their education. Most schools, including those that offer online programs, also provide financial aid options for those who require assistance paying for their degrees.
Flexible Schedule & Program Length
Many nurses who decide to pursue a master's degree are already working full-time, and often at odd hours, including evenings, weekends, and holidays. Online programs provide nurses who are working full- or part-time the flexibility to complete coursework when it suits their needs without disrupting work or family obligations. Many schools offer self-paced learning, which also means students can complete coursework at a quicker pace, allowing them to complete their degree and begin a new career in less time than a traditional classroom program.
Accessibility & Convenience
Online learning opens the door to a wider range of schools and program options than just what is within commuting distance from your home. Especially important for those who live in rural or remote locations, online students don't need to worry about the cost of commuting, traffic patterns, or parking costs. And the convenience of logging into the classroom at any time can't be matched by an on-campus program.
Program Curriculum
The curriculum for an Executive Nurse Leader MSN program prepares students for leadership and managerial roles. Course work generally begins with advanced nursing practices, such as evidence-based nursing practices, healthcare policy and advocacy, and quality improvement and safety standards. Following foundational advanced nursing classes, students in an Executive Nurse Leader program move on to courses that deal with management principles, including financial management, strategic planning, interpersonal communication, and leadership best practices.
As an example of the program curriculum, the following classes are included in Benedictine University's online Master of Science in Nursing, Executive Nurse Leader program:
Health Promotion and Inter-professional Collaboration
Ethical and Culturally Competent Healthcare Professional
Evidence-Based Nursing Practice: Research and Process Improvement
Healthcare Policy and Advocacy
Quality Improvement and Safety
Building Effective Communication and Relationships
Advanced Knowledge of Healthcare Systems
Financial Management and Resource Allocation
Nurse Leadership and Systems Thinking
Advanced Nursing Practice Clinical Immersion
In addition to coursework completed online or in a classroom, an MSN program also includes clinical practice hours in which students will put their coursework into the application.
What Are the Tuition & Costs for an MSN in Executive Nurse Leadership Program?
As mentioned above, the cost of an Executive Nurse Leader MSN program can vary widely based on the school's location and a number of other factors. In addition to tuition fees, other costs associated with an MSN degree generally include mandatory university fees, materials, and supplies including textbooks and medical supplies, graduation fees, and for students who study on campus, housing and/or commuting costs. As an example of program costs, the University of San Diego's Master of Science in Nursing Executive Nurse Leader program costs $1,465 per credit hour for the 2018-2019 academic year, along with mandatory fees of around $175 per semester.
What Are the Career Options for Nurses with an MSN in Executive Nurse Leader?
Nurses with an MSN Executive Nurse Leader degree have a number of career options to pursue, including as a nurse executive or nurse administrator. Typical duties for which an Executive Nurse Leader has been trained include:
Create budgets for the healthcare facility
Design and oversee patient care practices
Participate in the development of policies and procedures
Hire, train and mentor junior nurses
Collaborate with other healthcare professionals, such as doctors, nurses, and administrators.
Specific career titles these senior nurses may hold include:
Nurse Executive: A nurse executive is a managerial role in which the nurse shapes healthcare policies and practices for their organization and oversees the work of a team of nurses. They also make budgets, manage finances for their department or organization, and mentor junior nurses.
Nurse Consultant: Often working at the intersection of health and the law, nurse consultants help develop solutions for healthcare facilities to ensure they deliver high-quality patient care and follow all applicable legal standards and protocol.
Nurse Administrator: Combining patient care and managerial duties, nurse administrators such as Charge Nurses or Nurse Managers hire, train and supervise nursing staff, create work schedules, maintain records, oversee quality assurance activities, and collaborate with other healthcare professionals.
Director of Nursing: In a top management position, the Director of Nursing oversees multiple departments or even an entire healthcare facility and uses evidence-based practices to develop policies and protocols.
Read more in our Expert Guide to Nursing Leadership
Organizations & Helpful Resources
List of All Executive Nurse Leadership Programs
Jump to Your State Listings
Alabama
Arkansas
California
Connecticut
Illinois
Louisiana
Minnesota
New York
North Dakota
Ohio
Pennsylvania
Texas
Wisconsin
Are we missing your school's program or need to update information listed? Please contact us so we can make the necessary changes.