Best MSN in Nursing Administration – 2023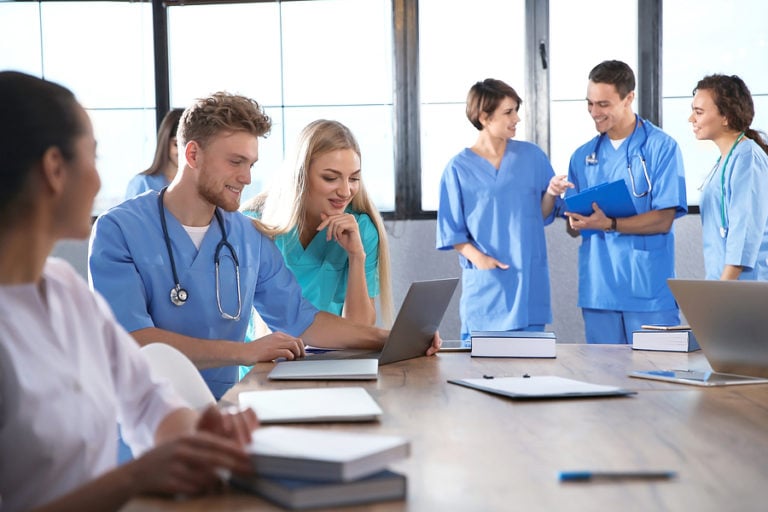 Nurses interested in a leadership or management position would benefit from earning a Master's in Nursing Administration. The Bureau of Labor Statistics reports that the median pay (as of 2020) for those in medical and health services management is $104,280 per year, which makes the master's degree in nursing administration a lucrative choice. Additionally, the BLS also reports that the job outlook for those in this field is expected to grow 32% by 2029, which is considered much faster than average. With career options spanning nursing managers to directors and more, it's easy to see why the MSN-level nursing administration pathway is the perfect career advancement tool for motivated nurses.
Like nursing education, nursing administration programs are highly sought after by colleges to fulfill the severe leadership shortage necessary for a growing nursing profession in the coming years. If anything, the past year and into the foreseeable future will test nursing leadership's resolve to curb the pandemic while catering to professional growth on the front line and beyond.
2023 - Best MSN in Nursing Administration Programs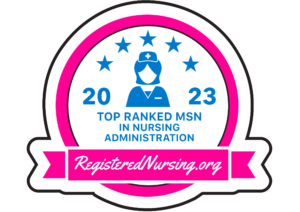 Many RNs find themselves drawn to the management and administrative side of healthcare. Earning a Master's of Science in Nursing Administration can set ambitious nurses up for high-level roles within hospitals and medical organizations. It is imperative, however, that a prospective student find the right program. That's why we have ranked the top online/hybrid MSN in Nursing Administration programs in the nation. A rewarding career as a Nurse Administrator starts with one of the high-quality programs below.
For more information on our top nursing school rankings, visit our Methodology Page (https://www.registerednursing.org/rankings-methodology/).
Which MSN in Nursing Administration Program is Right for Me?
Nurses who choose to go back to school for their master's degree might not know quite where to start when researching nursing administration programs. The following considerations provide a foundation that hopefully helps the decision-making process:
Does the MSN-Nursing Administration Program Offer Campus or Online Options? Most nurses looking to earn a master's degree are already working. Some nurses may work twelve-hour shifts, nights, weekends, or holidays. Nurses may need a program with flexible times or even online courses. There are many online options for nurses seeking a degree in nursing administration.
Is the MSN-Nursing Administration Program Accredited? Ensuring accreditation is essential when choosing an MSN program. Nursing programs in the United States must be accredited by either the Commission on Collegiate Nursing Education (CCNE) or the Accreditation Commission for Education in Nursing (ACEN), or by local/regional entities. Prospective students should visit their state's board of nursing to determine which accreditations are acceptable for licensure and practice.
MSN-Nursing Administration Program Course Topics- Many students may be unsure if the course content is what they are looking for. There are many management and executive-level careers for nurses, so those looking into nursing administration should make sure it is the right course of study for them. Common nursing administration concepts include informatics, organizational management, healthcare finance, and quality and safety in the healthcare setting.
Associated Tuition Costs– Tuition and associated costs can be a huge factor when selecting a master's program. Fees vary significantly between schools and are largely dependent on location. Students should not only look at the tuition rates but also any associated university fees, as well as residency status. Out-of-state residents may pay higher rates, even with online programs. The good news is that most schools have financial aid options and offer part-time positions to help offset the cost.
Learn about post-master's nursing administration certificate programs.
Online Master's in Nursing Administration Program Advantages
There are many advantages to selecting an online master's program. The following describes the numerous perks of online programs.
Flexible Schedule
Nurses work odd hours. They may work days, evenings, nights, holidays, weekends, and on-call. When choosing to return to school, many nurses need flexibility when studying and attending classes. Master's degree students also need to squeeze in clinical practicums.
Online programs offer a great deal of flexibility. Students may study anytime; they only need a computer and internet access. Students can also learn at their own pace. Many students are concerned that there is a decrease in the ability to collaborate with peers or instructors, but most online programs facilitate support between faculty and students.
Online programs are not always 100% online; some require a mandatory orientation on campus, and some may require "block" scheduled days (i.e., several consecutive days on campus per semester). However, most schools recognize that students must often continue working, offering weekends and flexible scheduling.
Learn about other options, such as online APRN programs.
Tuition and Costs
As stated earlier, tuition costs for a master's in nursing administration can vary greatly. Location is a massive determinant of tuition cost. Fees may vary based on state and even city. Although not always the case, some online programs offer flat tuition fees regardless of resident status. In other words, a resident of California may pay the same tuition rate as a New York resident at a New York-based program. This is variable, so students should research tuition rates carefully.
Tuition fees are one cost, but students may pay additional fees such as:
University fees
Study materials
Graduation fees
Technology fees
Technology equipment costs (e., laptops, webcam, etc.)
With online programs, however, students save on the costs associated with commuting and parking on-campus.
Accessibility and Convenience
Convenience is one of the main reasons why students choose online programs. They can log on anytime, study anytime, and work on and submit projects any time. Assistance from peers and faculty is only a click away.
Online programs also reduce or eliminate the time required to commute, park, and walk to class. Battling traffic, inclement weather, and on-campus congestion is a thing of the past with online study. Online programs also greatly benefit those living in more remote or rural areas.
Fast Completion
Most master's in nursing administration programs are between 35 and 48 credits. Many programs can be completed in as little as 18 months or less. However, the time to completion may be longer for part-time students. The beauty of online programs is that students can study at their own pace, so completion time is up to them. It's important to note, however, that some schools place limitations on the time to completion – for example, some schools require the program to be completed within five or six years. Self-paced learning also helps to facilitate faster completion.
Program Curriculum
The online curriculum in MSN nursing administration programs can vary depending on the school. Some programs are 100% online, and no campus visitation is required. Some have minimal campus visitation requirements, such as a mandatory orientation session or block "intensive" days on campus. Some programs are hybrid, offering some courses online and some on-campus.
Many programs offer a sample curriculum online so prospective students can visualize the course of study based on full or part-time status.
Accreditation of Master's in Nursing Administration Programs
The CCNE and ACEN are the two nationally recognized accreditation bodies recognized by the U.S. Secretary of Education. They work to establish educational standards for nursing programs. Attending a program recognized by these agencies ensures licensure and that education credits are transferable to other educational institutions. Moreover, employers do look at a candidate's educational background and a school's accreditation.
What are the Classes and Courses?
Master's level nursing programs usually begin with core courses related to advanced-practice nursing. Courses include:
Advanced pathophysiology
Advanced Pharmacology
Advanced health assessment
Role development
Healthcare policy
Students also learn executive-level nursing skills in specialization courses. Course topics may include:
Leadership and Management
Quality and Risk
Informatics/technology
Advanced finance and operations
Organizational structures
Human Resources
Students must also complete a specific number of supervised clinical practicums. This requirement allows students to apply evidenced-based methods to practice. Usually, students must find an approved preceptor, but sometimes schools assist in placement. A minimum of 1000 hours is generally required to graduate.
What are the Tuition and Costs?
The tuition and costs of an MSN program can vary significantly between schools. Base tuition (i.e., per credit hour) can range from a few hundred per credit to over a thousand per credit. For example, the University of Phoenix lists tuition at $540 per credit. The program is a minimum of 36 credits, so students can expect to spend around $20,000 for the program for education only. However, additional fees may be required, so students must prepare for those costs. Most schools are transparent on their website with tuition rates and fees, so performing a little research would behoove any prospective student when planning to return to school.
What Are the Career Options?
Nurses looking to get into the field of administration have several career options. The role a nurse administrator plays in a facility may include the following:
Develop facility-wide policies and procedures
Provide oversight to an entire healthcare facility
Plan and implement budgets
Participate in and utilize research to facilitate evidenced-based practice
Manage quality metrics
Utilize the latest technology in healthcare delivery
Specifically, careers for nurses with a master's in nursing administration may include:
Read more in our Expert Guide to Nursing Leadership
Organizations and Helpful Resources
Other Nursing Degree Programs
List of All MSN in Nursing Administration Programs
There are a wide variety of nursing administration programs available across the country; see our detailed list below and find the best nursing administration program that's right for you.
Jump to Your State Listings
Alabama
Alaska
Arizona
Arkansas
California
Colorado
Connecticut
Florida
Georgia
Illinois
Indiana
Iowa
Kansas
Kentucky
Louisiana
Maine
Massachusetts
Michigan
Minnesota
Mississippi
Nebraska
New Jersey
New Mexico
New York
North Carolina
North Dakota
Ohio
Oklahoma
Pennsylvania
South Carolina
South Dakota
Tennessee
Texas
Vermont
Virginia
Washington, DC
West Virginia
Are we missing your school's program or need to update information listed? Please contact us so we can make the necessary changes.