MSN Degree Programs in Nevada
Nevada isn't all casinos, gaming, and entertainment. With its growing retirement community, the state also has a high demand for prepared nurses and healthcare professionals. As a result, many RNs are stepping up to earn a Master's of Science in Nursing so they can evaluate, diagnose, and treat patients at a higher level. Moreover, a master's degree enables nurses to earn more and work at preferred medical centers and hospitals. 
To make it easier for RNs to earn an MSN degree in Nevada, there are a few different options, including direct-entry (sometimes called accelerated) and bridge programs (RN/BSN to MSN).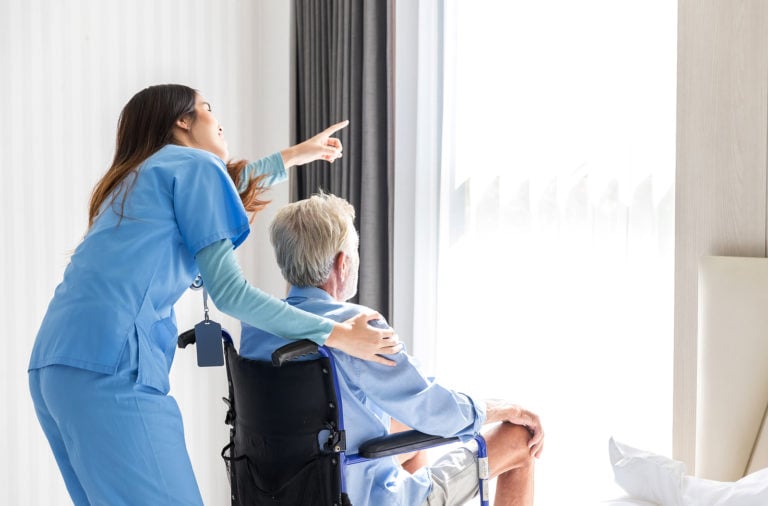 RN to MSN and BSN to MSN Programs
Nurses in Nevada seeking career advancement have several back-to-school options at their disposal. With a few different part-time and full-time RN to MSN and BSN to MSN programs available, RNs can choose among online, in-person and blended options. RNs with BSNs may be able to take advantage of bridge programs that enable faster degree completion. With most nurse practitioner programs, some in-person clinicals may be required. RNs with associate's degrees may be eligible for such programs contingent upon completing additional coursework. Though MSN programs remain rigorous, they've been redesigned to be more accessible to working nurses. 
Typical Program Length:
Roughly 6 full-time semesters for an RN to MSN
About 4 full-time semesters for a BSN to MSN
Typical Admissions Requirements:
ADN or BSN from an accredited university (degree level may vary by program)
Minimum GPA of 3.00
Current license as an RN in Nevada
Interview with nursing faculty
Letter of intent or statement of purpose 
Accelerated & Master's Entry Nursing Programs
For individuals seeking to enter the nursing profession at the master's level, they may apply via one of Nevada's few direct-entry Master's Entry Nursing Programs (MENPs). Accelerated and intense by design, these fast-tracked programs are geared toward dedicated students with bachelor's degrees in non-nursing areas. University of Nevada, Las Vegas, offers one such direct-entry MSN program. Graduates are readied to sit for the NCLEX exam.
Typical Program Length:
32 credits are required to graduate 
Typical Admissions Requirements:
Bachelor's degree in a non-nursing field from a regionally accredited university
GPA of 2.5 (gen ed) and GPA of 3.0 for nursing prerequisites
Completion of prerequisite courses in science 
Application, resume, interview, and statement of intent
Official transcripts 
2023 List of MSN Programs in Nevada
There are a couple of RN to MSN programs offered within Nevada that are either part-time, full-time, online or blended learning; these programs offer some flexibility for working nurses to help accommodate schedules. These programs, once completed, can offer candidates job opportunities in becoming a Nurse Educator, Family Nurse Practitioner, Urgent Care Nurse and other highly qualified roles and there are more specialty opportunities that are open to candidates after completion.
MSN Programs By City:
Henderson, NV
874 American Pacific Drive
Henderson
,
NV
89014
(702) 777-8687
Las Vegas, NV
School of Nursing
4505 S. Maryland Pkwy.
Las Vegas
,
NV
89154
(702) 895-3011
4001 S Edmond St
Las Vegas
,
NV
89118
(877) 214-7005
Reno, NV
1664 N. Virginia Street
Reno
,
NV
89557
(775) 784-1110
Are we missing your school's program or need to update information listed? Please contact us so we can make the necessary changes.