MSN Degree Programs in New Jersey
Like many states along the Eastern Seaboard, the densely populated state of New Jersey has a great demand for experienced nurses, including advanced practice ones. Licensed RNs who want to earn more while becoming decision-makers regarding patient care can earn a Master's of Science in Nursing from a flexible program designed for nurses who work. 
Nurses already have a lot on their plates. That's why New Jersey schools have a number of flexible ways for them to advance their careers, including direct-entry or accelerated MSN degrees and bridge (RN/BSN to MSN) options.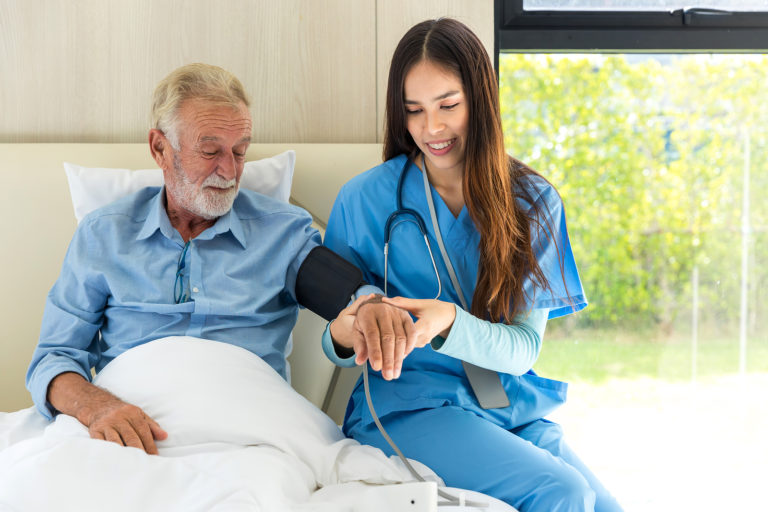 RN to MSN and BSN to MSN Programs
RNs with either associate's or bachelor's degrees have clearly set pathways available for them to become advanced practice nurses. RN to MSN and BSN to MSN programs in New Jersey allow students to earn their degrees in less time. For associate's prepared nurses, they must complete core nursing courses at the bachelor's level before moving to the master's level curriculum. Designed to be flexible and accommodating, these programs are offered part- or full-time as well as online, in-person or hybrid. Most online programs do require in-person clinicals and oftentimes they can be completed close to a student's home or work location. 
Typical Program Length:
As many as 6 full-time semesters for an RN to MSN
About 4 full-time semesters for a BSN to MSN
Typical Admissions Requirements:
ADN or BSN from an accredited university (degree level may vary by program)
Minimum GPA of 2.70
Active license as an RN in New Jersey
Current CPR certification
Accelerated & Master's Entry Nursing Programs
Bachelor's educated individuals looking for a career change can apply to become a master's level nurse via a Master's Entry Nursing Program (MENP). Concentrated and fast-moving, these programs enable committed students with a non-nursing background to become nurses at the master's level in less time. Georgian Court University in New Jersey offers one such in-person program that fast-tracks nursing students to become nursing leaders. The one-of-a-kind program strives to meet the acute demand for nurses in the region.
Typical Program Length:
Typical Admissions Requirements:
Bachelor's degree from an accredited university in a non-nursing field
GPA of 3.2 or higher and official transcripts (in sealed envelopes) 
Completion of prerequisite courses in science (in the past 10 years)
Application and resume
2023 List of MSN Programs in New Jersey
If you are looking for options for continuing your education and bridging from RN to MSN in one of New Jersey's many part-time, traditional in-class, or online programs offered within the state, there are options for continuing your education and keeping up with both professional and personal responsibilities. The average median yearly wage for a nurse with an MSN is approximately $100,000 per year. The career path that you find these wages are found in Clinical Nurse Leader roles, Psychiatric Nurse Practitioner, Pediatric/Perinatal Nurse Practitioner, and more. All require an MSN and matching experience, but all are compensated accordingly.
MSN Programs By City:
Ewing, NJ
Galloway, NJ
Jersey City, NJ
Lawrenceville, NJ
Mahwah, NJ
Newark, NJ
Rutherford, NJ
South Orange, NJ
Teaneck, NJ
Trenton, NJ
Wayne, NJ
West Long Branch, NJ
Are we missing your school's program or need to update information listed? Please contact us so we can make the necessary changes.