Nurse Practitioner Schools in Georgia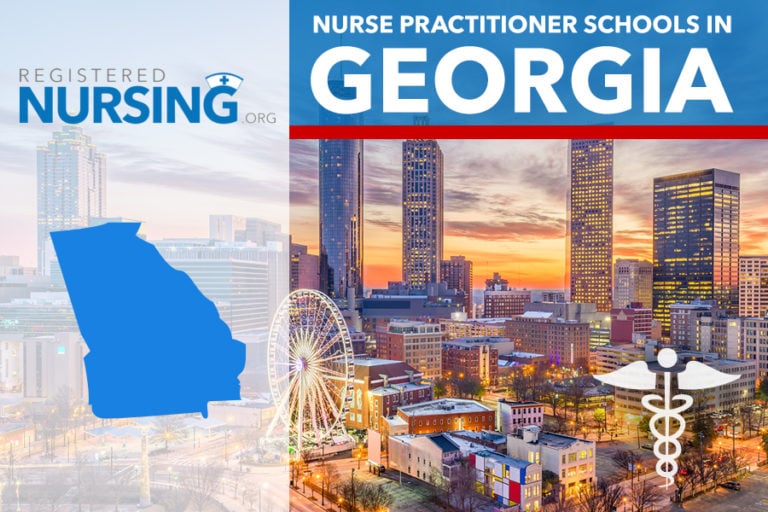 For nurses interested in expanding their nursing career in the state of Georgia, becoming a Nurse Practitioner and obtaining a Master of Science in Nursing (MSN) or a Doctorate of Nursing Practice (DNP) is a great option to further your education, increase your salary and enhance your career.
A MSN will allow a nurse to specialize in a specific field of nursing such as family practice, adult care, acute care, OB GYN, psychiatrics, geriatrics, or pediatrics. This is for students who hold a BSN (Bachelor of Science in Nursing) or a bachelor's degree in another profession.
A DNP is an advanced degree that is the highest level of clinical practice offered to nurses. This is for students who hold an MSN or a BSN degree.
Choosing a Nurse Practitioner Program
Accreditation
When searching for nursing programs, select a program that is accredited by the Commission on Collegiate Nursing Education (CCNE) or the Accreditation Commission on Education in Nursing (ACEN). Both of these governing bodies ensure the program meets quality and integrity standards
Program Length
MSN program length is approximately two years. Programs offer full-time or part-time student status that will increase the program length. DNP program length averages 2 years for MSN-DNP and approximately 3-4 years for BSN-DNP
Program Cost and Credits
The average cost for MSN/DNP program is $450 per credit. The tuition is higher for those students from out of state though many programs offer some sort of financial assistance for qualified applicants
MSN total credits: average 45 credits
DNP total credits: average 36 credit hours after Master's degree completion
Online options
A handful of schools in Georgia have the option to complete coursework online with infrequent campus meeting with clinical sites local to the student. Some offer 100% of coursework online making it easily accessible to students.
Admission Requirements
To enter a MSN program in the state of Georgia, the requirements are as follows:
BSN from accredited nursing program with GPA of 3.0
Active, unrestricted RN license in the state of Georgia
Minimum one to three years of RN experience (acute care preferred/required)
GRE for Columbus State University, other programs either do not require GRE or allow for GRE to be waived if criteria are met
Some require American Heart Association BLS Certification
To enter a DNP program in the state of Georgia, the requirements are as follows:
BSN (for BSN-DNP program) or MSN (for MSN-DNP program)
Active RN or MSN license in the state of Georgia
GRE for BSN-DNP
Minimum two years working as BSN or MSN
There are many specialties in MSN programs and DNP programs, some of which include:
Family Nurse Practitioner (FNP)
Adult/Gerontology Acute Care Nurse Practitioner (AGACNP)
Psychiatric-Mental Health Nurse Practitioner (PMHNP)
Upon completion of the program, the graduate will have to complete a thesis or capstone project and at least 500 hours of work as an Advanced Practice Registered Nurse (APRN) and then can apply for authorization through the Georgia Composite Medical Board to obtain credentials and begin working as a Nurse Practitioner.
Nurse Practitioner Programs in Georgia
It is estimated that the demand for Advanced Practice Nurses nationwide will increase within the next five to ten years. There are many options within the state of Georgia that offer online classes as well as on campus coursework to support students deciding to enhance their nursing career!
Americus, GA
Atlanta, GA
Augusta, GA
Dahlonega, GA
Macon, GA
Milledgeville, GA
Milledgeville,, GA
Savannah, GA
Statesboro, GA
Are we missing your school's program or need to update information listed? Please contact us so we can make the necessary changes.