Nurse Practitioner Schools in Kentucky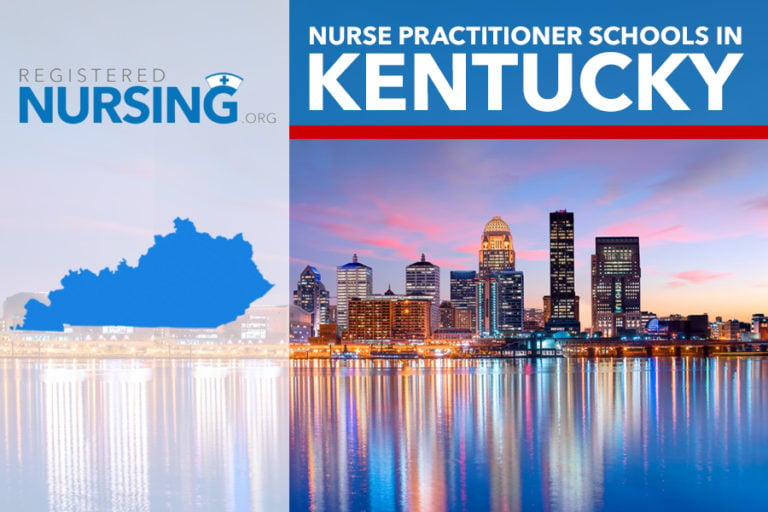 Registered nurses enjoy an enriching and rewarding career. Many choose to further their career by earning a master's degree (MSN) or doctoral degree (DNP) in nursing and practicing as a nurse practitioner.
In Kentucky, nurse practitioners can practice independently, act as a patient's primary care provider, and can prescribe medications.
Choosing a Nurse Practitioner Program
When considering an advanced-practice nursing program, the following components should be considered:
Accreditation- Graduate programs for MSN/ DNP should be accredited by the Commission on Collegiate Education (CCNE) or the Accreditation Commission for Education in Nursing (ACEN). Moreover, each state sets standards for schools. Kentucky's State Board of Nursing has lists of approved and accredited schools with MSN programs, DNP programs, and post-master's
Program Cost-Graduate programs typically require completion of 30-55 credits, the average being 45 credits. The average cost per credit is around $400 for residents of Kentucky; otherwise, tuition can cost an average of $700 per credit. Books, supplies, fees, and living expenses are not included in these figures.
Program Length- MSN programs usually take about two years to complete, and DNP programs take about three to four years to complete if attending full time. Since holding BSN is a frequent requirement for admission into a graduate nursing program, ADN nurses may need to spend a little longer on their educational path.
Internship/ Externship Opportunities-Nurse practitioners, unlike physicians, are not required to complete residency or internship programs. However, these programs help prepare the nurse practitioner to work in the specialty of choice by having them gain valuable clinical experience and build upon their knowledge base. As of February 2017, there were no formal residency programs available in the state of Kentucky.
Online/Campus Options-According to the American Association of Colleges of Nursing (AACN), there are ten graduate programs for nurses in the state of Kentucky. Depending on the degree sought (MSN or DNP), online programs are readily available, with some more than 50% online courses. Online courses allow for more flexibility and self-directed learning, which is beneficial for some learners.
Admission and Certification Requirements
The requirements for entry into an MSN or DNP program may vary among educational institutions, but applicants may be required to:
Hold a BSN degree from an accredited undergraduate nursing program
Hold a current RN/APRN license
Submit transcripts from previous colleges
Have maintained a minimum GPA in undergraduate coursework (specific GPA may differ between schools, usually must be 3.0 or higher)
Provide references/ letters of recommendation
Provide a written goal statement
Interview with faculty
Have prior work experience as an RN before admission, although some programs may allow for concurrent work experience
Licensing/Certification
The Kentucky State Board requires national certification for APRNs before they can be licensed. Many times, graduate programs offer certification; however, the board provides a list of other approved national certifying agencies. Certification may be in:
Family practice
Adult-Gerontology (acute and primary care)
Pediatrics (acute and primary care)
Emergency
Critical care
Women's Health/Midwifery
Psychiatric-Mental Health
In addition to certification, the requirements to become licensed in the state of Kentucky are:
Hold an active, unencumbered RN license
Submit fingerprints
Complete a background check/ criminal history report
Completion of a post-basic education program
Have the graduate program submit official transcripts to the board
Kentucky Nurse Practitioner Agencies and Organizations
Schools That Offer Nurse Practitioner Programs in Kentucky
According to the CCNE, Kentucky has several accredited schools with graduate-level programs for nurses, some with online/ distance learning available. Additionally, some schools in the state have BSN to DNP tracks available, which makes for a more streamlined educational path for registered nurses.
Bowling Green, KY
Frankfort, KY
Grayson, KY
Highland Heights, KY
Hyden, KY
Lexington, KY
Louisville, KY
Morehead, KY
Richmond, KY
Are we missing your school's program or need to update information listed? Please contact us so we can make the necessary changes.