Nursing Programs in Louisville, KY
Those in search of a solid and rewarding career are flocking to registered nursing in droves. In the Louisville area, there are many accredited nursing programs for the new nurse, as well as continuation programs for the experienced RN.
To get started in nursing or to advance your nursing career, check out our accredited program listings sections below: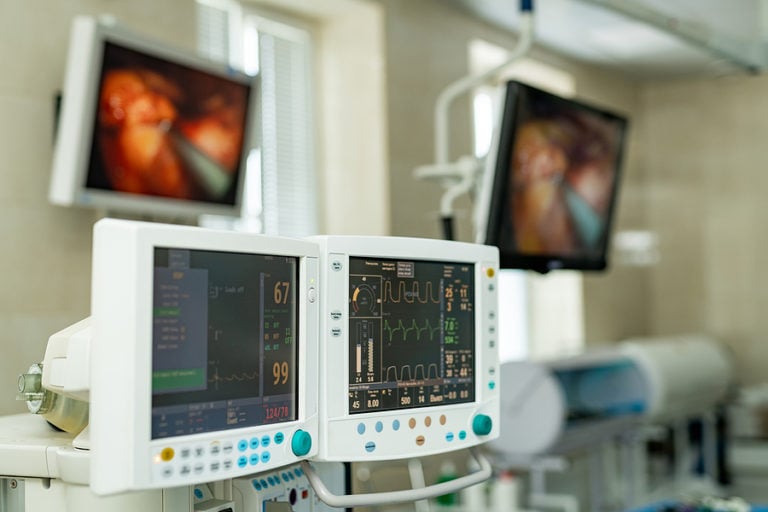 Entry Level ADN, BSN, & MSN Programs in Louisville, KY
Nurses in Louisville and the surrounding areas have many entry-level options to choose from. Whether an Associate's Degree in Nursing (ADN), a Bachelor's of Science in Nursing (BSN), or even a direct-entry Master's of Science in Nursing (MSN) is the desired degree type, aspiring nurses are bound to find what they are looking for.
LPN to RN Programs
Are you an experienced licensed practical nurse who wants to expand their career opportunities by becoming a registered nurse? If so, a specialized LPN to RN bridge program may be the best option for you. LPN to RN programs help LPNs build on prior coursework to become RNs at a faster pace than those with no prior nursing experience. One example in the Louisville area of these programs is found at Jefferson Community & Technical College, which allows students to complete their associate's degree in nursing in either two or three semesters, instead of the usual four.
ADN Programs
The ADN degree is the basic registered nursing pathway. These 2-year programs are popular because they are the fastest way to earn an RN degree, and are readily available at local community and technical colleges. For example, Louisville's Galen College of Nursing offers an ADN program that is designed to be completed in 24 months of full-time study, with four start times per year.
Direct-Entry BSN Programs
The classic 4-year BSN program does not require a prior nursing degree in order to enroll. Many hospitals and other RN employers are beginning to require a BSN degree as a minimum requirement. Spalding University offers a classic BSN degree with a higher than average graduation rate, preparing students for nursing careers in a variety of healthcare settings.
Find out more about Kentucky Accelerated BSN Programs.
Direct-Entry MSN Programs
While not as common as ADN and BSN programs, the direct-entry MSN program is an option for students in Louisville. Often referred to as a Master's Entry into Professional Nursing (MEPN) program, it is designed for those who hold a bachelor's degree in a non-nursing subject. The University of Louisville offers an accelerated MEPN program that allows for a career change into a high-level nursing role.
Find out more about Kentucky Accelerated MSN Programs.
Louisville RN Program NCLEX-RN Pass Rates
Top Ranked Accredited Nursing Programs in Louisville
Listed below are the top nursing schools in Louisville based on our RegisteredNursing.org RN program rankings for Kentucky out of 49 other accredited programs offered in the state:
Bellarmine University - #20
Jefferson Community & Technical College - Louisville - #12
RN to BSN/MSN Programs in Louisville, KY
RN continuation programs are often referred to as "bridge" programs, as they allow RNs to advance to a higher degree by building on the knowledge they have already acquired. These include RN to BSN and RN to MSN programs.
RN to BSN Programs
The RN to BSN pathway is an excellent choice for RNs who have an ADN or diploma and want to advance their careers. This program can be completed in 1-2 years of study and is often offered online. For example, Galen College of Nursing offers a fully online RN to BSN program that takes 12 months to complete (courses are 8 weeks long). Mobile-friendly courses allow students to study from anywhere.
Learn more about Kentucky RN to BSN Programs.
RN to MSN Programs
RNs who want to enter more advanced practice can choose the RN to MSN pathway to earn a master's degree. The RN to MSN program typically allows students to choose which specialized nurse practitioner pathway they want to enter. Spalding University offers two types of RN to MSN programs; one for those who have a non-nursing bachelor's degree, in which students can choose from Nurse Educator or Nurse Practitioner tracks, and one for ADN-educated nurses, which culminates in a Family Nurse Practitioner specialization.
Learn more about Kentucky RN to MSN Programs.
APRN & Nurse Practitioner Programs in Louisville, KY
Advanced nursing programs are popular for RNs who want to enter the highest roles in registered nursing. These include most nurse practitioner specialties, as well as doctoral roles. Students can choose an MSN or even a DNP or Ph.D. program.
MSN Programs
Traditional MSN programs are designed to be completed after a BSN. They take around 2 years from start to finish, and students can choose from a variety of specializations, from pediatrics to psychiatric. Bellarmine University, for instance, offers an MSN degree with the choice between an Administration, Education, or Family Nurse Practitioner track.
Learn more about Kentucky Nurse Practitioner Programs.
DNP and Ph.D. Programs
The highest nursing degree available is a doctoral degree in nursing. RNs can choose between a Doctor of Nursing Practice (DNP) degree, which is geared toward clinical practice, and a Doctor of Philosophy in Nursing (Ph.D.), which focuses more on education and research. Spalding University offers a post-master's online DNP program with only 3 required on-campus visits. The University of Louisville offers a Ph.D. in Nursing that requires 40 semester credit hours beyond an MSN or 55 semester credit hours beyond a BSN.
Learn more about Kentucky DNP Programs.