Nurse Practitioner Schools in Michigan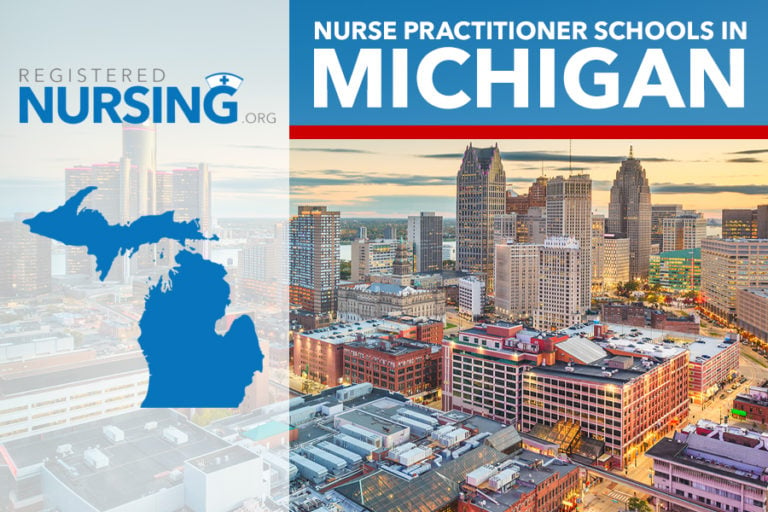 Obtaining a master's degree or a doctorate will help you deliver a higher quality of nursing care. As medical practices continue to evolve there is a higher demand for specialized practitioners. The average Nurse Practitioner salary in the state of Michigan is $104,892 making it a great place to further education and obtain a Master's of Science in Nursing (MSN) or a Doctorate of Nursing Practice (DNP)
Choosing a Nurse Practitioner Program
There are many considerations for selecting a nurse practitioner program, and many options to select from.
Admission Requirements
To enter a MSN program in the state of Michigan, the requirements are as follows:
Undergraduate cumulative GPA of 3.0
May have non-nursing baccalaureate degree for some programs
Active, unrestricted RN license in the state of Michigan
The GRE is not required
Essay, and three professional references
To enter a DNP program in the state of Michigan, the requirements are as follows:
Active, unrestricted RN in the state of Michigan
Cumulative GPA of 3.0 or higher
BSN or MSN from accredited nursing program
The GRE is optional, though there may be a writing test required if no GRE results submitted
Essay, resume or CV, professional references and interview
There are many specialties offered through the many colleges and universities in Michigan. Many of the programs in Michigan offer educator and leadership specialties and have geared programs to suit those needs.
Acute Care Adult/Gerontology Nurse Practitioner (AGACNP)
Primary care Adult/Gerontology Nurse Practitioner (AGPCNP).
Family Nurse Practitioner (FNP)
Nurse Anesthetist (CRNA)
Nurse Educator
Nursing Informatics
Nursing Leadership/Management
Clinical Nurse Leader
Accreditation
Most programs in Michigan are accredited by the Collegiate Nursing Education (CCNE) or the Accreditation Commission on Education in Nursing (ACEN). However, it is imperative to check accreditation prior to applying for a program.
Program Length
It can be expected that the program length for BSN-MSN will be approximately two years. BSN-DNP average is four years and MSN-DNP is two to three years.
Program Cost and Credits
The average cost for nurse practitioner programs in Michigan is $550 per credit for Michigan residents and averages to be closer to $800 per credit for out of state tuition.
MSN total credits: average 40 credits
BSN-DNP total credits: average 70 credits
Online options
It is common for most programs to offer some sort of hybrid coursework with online classes and campus meetings. Due to Michigan programs offering a high concentration of non-clinical specialties such as nurse educator and administration roles, these programs tend to be offered 100% online. This makes furthering education ideal for students that live far away from campus.
Michigan Nurse Practitioner Agencies and Organizations
Schools That Offer Nurse Practitioner Programs in Michigan
The state of Michigan offers many attractions, outdoor areas and borders four of the five great lakes. This could be the place for you to continue your education!
Ann Arbor, MI
Center, MI
Detroit, MI
East Lansing, MI
Flint, MI
Livonia, MI
Marquette, MI
Rochester, MI
Spring Arbor, MI
Ypsilanti, MI
Are we missing your school's program or need to update information listed? Please contact us so we can make the necessary changes.