Nursing Programs in Detroit, MI
Hit hard by the 2009-2010 recession, the economy in Detroit, Michigan has been making steady gains since that time. Job seekers in the diversifying field of healthcare and nursing will find many employment opportunities available to them. Registered nurses in the city can earn a competitive salary hovering at approximately $52K per year according to ZipRecruiter. To grow or diversify their skills, entry-level and experienced nurses can chose from a range of accredited education programs in the Detroit metropolitan area.
To get started in nursing or to advance your nursing career, check out our accredited program listings sections below: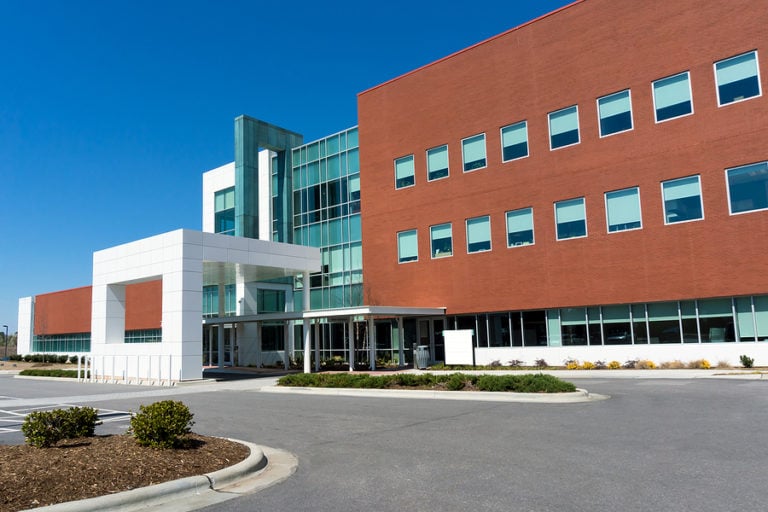 Entry-Level ADN & BSN Programs in Detroit, MI
Embarking on a new career path in nursing is rarely an easy undertaking but it is easier when quality education programs in work with you to help you apply. Entry-level nursing programs in Detroit, Michigan, including LPN to RN, Associate Degrees in Nursing and even direct entry Bachelor of Nursing degree programs, were made to eliminate the hassles typically associated with going back to school.
LPN to RN Programs
From taking patients histories to checking their vital signs, Licensed Practical Nurses (LPNs) are hands-on with patient care in every sense of the word. As much as LPNs do, they could do even more with an RN license. Fast-paced LPN to RN training programs prepare LPNs to test for the NCLEX so they can earn their Registered Nurse license while still working. Henry Ford College outside of Detroit, MI trains LPNs on nursing science fundamentals making the LPN to RN transition within students' capabilities.
ADN Programs
For individuals graduating high school, coming back from military service or changing jobs, Associate Degrees in Nursing (ADNs) programs ready students to enter the growing field of nursing. Offered at junior and community colleges, these low-barrier, entry-level programs teach students everything they need to know to pass the NCLEX-RN exam. In the heart of Detroit, Wayne County Community College's Associate of Applied Science in Nursing degree readies graduates to work in a range of health care facilities. It is approved by the Michigan Board of Nursing (MBON) and accredited by Accreditation Commission for Education in Nursing (ACEN).
Direct-Entry BSN Programs
Jump right into the deep end of a career in nursing when you apply for a direct-entry Bachelor of Science in Nursing (BSN) program. As hospitals and medical facilities prefer to hire those with a bachelor's degree, you can have an advantage over other applicants when you have a BSN. University of Detroit Mercy, a Catholic institution of higher education, offers several nursing programs including a traditional Bachelor of Science in Nursing. With a rigorous yet contemporary curriculum, the full-time program is focused on clinical care, ethical decision making, patient and community education, and disease management.
Find out more about Michigan Accelerated BSN Programs
Detroit RN Program NCLEX-RN Pass Rates
Top Ranked Accredited Nursing Programs in Detroit
Listed below are the top nursing schools in Detroit based on our RegisteredNursing.org RN program rankings for Michigan out of 59 other accredited programs offered in the state:
Baker College - Clinton Township - #16
Schoolcraft College - #19
Wayne State University - #1
RN to BSN/MSN Programs in Detroit, MI
Applying for bachelors' and masters' programs can be an inconvenience in and of itself. To streamline these matriculation processes, nursing colleges in the Detroit, Michigan area have added or modified their offerings so that registered nurses can complete either their Bachelor of Science in Nursing or their Master of Science in Nursing in less time with fewer application headaches.
RN to BSN Programs
Give your career a shot in the arm when you earn your Bachelor of Science in Nursing via an RN to BSN augmented program. Those with BSNs can gain greater job security and bump up their salaries. Moreover, a BSN is required for those nurses who wish to enter advanced practice areas or specializations. Eastern Michigan University an hour outside of Detroit offers an RN to BSN program in a hybrid format that blends on-campus and online learning. By making use of previously earned credits, the program can be completed in less time.
Find out more about Michigan RN to BSN Programs.
RN to MSN Programs
Those who want to move ahead full throttle in their nursing careers can choose a straight-shot RN to MSN pathway. Incorporating bachelor's and master's level learning in a one-right-after-the-other format, these RN to Master of Science in Nursing (MSN) tracks in Detroit, Michigan incorporate a blend of online and in-class instruction. Chamberlain University offers students five areas of specialty to choose from. Two courses from the MSN curriculum replace two courses from the BSN allowing students to complete the advanced degree in less time.
Find out more about Michigan RN to MSN Programs.
APRN & Nurse Practitioner Programs in Detroit, MI
Nurses today are taking on greater roles in healthcare. From treating and diagnosing patients' illnesses, Advanced Practice Registered Nurses (APRNs) are helping to solve the nation's healthcare problems. Universities have added a plethora of streamlined advanced degree and certificate options to their traditional offerings to help nurses advance their careers in the larger Detroit metropolitan area.
MSN Programs
Nurses can put their job applications at the top of the stack by earning their Master of Science in Nursing (MSN). Graduate-level nursing programs ready registered nurses for administration careers or train them to enter a specialty. Madonna University, a Catholic Franciscan school in the suburbs of Detroit, MI, offers theoretical and pragmatic teachings in advanced nursing practice to prepare students to elevate their careers and the overall nursing profession.
Find out more about Michigan Nurse Practitioner Programs.
Post-Master's Certificate Programs
Anyone familiar with the current healthcare climate knows that specialization is all the rage. From nursing education to clinical specialties, nurses who get certified can spend their shifts performing work they are excited to do. Many post-graduate certificates have their own testing and accrediting bodies. Wayne State University, located in Detroit's midtown, offers four clinical and one education certificate program so nurses can take a deep dive in their preferred area of specialty.
Find out more about Michigan Post-Master's Certificate Programs.
DNP & Ph.D. Programs
As a profession, nursing has never had more opportunities for those seeking advancement and ways to make a broader impact. Terminal nursing degrees such as Ph.Ds. and DNPs allow nursing students to expand upon and open up the field of nursing. Oakland University outside of Detroit offers an applied research nursing Ph.D. program to nurses looking to advance the profession on a larger scale.
Find out more about Michigan DNP Programs.