Nurse Practitioner Schools in Rhode Island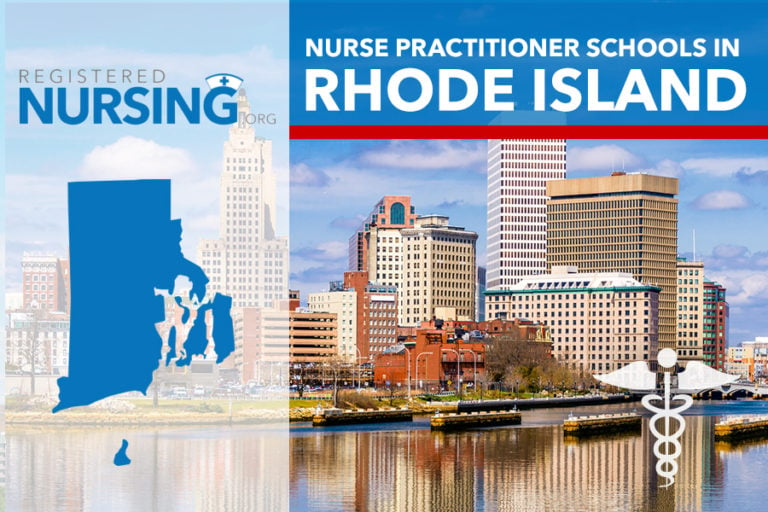 Nurse practitioners are advanced-practice nurses who incorporate the nursing process with prescribing, treating, and medically diagnosing patients. Education is a large part of nursing, and nurse practitioners often spend a great deal of time educating patients on illness and health maintenance to improve patient outcomes.
Independence is another key part of NP practice. In Rhode Island, nurse practitioners can independently diagnose and treat (without physician supervision), prescribe medications, and can act as a patient's primary care provider.
Choosing a Nurse Practitioner Program
Prospective students should not just consider location and convenience when selecting a master's degree (MSN) or doctoral degree (DNP) program. Principal factors to consider include:
Accreditation- Graduate programs should be accredited by the Commission on Collegiate Nursing Education (CCNE) or the Accreditation Commission on Education in Nursing (ACEN) to ensure educational standards are met or exceeded. Rhode Island has three accredited graduate schools.
Program Cost- Financial considerations can play a huge part in selecting a school. Rhode Island residents can spend an average of $550 per credit. Out-of-state residents have a higher tuition rate. This average does not include university fees, books/ supplies, or living expenses. Students must complete up to 78 credit hours, depending on the degree sought.
Program Length-It can take around two-to-three years to earn an MSN, three to four years to earn a DNP depending on the student's starting point (assuming the student attends full-time). Nurses that need to earn a bachelor's degree first may have to expect a longer time frame. However, many schools offer online RN to BSN programs or accelerated MSN programs.
Internship/externship opportunities- While supervised clinical hours are a required part of graduate-degree programs for nurse practitioners, some choose to participate in nurse practitioner residency programs. These programs allow for graduate NPs to build on the skills learned in school, and pick up valuable on-the-job training.
Online/Campus options- Online learning allows nurses to work at their own pace, self-direct, and maintain flexibility regarding time. Each of the three graduate-degree programs in Rhode Island offers certain amounts of distance learning. Prospective students should visit each school's website to determine specific online learning options.
Admission and Certification Requirements
Requirements for admission to a graduate program in Rhode Island may vary between each school, but students may be required to:
Have a baccalaureate degree
Have a current RN license
Provide official transcripts from all undergraduate or graduate work
Complete a statistics course
Have a GPA of 3.0 or higher
Complete the Graduate Record Examination (GRE)
Submit a current resume
Provide letters of recommendation
Send a brief letter of intent to include a goal statement
Interview with faculty
Licensing/ Certification
Obtaining certification from a nationally recognized credentialing agency is required for licensure. Certification may include the following specialties:
Adult-Gerontology-Acute Care
Adult-Gerontology-Primary Care
Family Nurse Practitioner
Pediatrics
Women's Health
Psychiatric-Mental Health
Testing for certification can be done through the certifying agencies. Examples of nationally-recognized organizations include:
The American Nurses Credentialing Center (ANCC)
The Pediatric Nursing Certification Board (PNCB)
National Certification Corporation (NCC)
Additional Rhode Island licensing requirements include:
Current RN license, or active RN license in a Compact State
Official transcripts must be sent directly to the board from the educational program
Complete a background check and fingerprinting
Pay applicable fees
Complete the Rhode Island Uniformed Controlled Substance Act Registration (CSR) if the applicant will be prescribing controlled substances
Rhode Island Nurse Practitioner Agencies and Organizations
Nurse Practitioner Programs
For such a small state, Rhode Island offers large educational opportunities for its nurses. That along with the fact that Rhode Island NPs can practice independently and act as primary caregivers to their patients makes it a perfect place for nurses to thrive and advance in their careers.
Kingston, RI
Graduate Certificate ProgramsMSN Programs
45 Upper College Rd
Kingston
,
RI
02881
(401) 874-1000
Providence, RI
600 Mount Pleasant Avenue
Providence
,
RI
02908
(401) 456-8000
Are we missing your school's program or need to update information listed? Please contact us so we can make the necessary changes.