Nurse Practitioner Schools in Utah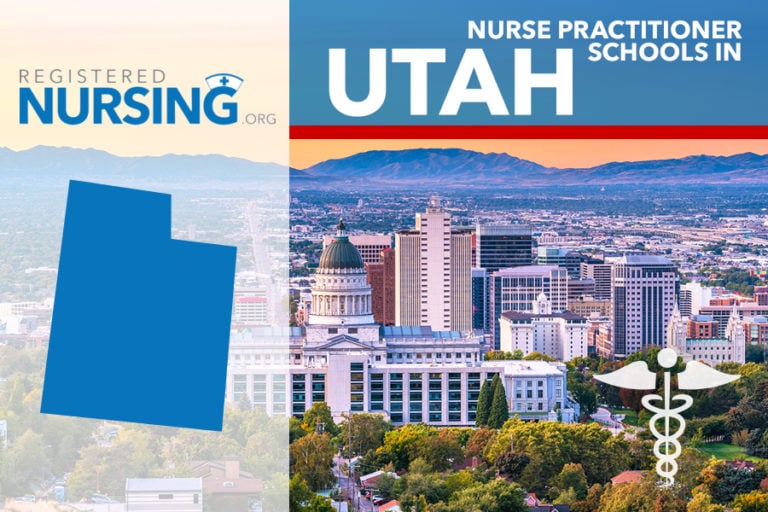 Nurse practitioners are advanced-degree nurses who provide comprehensive and holistic care to their patients. Not only do they diagnose, treat, and prescribe medications they spend a great deal of time educating patients on their individual health needs and preventive care. They can work in various clinical settings, focusing on the following patient populations:
Adult
Geriatrics
Pediatrics
Women's Health
Psychiatric-Mental Health
One advantage nurse practitioners have is that frequently they can practice independently. In Utah, nurse practitioners can diagnose, treat, and prescribe medications without physician involvement, and they can act as a primary care provider.
Choosing a Nurse Practitioner Program
Registered nurses who wish to advance their degree to a master's degree (MSN) or doctoral degree (DNP) in nursing must first find a program that is right for them. The following items should be taken into consideration when selecting a graduate school:
Accreditation- The program should be accredited by a national accreditation agency, such as the Accreditation Commission for Education in Nursing (ACEN) or the Commission on Collegiate Nursing Education (CCNE). This is usually required for licensure. Utah has eight accredited advanced-degree programs.
Program Cost- The cost to attend graduate school is a huge factor in choosing an NP program. The average cost per credit in Utah is around $900. The costs among the schools are highly varied- some as low as around $280 per credit, one over $2000 per credit. It's important to note that this does not include additional university fees, books, or supplies. While it can be daunting to research tuition rates, it's also important to recognize that most schools have financial aid options- scholarships, grants, loans, and payment plans.
Program Length- Depending on whether the student is earning an MSN or DNP, the length of time to complete the NP program can vary. The required credits needing to be completed can be from 40-90- or three to five years. This is if the student is attending full-time. Part time students will have a longer educational path, as will nurses who need to obtain their bachelor's degree before enrolling in an advanced-degree program.
Internship/Externship Opportunities- Nurse practitioner students must incorporate supervised clinical hours into the program to gain valuable, real-life experience as a provider. A minimum of 500 hours is usually required an MSN degree. However, Utah has several residency/fellowship programs available for nurse practitioners. While these programs are not necessary, some nurse practitioners find the added experience to be more beneficial in their practice.
Online/Campus Options: Online learning is a great alternative to classroom learning for many students. Not only does it help with flexibility, but it also helps students learn at their own pace and utilizing their learning methods. Utah has several schools that offer distance learning, such as the University of Utah which offers up to 99% of the curriculum online.
Admission and Certification Requirements
Admission to graduate programs in Utah may vary between schools, but general requirements may include:
Current RN license
BSN from an accredited university
Submission of transcripts from any previous institutions
Minimum GPA of 3.0
Letters of recommendation
Resume/ CV
Interviews with faculty
Completion of a college-level statistics course
Written statement of purpose/ goal statement
Because specific admission criteria can vary between schools, prospective students are encouraged to research requirements thoroughly before applying.
Licensing/ Certification
Nurse practitioner programs prepare students for specialty certification based on the "track" they chose to focus on (adult, pediatrics, women's health, etc.). Utah recognizes the following credentialing agencies for nurse practitioners:
American Nurses Credentialing Center Certification;
Pediatric Nursing Certification Board
American Association of Nurse Practitioners
National Certification Corporation for the Obstetric, Gynecologic, and Neonatal Nursing Specialties
Besides national certification, the following requirements must be met for licensure in Utah:
Current RN license in good standing
Completion of an accredited graduate program (transcripts must be sent to the board directly from the school)
Meet specific education requirements for Psychiatric-Mental Health (for NPs working in this specialty) as outlined by the Board
Submit to a criminal background check/ fingerprinting
Complete the licensure application, including the controlled substance affidavit (if applicable)
Utah Nurse Practitioner Agencies and Organizations
Nurse Practitioner Programs
With a median pay of $107,460 annually along with plentiful employment opportunities, advanced-practice nursing is an excellent choice for registered nurses who wish to broaden their horizons and expand their scope of practice.
Provo, UT
SWKT, Campus Dr #500A
Provo
,
UT
84602
(801) 422-4173
122 E 1700 S
Provo
,
UT
84606
(801) 375-5125
Salt Lake City, UT
10 South 2000 East
Salt Lake City
,
UT
84112
(801) 581-3414
1840 S 1300 E
Salt Lake City
,
UT
84105
(801) 484-7651
South Jordan, UT
MSN ProgramsGraduate Certificate Programs
10920 S. River Front Parkway
South Jordan
,
UT
84905
(801) 302-2600
Are we missing your school's program or need to update information listed? Please contact us so we can make the necessary changes.