Washington Post-Graduate Certificate in Nursing Programs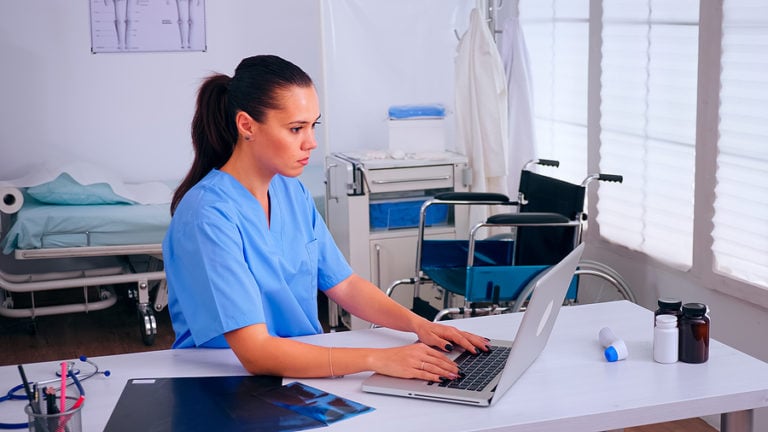 You're a nurse: you know how important it is to stay on top of the latest developments in patient care. Continuing education is an important part of your commitment to take care of your patients. When you choose to fulfill your continuing education requirements by earning a post-graduate certificate in nursing, you're not just showing your patients that you care. You're also showing your supervisors that you take your career seriously and that you're ready for advancement. Let's take a look at some information on earning your post-graduate nursing certificate in Washington.

Post-Graduate Certificate in Nursing Admission Requirements in Washington
While admission requirements for post-graduate nursing certificates can differ from school to school, many programs in Washington require criteria similar to that of Washington State University's Nursing Education & Nursing Leadership programs:
Minimum of one year of nursing practice
GPA of at least 3.0 in an accredited graduate nursing program
Completion of a graduate-level statistics course
Current, unencumbered RN license in Washington
A written statement of purpose
Post-Graduate Certificate in Nursing Classes and Courses
Your required classes may depend on your interests, prior education, and choice of specialty. Most programs require a combination of general and specialized classes.
For example, the adult-gerontology primary care nurse practitioner program at the University of Washington School of Nursing requires:
Physiology and Pathophysiology Across the Life Span
Wellness, Health Promotion, and Disease Prevention
Comprehensive Health Assessment
Diagnostic Health Assessment
Advanced Pharmacology
Diagnostic Management and Decision Making
Management of the Adult I
Women's Health
Clinical Practicum
Management of the Adult II
Pharmacotherapeutics for Older Adults
Common Adolescent Health Problems
Clinical Practicum II
Management of the Adult III
Clinical Practicum III
Advanced Practice Clinical Practicum
Program Length
In Washington state, post-graduate nursing certificate programs tend to range from 12-36 credits. Many nurses choose to work through their post-graduate program on a part-time basis, allowing them to continue to work full-time in the nursing field. Programs can take as little as one year or as long as six years to complete.
Tuition and Cost of Attendance
Several factors affect the total cost of attendance, including books, other supplies, program fees, travel to and from campus, etc. In Washington, students can expect to pay $800-$1,200 per credit on average. Take a look at Pacific Lutheran University's postgraduate certificate program fee schedule for an idea of tuition cost.
Online Post-Graduate Certificate in Nursing Programs in Washington
Online post-graduate education for nurses is common in Washington, and for good reason. As a nurse, it can be hard to find the time to make it to class. Working long shifts with odd hours makes it easier to complete your education online. Nursing schools in Washington understand this, and many offer fully online or hybrid programs to allow you to get your education on your own time.
Featured Online School
Washington State University offers post-graduate nursing certificates online in the areas of public health, nursing education, and nursing leadership. These programs are a great way for busy nurses to further their education without neglecting their first love – providing direct patient care.
Post-Graduate Certificate in Nursing Career Pathways in Washington
Earning your post-graduate nursing certificate can open several career pathways for you. Whether you choose to focus on nurse leadership, nurse education, advanced patient care, or another specialty, your education will qualify you for new career paths.
Nurses who earn their post-graduate nursing certificate may be able to qualify for new titles in the workplace such as:
Post-Graduate Nursing Certificate Salary and Job Outlook
There is currently a nursing shortage in the United States, and the need for well-educated, experienced nurses is high. Nationally, advanced practice registered nurses with their post-grad nursing certificate earn around $113,000 per year, according to the BLS. In Washington, advanced practice registered nurses can expect to earn between $100,000 and $140,000 per year.
List of Washington Post-Graduate Certificate in Nursing Programs
Furthering your education is the right choice for your patients and your career. Let's take a look at some of the best post-grad certificate programs available in Washington.
Pullman, WA
Seattle, WA
Graduate Certificate Programs
901 12th Avenue
Seattle
,
WA
98122
(206) 296-6000
Graduate Certificate Programs
1410 NE Campus Parkway
Seattle
,
WA
98195
(206) 543-2100
Vancouver, WA
Graduate Certificate Programs
14204 NE Salmon Creek Ave
Vancouver
,
WA
98686
(360) 546-9788
Are we missing your school's program or need to update information listed? Please contact us so we can make the necessary changes.