Best Kansas RN to BSN Programs
With the majority of registered nurses (RNs) in the country holding a Bachelor's of Science in Nursing (BSN) or higher, many RNs who hold an Associate's Degree in Nursing are going back to school to complete their baccalaureate education. This opens the door to specialized nursing careers in surgery, emergency room, and pediatric nursing, and gives an RN a chance to earn a higher salary. Kansas is an excellent state to complete a bachelor's degree via an RN to BSN program, and is home to a variety of schools which offer it.
2021 - Best Online RN to BSN Programs in Kansas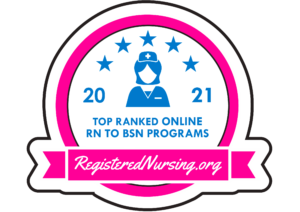 As hospitals and healthcare employers move to hire more BSN-educated RNs, many current registered nurses are thinking about completing a bachelor's degree. Online RN to BSN programs in Kansas can help RNs achieve their professional goals, opening them up to higher pay and greater employment opportunities. Selecting the right program, however, can seem like a chore. That's why we have ranked the top online RN to BSN programs in the state of Kansas. If you are an RN looking for a flexible way to earn your BSN, check out our rankings below to get started.
For more information on our top nursing school rankings, visit our Methodology Page (https://www.registerednursing.org/rankings-methodology/).
Admissions Requirements for Kansas RN to BSN Programs
Going back to school to complete an RN to BSN program is a big decision. Ensuring that you meet or exceed your school of choice's entrance requirements is the first step. Below is a list of admissions requirements you might come across while researching programs in the state:
Current RN licensure
Transcripts from all colleges previously attended
Three professional references
Health related work/volunteer experience
Must pass a background check
RN to BSN Classes & Courses
RN to BSN programs aim to build upon prior nursing education and experience in healthcare workforce. Students take a mix of general education and upper division nursing courses. Specialized nursing courses provided as part of the University of Kansas Medical Center's RN to BSN program include:
NURS 443: Developing the Baccalaureate Nurse Role
NURS 444: Using Technology to Enhance Client Safety
NURS 446: Population Based Health Care for the Practicing Nurse
NURS 441: Nursing Research in an Evidence-Based Practice Setting
NURS 326: Pharmacology for the Practicing Nurse
Online RN to BSN Programs in Kansas
Completing an RN to BSN via an online program is a popular choice amongst nurses who want to keep working as they earn their degree. These programs offer the same academically rigorous curriculum as in-person programs, but allow students to work at their own pace. Part-time or full-time programs of study are typically available in this format.
Featured Online School
Washburn University, based out of Topeka, offers an exclusively online RN to BSN program that is accredited by the Commission on Collegiate Nursing Excellence (CCNE). The program's curriculum builds on existing nursing knowledge and uses a cohort model to help students build relationships and network with peers. With multiple start dates and part-time or full-time study options, busy working RNs can find a configuration that suits their needs.
Admissions and Program Length
The flexibility of an RN to BSN program means that students can tailor it to their desired length. Those wanting to complete it quickly can opt for full-time attendance and be done in one year, and those with busy schedules can stretch it out over 18-24 months of part-time study. Most schools have multiple start dates, many that coincide with the Fall and Spring semester start times, although some schools offer the program more frequently.
Tuition and Cost of Attendance
Many RN to BSN programs in Kansas are competitively priced. MidAmerica Nazarene University in Olathe, KS, charges $369 tuition per credit hour for their online and onsite options. This does not include fees or supplies. MidAmerica Nazarene also offers military financial aid benefits as well as a Family Education Discount to employees and family members of partnering companies. Tuition and fees can change year by year so check your school of choice for current figures.
Does an RN to BSN Increase My Salary?
Employers looking to fill highly skilled nursing positions need RNs with a BSN. These positions tend to come with a higher paycheck and can offset the cost of the additional education required. RNs who complete a BSN continuation program also have more opportunities to advance to managerial or other leadership roles in nursing.
RN to BSN Salary Comparison in Kansas
The wage range for a registered nurse in Topeka, KS is between $49,000 and $68,000 annually, according to Payscale. While many factors contribute to this, including experience, location, employment setting, and more, education level is one of the most important factors. Those with a BSN or higher tend to earn at the higher end of the scale than those with just an ADN or diploma.
2021 List of RN to BSN Programs in Kansas
BSN nurses are being sought after to fulfill the aging population of the state, and Kansas is willing to compensate. The compensation that the state offers is quite a substantial increase in yearly salary, the increase equates to almost 50% more than what ADN nurses earn. The hourly pay scale for a BSN nurse is around $30 per hour, whereas an ADN nurse would earn only $20 per hour. Career advancement, leadership roles, being able to pick the opportunities applying to, are all advantages of holding a BSN degree. There are more than 10 RN to BSN degree programs in the state that waiting for you to take this opportunity to advance.
Find RN to BSN Programs By City:
Program
Website

Fort Hays State University

Online

Department of Nursing

600 Park Street

Hays

,

KS

67601-4099

(785) 628-4498

fhsu.edu

Grantham University

Online

School of Nursing

16025 W 113th Street

Lenexa

,

KS

66219

grantham.edu

MidAmerica Nazarene University

Online Campus

School of Nursing and Health Science

2030 East College Way

Olathe

,

KS

66062-1899

(913) 971-3840

mnu.edu

Ottawa University

Online

School of Health and Applied Sciences

1001 S. Cedar St.

Ottawa

,

KS

66067

(913) 266-8607

ottawa.edu

Pittsburg State University

Online

Irene Ransom Bradley School of Nursing

1701 South Broadway Street

Pittsburg

,

KS

66762

(620) 235-4432

academics.pittstate.edu

Southwestern College

Online

Nursing program

2040 South Rock Road

Wichita

,

KS

67207

(316) 684-5335 x203

ps.sckans.edu

Tabor College

Online Campus

Adult & Graduate Programs

7348 West 21st Street, Suite 117

Wichita

,

KS

67205

(316) 729-6333

tabor.edu

University of Kansas Medical Center

Online

School of Nursing

3901 Rainbow Boulevard

Kansas City

,

KS

66160

(913) 588-1692

nursing.kumc.edu

University of Saint Mary

Online

Department of Nursing

4100 South 4th Street

Leavenworth

,

KS

66048

(913) 758-6198

online.stmary.edu

Washburn University

Online

School of Nursing

1700 SW College Ave

Topeka

,

KS

66621

(785) 670-1010

washburn.edu

Wichita State University

Online

School of Nursing

1845 Fairmount St

Wichita

,

KS

67260

(316) 978-5756

wichita.edu
Are we missing your school's program or need to update information listed? Please contact us so we can make the necessary changes.