Indiana RN to BSN Programs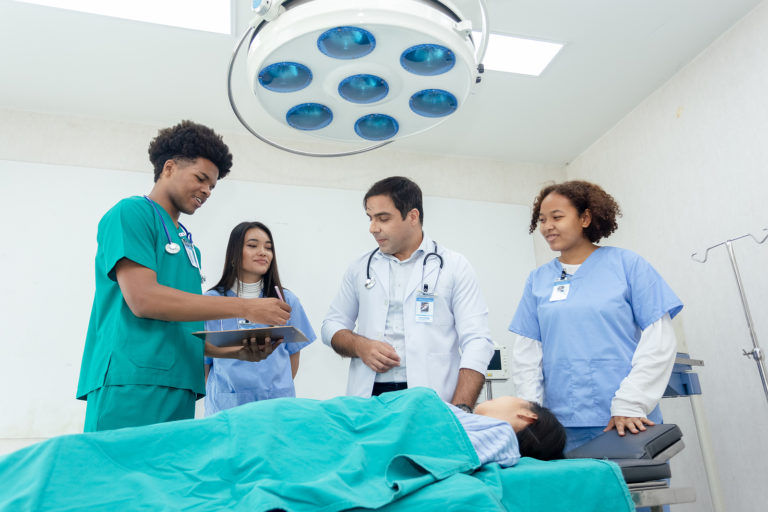 The majority of registered nurses (RNs) in Indiana have a Bachelor's of Science in Nursing (BSN), and the ones who don't are increasingly opting to go back to school to complete this versatile degree. Those wanting more varied nursing career options and higher pay are finding a BSN degree to be a must in the industry, and because of this, many schools are offering an RN to BSN bridge program designed specifically for busy working RNs.
2023 - Best Online RN to BSN Programs in Indiana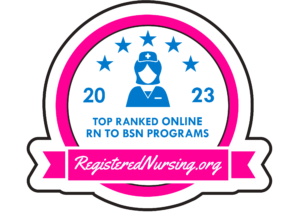 With many healthcare employers requiring BSN degrees these days, many RNs are looking to upgrade their education. Schools are increasingly offering online RN to BSN bridge program options to meet this growing demand. Choosing the right program can make all the difference in a student's success. That's why we have ranked Indiana's top online RN to BSN programs. Take a look at our list below to find the perfect online bridge program, and you'll be on your way to a bachelor's degree in no time.
For more information on our top nursing school rankings, visit our Methodology Page (https://www.registerednursing.org/rankings-methodology/).
Indiana University RN to BSN Degree Completion Consortium
The Indiana University RN to BSN Degree Completion Consortium is comprised of 9 schools throughout the state of Indiana that offers the same online RN to BSN Completion program. The program can be completed fully online in 12, 18, or 24 months (depending on full-time or part-time study), and allows enrollees to complete their coursework anytime, anywhere, and is sensitive to the needs of working students and their employers. The clinical practicum portion of the program is matched to the student's goals and interests for a truly tailored experience. Students apply through a central location at Indiana University's Office of Online Education and are then assigned to one of the 9 campuses (as a home campus), which is closest to their residence for customized academic advising. These campuses include:
Bloomington
Columbus
East
Fort Wayne
Kokomo
Indianapolis
Northwest
South Bend
Southeast
Tuition/fees, general education requirements, and a streamlined admissions process provide a seamless experience for students wishing to obtain a BSN degree from the prestigious Indiana University, which is known for its outstanding nursing programs. The BSN sets the stage for leadership in nursing practice and a solid background for graduate degrees in health care.
Admissions Requirements for Indiana RN to BSN Programs
Due to its popularity, admission into an RN to BSN program can be competitive. It's critical to know your school of choice's requirements and be sure you meet (or better yet, exceed) them. Requirements may include:
RN to BSN Classes & Courses
Along with some general education requirements, students in an RN to BSN program will take nursing courses as well as electives. Indiana State University's program offers the following nursing courses:
NURS 300: Transition to Professional Nursing Practice
NURS 304: Comprehensive Health Assessment for Nursing Practice
NURS 322: Research/Theoretical Basis for Nursing Practice
NURS 444: Community Health Nursing
NURS 486: Professional Nursing Synthesis
Online RN to BSN Programs in Indiana
For students in need of maximum learning flexibility, an online RN to BSN program is the preferred route. These programs offer the same accredited nursing education as their in-person counterparts but allow students to complete courses from home in their own time. Busy, employed RNs tend to appreciate this option as it allows them to complete their degree while continuing to work.
Indiana RN to BSN Degree Completion Consortium
Indiana University offers an RN to BSN online degree completion option out of all nine of their statewide campuses. This program uses web-based and video technologies to make distance education accessible to all enrolled students while allowing Indiana residents to pay in-state tuition. The program aims to match students' experience and career goals with tailored practicums.
Admissions and Program Length
The flexible nature of most RN to BSN programs means that the length of time it takes to earn the degree is highly dependent on how quickly a student gets through the coursework. Some programs can be completed in as little as 12 months once general education requirements are out of the way. However, some students like to stretch this out to 18 or 24 months, depending on how busy their schedules are. Many programs are offered year-round, with Fall, Spring, and even Summer semester start times available.
Tuition and Cost of Attendance
There are many affordable options in the state for both online and in-person RN to BSN programs. For example, tuition for the program at Indiana Wesleyan University is estimated to be approximately $449 per credit hour. This does not include additional fees or extras like textbooks and other course materials. Financial aid is available in the form of grants, loans, scholarships, veterans' benefits, and even employer reimbursement.
Does an RN to BSN Increase My Salary?
As the healthcare industry pushes for higher nursing education for nurses in the workforce, most RNs will be happy to learn that completing an RN to BSN program will lead to a higher salary. Beyond this, it can lead to specialty nursing jobs in hospice care, pediatrics, and more, and it can result in more leadership opportunities.
RN to BSN Salary Comparison in Indiana
Registered nursing wages can vary dramatically. What type of facility you provide nursing care in, what your specialty is, and what city you practice in can all make a difference in salary. As an example, Payscale states that RNs in Indianapolis, IN make between $50,000 and $79,000 annually. Nurses who want to earn toward the top of that range will undoubtedly need to hold a BSN or higher to get there.
2023 List of RN to BSN Programs in Indiana
Indiana BSN nurses can earn around about $30,000 - $35,000 per year more than their ADN counterparts. The degree of a BSN gives candidates more career advancement opportunities that include management/leadership roles, educator positions, specialty-specific opportunities, etc. The advantages of having a degree are worth the time and money spent when you look at the infinite opportunities that can come. There are about 20 programs offered in the state that are looking to provide the opportunity to reach your potential of earning your BSN.
Find RN to BSN Programs By City:
, IN
Evansville, IN
Gary, IN
Goshen, IN
Hammond, IN
Huntington, IN
Indianapolis, IN
Marion, IN
Mishawaka, IN
New Albany, IN
Richmond, IN
South Bend, IN
St Mary of the Woods, IN
Terre Haute, IN
Vincennes, IN
Are we missing your school's program or need to update information listed? Please contact us so we can make the necessary changes.