Michigan RN to BSN Programs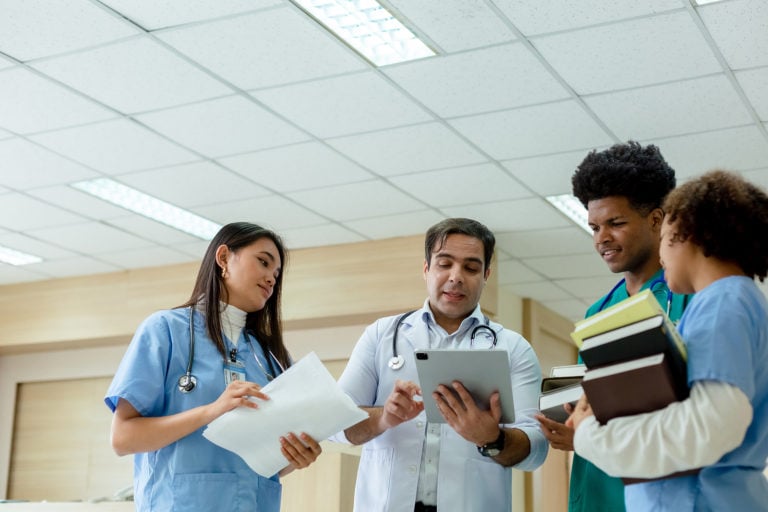 Hospitals and healthcare facilities agree – the wave of the future in nursing care is higher education. Many employers are now requiring at least a Bachelor's of Science in Nursing (BSN) for their registered nurse (RN) hires. Luckily, nurses who hold an Associate's degree are able to continue their education with an RN to BSN program, which is specially designed for just this circumstance. Michigan schools are at the forefront of this trend, with many RN to BSN options available.
2023 Best Online RN to BSN Programs in Michigan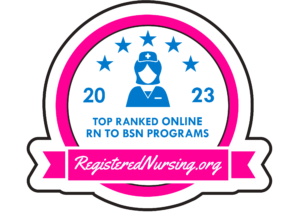 Employment options and salaries for nurses who hold a BSN are continuing to expand. For RNs who hold an ADN or diploma, enrolling in a specialty RN to BSN program is a great way to get a leg up on these opportunities. For those worried about having the time to complete one of these bridge programs, online options make things much easier. We have ranked Michigan's top online RN to BSN programs below to help you on your journey to a more rewarding career.
For more information on our top nursing school rankings, visit our Methodology Page (https://www.registerednursing.org/rankings-methodology/).
Admissions Requirements for Michigan RN to BSN Programs
Admissions requirements between schools in Michigan tend to be similar. The below is a sample of the types of requirements you may be subject to when applying for an RN to BSN program:
Must be a graduate of an ADN or diploma program
Cumulative GPA of 3.0
Hold or receive a current registered nurse license no later than three months after beginning the program
RN to BSN Classes & Courses
Once general education courses are completed, students typically take around 30 core nursing courses to complete their degree. Nursing courses offered as part of the RN to BSN program at Northern Michigan University in Marquette, MI include:
NU 311: Nursing Research and Evidence-Based Practice
NU 352: Advanced Concepts in Family Nursing
NU 355: International Healthcare and Culture
NU 411: Nursing Care of Populations (Theory)
NU 441: Leadership and Management in Nursing (Theory)
Online RN to BSN Programs in Michigan
The flexible, online RN to BSN option has become a sought-after route to earning an advanced nursing degree. These programs have been specifically designed with working RNs in mind and offer courses that students can complete on their own time. The online RN to BSN program typically has the same academic standards and curriculum as in-person programs do.
Admissions and Program Length
Due to the flexibility of most RN to BSN programs, the length can be anywhere from 1 year of full-time study, to 2-3 years of part-time attendance. Most online programs offer non-sequential classes, meaning that they don't need to be taken in any particular order. Classroom programs tend to have start times at the beginning of each semester, while online versions usually offer them more frequently.
Tuition and Cost of Attendance
RN to BSN program costs is based on many factors: online or in-person, full-time or part-time, and more. The tuition cost at Spring Arbor University in Spring Arbor, MI is estimated at around $550 per credit hour. There is also a $40 per semester registration fee and about $100 per semester technology fee. Keep in mind that students are also responsible for any necessary course materials and textbooks. Tuition and fees can change so check your school of choice for current figures
Does an RN to BSN Increase My Salary?
Hospitals and other nursing employers tend to pay a higher salary to RNs who hold more advanced degrees. RNs with a BSN are also eligible for promotions, management positions, and other upwardly mobile opportunities. Depending on what part of the state you live in and who your employer is, you may stand to make significantly more once you complete your BSN degree.
RN to BSN Salary Comparison in Michigan
Registered nurse wages fluctuate based on things like experience, place of employment, location in Michigan, and of course, education level. Payscale reports that a registered nurse in Grand Rapids, Michigan makes between approximately $55,000 and $76,000 annually. An RN to BSN completion program will get ambitious nurses much closer to the top of the range.
2023 List of RN to BSN Programs in Michigan
With the standard of nursing care changing, the state of Michigan is calling on nurses, whether pre-service or already established in the field, to achieve a higher standard of education. There are more than 15 colleges within the state that offer RN to BSN degree programs that can help nurses accomplish the state goal of raising the bar of nursing care. BSN nurses can expect to earn more than $15,000 more annually and can look at more readily available job opportunities. As a BSN educated nurse, you could find opportunities in specialty units, supervisor roles, government or insurance organizations, and more; with more education and skills there come a variety of opportunities.
Find RN to BSN Programs By City:
Adrian, MI
Allendale, MI
Big Rapids, MI
Detroit, MI
East Lansing, MI
Flint, MI
Grand Rapids, MI
Hancock, MI
Kalamazoo, MI
Livonia, MI
Rochester, MI
Spring Arbor, MI
University Center, MI
Ypsilanti, MI
Are we missing your school's program or need to update information listed? Please contact us so we can make the necessary changes.