Nursing Programs in Grand Rapids, MI
Full of small-town charm and Midwestern friendliness with all the amenities of a bustling metropolitan area, Grand Rapids is consistently ranked among the best places to live and work in the U.S. The healthcare industry in Grand Rapids is expanding to meet the needs of the second-largest metropolitan area in Michigan. In fact, the largest employer in Grand Rapids is Spectrum Health, made up of hospitals, treatment facilities, clinics and urgent care facilities that provide healthcare to residents across Western Michigan. Registered nurses in Grand Rapids earn an average annual salary of around $60,000 according to Payscale.com data, with a range of $49,000 to $82,000. If you're ready to dive into a secure, steady-paying career as a nurse, Grand Rapids has a number of training program options to consider.
To get started in nursing or to advance your nursing career, check out our accredited program listings sections below: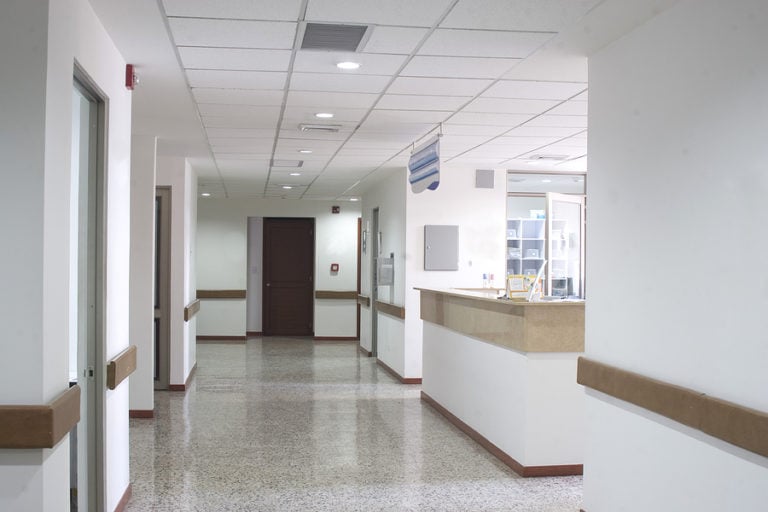 Entry-Level ADN & BSN Programs in Grand Rapids, MI
If you are ready to take the leap into a career in nursing an entry-level LPN to RN, ADN or BSN program makes it easy to get started. These programs will all prepare you for the state licensing exam and for your first job as a registered nurse, and many have few entrance requirements beyond a high school diploma or GED.
LPN to RN Programs
On the front lines of patient care, Licensed Practical Nurses are experienced at providing patients in nursing homes and long-term care facilities with the support and basic care they need. For many LPNs, an LPN to RN program provides a cost-effective pathway to an associate's degree. In many cases, credit is given for prior nursing coursework, saving students time and money on their journey to an RN license. Grand Rapids Community College offers an Advanced Standing in the Associate's Degree in Nursing program for LPNs with professional experience. This program allows LPNs to earn their ADN and become prepared for the NCLEX exam in two and a half semesters instead of four for the traditional ADN program.
ADN Programs
For recent high school graduates and those new to the nursing field, an ADN program will prepare you for a career as a nurse in a variety of healthcare settings. These programs are available at a number of community colleges and vocational schools, including Kalamazoo Valley Community College. Upon graduation from an ADN program, students must pass the NCLEX exam in order to qualify for an RN license and to be hired as a professional nurse. Kalamazoo Valley Community's ADN program includes two semesters of prerequisite course work and four semesters of nursing courses.
Direct-Entry BSN Programs
Increasingly, top hospitals and healthcare employers prefer hiring nurses who hold a bachelor's degree or higher. Studies have shown that bachelor's prepared nurses improve patient outcomes and make fewer errors, in part due to the additional training hours these nurses receive inpatient care, leadership, and evidence-based practice. The CCNE-accredited BSN program at Davenport University offers an Employment Guarantee to its graduates - if graduates of its nursing program do not find employment within 6 months they may be eligible for additional education benefits from the school including free tuition on additional courses.
Find out more about Michigan Accelerated BSN Programs.
Grand Rapids RN Program NCLEX-RN Pass Rates
Top Ranked Accredited Nursing Programs in Grand Rapids
Listed below are the top nursing schools in Grand Rapids based on our RegisteredNursing.org RN program rankings for Michigan out of 59 other accredited programs offered in the state:
Calvin College - #11
Grand Rapids Community College - #20
Grand Valley State University - #17
Hope College - #2
RN to BSN/MSN Programs in Grand Rapids, MI
A BSN or MSN degree can give you a competitive edge when applying for top nursing jobs in the Grand Rapids area and beyond. The investment in completing a higher degree will pay dividends in higher wages and the freedom of additional job opportunities. Some schools provide RN to BSN or MSN programs that are specially designed to help nurses with their associate's degree or diploma earn a higher degree quickly and easily.
RN to BSN Programs
For nurses who are nervous about juggling work responsibilities with coursework, many schools offer distance learning and hybrid formats that make it possible to earn a degree while continuing to work. The RN to BSN program at Grand Valley State University offers courses in a hybrid format – a combination of online and onsite classes taught approximately once per month at the downtown Grand Rapids Pew Campus.
Find out more about Michigan RN to BSN Programs.
RN to MSN Programs
For those nurses looking to go beyond the BSN to earn an advanced practice nursing degree, some schools offer RN to MSN programs in which students earn their BSN and then MSN degrees on an accelerated basis. Taking into account prior nursing experience and courses, these bridge programs provide a streamlined path to an APRN degree. The RN to MSN program at Ferris State University combines their RN to BSN program and their traditional MSN program to provide students with all the necessary coursework to complete both the BSN and MSN degrees.
Find out more about Michigan RN to MSN Programs.
APRN & Nurse Practitioner Programs in Grand Rapids, MI
Nurses with advanced degrees can go beyond routine nursing duties to diagnose illnesses, prepare care plans and serve as primary healthcare providers for a number of patient groups. The leadership responsibilities required of these positions come with high salaries too. Nurse practitioners in the Grand Rapids area earn an average annual salary of $105,000 according to Salary.com, making this a rewarding career personally and financially. APRN programs in Grand Rapids are designed for nurses with their BSN degrees and several years of professional nursing experience.
MSN Programs
Beyond typical RN duties, APRN nurses with their master's degrees take on nursing leadership positions, educator roles, and make substantial improvements in patient care standards and practices within their organizations. The MSN program at Grand Valley State University prepares nurses as advanced generalists. The curriculum consists of 44 credits and can be completed in 6 semesters.
Find out more about Michigan Nurse Practitioner Programs.
Post-Master's Certificate Programs
Post-graduate certificate programs are designed for nurses with their master's degrees to learn a new advanced practice specialty and move into a new career path. For instance, Davenport University offers post-master's certificate programs in the nurse educator and family nurse practitioner roles, preparing students for specialized APRN careers after completion of 28-36 credits.
Find out more about Michigan Post-Master's Certificate Programs.
DNP Programs
Grand Valley State University offers a Doctor of Nursing Practice program for students seeking a terminal degree in nursing. With coursework in applied statistics, informatics, innovation and technologies, evidence-based practice, healthcare policy and working with vulnerable populations, the DNP program prepares nurses for careers in advanced nursing practice and health systems leadership.
Find out more about Michigan DNP Programs.