Nevada RN to BSN Programs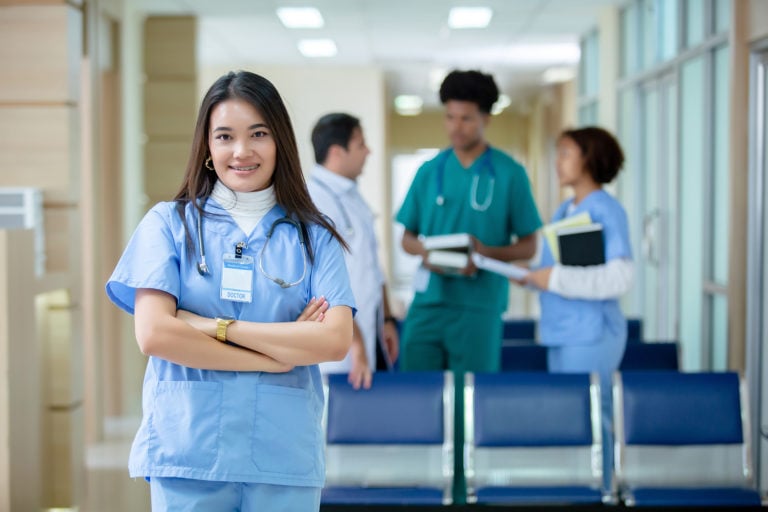 Nurses are a critical part of our healthcare system. Registered nurses work in collaboration with doctors and other health care providers and with them, determine and carry out treatment plans for our population, from infants to seniors. With superior organizational and communication skills, today's nurses are ready for work in modern healthcare sites.
2023 List of RN to BSN Programs in Nevada
The new minimum standard for nursing is changing to that of a nurse with a Bachelor's of Science in Nursing or greater. Nevada has several RN to BSN programs offered within the state and is actively recruiting candidates. Graduates from these programs have reported annual incomes that are approximately $90,000 per year and benefit from more rapidly advancing careers. These same graduates have found that with a degree you can take the more complex skills and apply it to job opportunities such as public health sector, unit specialties, and clinic supervisor positions. Take health care to the next level by graduating with your degree in nursing.
Find RN to BSN Programs By City:
Elko, NV
Henderson, NV
Reno, NV
Are we missing your school's program or need to update information listed? Please contact us so we can make the necessary changes.
Admissions Requirements for Nevada RN to BSN Programs
A short time ago, there were only a few RN to BSN (Bachelor of Science in Nursing) programs offered on-campus or online throughout the country. Since massive industry change, there are an array of schools to choose from. Some of the most common admissions requirements are listed below.
Obtain an official letter of acceptance from your chosen university to start the process
Provide original or official copies of your continuing education credits, ADN transcript, and high school transcript if applicable
Cumulative GPA of 2.5
Provide original up to date photo identification
Be able to practice as a registered nurse with no encumbrances in the state
Submit to a health background check, which may include an up-to-date vaccination roster
RN to BSN Classes & Courses
Even online, the RN to BSN programs have a robust mix of theory and practical courses. For example, at the University of Nevada, Reno, the Orvis School of Nursing outlines upper-division nursing courses in their RN to BSN program in order to ensure that BSN candidates receive enough theoretical hours in relevant disciplines of the field:
NURS 418R: Nursing Research Methods
NURS 435R: Community & Population Health: Theory, and
NURS 438R: Community & Population Health: Practice
Online RN to BSN Programs in Nevada
There is a growing demand for RNs with Bachelor of Science in Nursing degrees. In addition to industry demand, BSN-prepared RNs usually earn more money and are better positioned to continue with their professional development. As the health care environment evolves, nurses are responsible for an increasing array of tasks that a BSN helps prepare them for. Completing your degree through an online program offered through many of the state's universities will help.
Admissions and Program Length
Touro's RN to BSN program is accredited by the Commission on Collegiate Nursing Education (CCNE) and is offered online full-time only; if you opt to take a semester off, be aware that you must complete your degree within a three-year time frame. The program has three entry dates and courses are offered only one time per year with clinical blocks at intervals. Touro's faculty evaluates transfer credits on a case-by-case basis.
Tuition and Cost of Attendance
Costs at TUN are about $15000 for courses and university fees. Materials and equipment are not included in this figure, nor are housing and food costs, as students will not be present on campus.
Does an RN to BSN Increase My Salary?
Completing the RN to BSN program makes a number of nursing roles more attainable. Employers are looking for candidates with more knowledge and flexibility in their career path, which makes BSN graduates good candidates for positions such as home care nursing specialist, recruiter, or dialysis staff nurse.
RN to BSN Salary Comparison in Nevada
Nevada RNs make an annual salary that ranges from about $47,000 to over $82,000. While no data is directly collected about the differences in salary that an ADN versus a BSN might net you, we can infer that if ADN credentials are considered 'entry-level', then a salary of $66,000 is likely – which is the average for Nevada registered nurses. It is likely that with the extended scope, practice, and mobility offered with a BSN degree, the starting wage for a BSN graduate could be as much as $10,000 higher per year.