Vermont RN to BSN Programs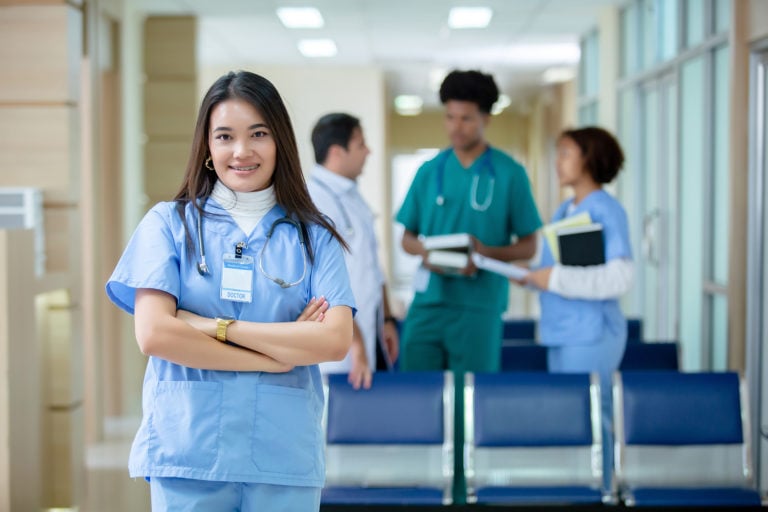 Adept at exhibiting cultural competency in the healthcare field while working with the sick and vulnerable in a variety of venues, nurses are often regarded as marvelous and efficient caregivers of patients. However, as our healthcare system undergoes radical change, the role of nursing is changing too – nurses should look into options like pursuing an RN to BSN program in order to be ready to meet the challenges in tomorrow's healthcare system.
2023 List of RN to BSN Programs in Vermont
Nursing Educator, Clinical Manager, or Public Health Nurse are all professional titles you can aspire to if you were to obtain your Bachelor's of Science in Nursing through any of the 5 RN to BSN programs offered over the state. Achieving a BSN allows candidates the opportunity to obtain the qualifications and credentials needed to move forward in a nursing career at a more rapid pace. Those credentials and qualifications are what warrant an almost $9,000 yearly difference in salaries over an ADN nurse. Earning your degree could earn you job security and open doors to furthering your career potential.
Find RN to BSN Programs By City:
Burlington, VT
Castleton, VT
Randolph Center, VT
Are we missing your school's program or need to update information listed? Please contact us so we can make the necessary changes.
Admissions Requirements for Vermont RN to BSN Programs
University entry for an RN to BSN program of your choice is not much different from an associate's degree – however, there is some difference from institution to institution. In order to help you determine documents and timelines, we've included the most common criteria below:
Complete and submit an online application that adheres to processing and admission deadlines
Maintain a GPA of 2.85 or higher
Possess an ADN degree from a regionally accredited college
Provide a list of immunizations – up to date
Have a clear background check
Provide RN licensure data – ensure that license is current and unencumbered
RN to BSN Classes & Courses
Despite sweeping changes in the healthcare profession, nurses remain focused on the physical emotional, and mental aspects of patient care. The nursing faculty at Vermont Technical College works to ensure that students can collaborate with patients on the interdisciplinary team and engage in evidence-based processes in healthcare. The ACEN-accredited curriculum includes the following course topics:
Leadership in Professional Nursing
Research-Based Nursing
Community Health Outcomes
Aging Populations in Nursing Care
Online RN to BSN Programs in Vermont
The state of Vermont has some online RN to BSN programs that are open to licensed practicing nurses. All are accredited through the American Association of Colleges of Nursing in order to assure patients that the standard of care will remain high even as our system sweeps change. Given the few programs that are available throughout the state, competition is stiff for entry to the RN to BSN track, which is something that nurses should bear in mind.
Admissions and Program Length
Castleton University's RN to BSN program allows licensed nurses to complete coursework leading to a Bachelor of Science in nursing. Offered flexibly both online and in class, students will complete degree requirements totaling 122 credits in order to graduate with a BSN. Each student's portfolio is evaluated individually, which means that the time frame and number of credits to graduate may vary from student to student. All students who wish to enter the program must be able to practice nursing within the state and remain licensed for the duration of the program.
Tuition and Cost of Attendance
The University of Vermont allows nurses to enhance their knowledge and skillset through the completion of the universities RN to BSN program. Nurses have access to individual academic counseling and are able to access the university tuition payment plan, which means that affordability is a key metric for the university. Accredited by the Commission on Collegiate Nursing Education, most nurses complete their degree within three years. Students are subject to a per-credit fee of about $650; part-time students are also assessed for fees pertaining to student government and facilities expenses.
Does an RN to BSN Increase My Salary?
As compared to ADN-prepared RNs, BSN holders are considered eligible for the majority of posted nursing jobs. With the likelihood, that a BSN degree might be the base level of education required to be a nurse in the future, there's no time like the present to upgrade qualifications. Completing your Bachelor of Science in Nursing degree means you are more likely to land a job as a mental health nurse, a critical care nurse, or a unit manager among other roles.
RN to BSN Salary Comparison in Vermont
While the Bureau of Labor Statistics does not directly collect data between RNs with an ADN diploma and those with a BSN diploma, we can make some guesses about salary ranges by looking at their data. The entry-level for nurses in the state is about $47,000 per year; however, the average salary for nurses in the state is about $63,000 per year. It follows that nurses with a BSN degree are able to start at a higher wage, which continues to climb throughout the years. Nurses with a BSN are ideally positioned to continue to increase their credentials to the master's or doctorate level and end up at almost $100,000 per year.