Nursing Programs in Cincinnati, OH
Those looking for a promising and rewarding healthcare career path are turning to registered nursing. With high demand and plenty of growth potential, the RN job market is projected to remain hot. The Cincinnati area boasts schools with programs for both beginners and experienced RNs alike.
To get started in nursing or to advance your nursing career, check out our accredited program listings sections below: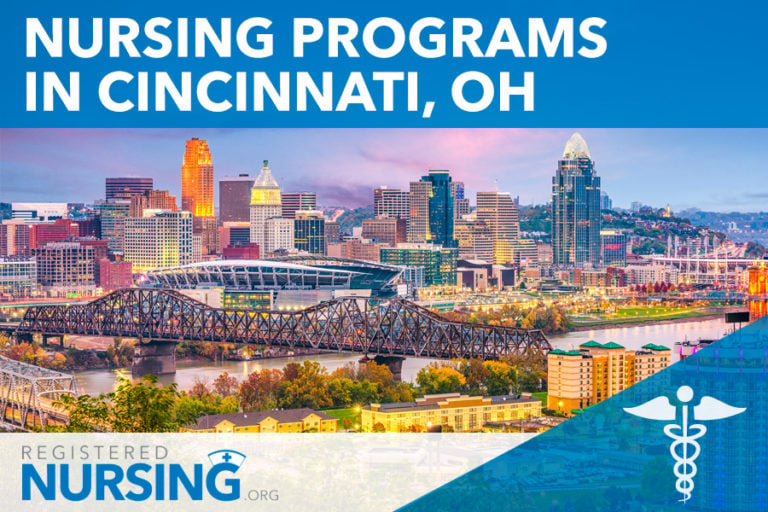 Entry Level ADN, BSN, & MSN Programs in Cincinnati, OH
Entry-level nursing programs are designed for those who have no prior registered nursing experience. High school graduates or those looking to make a career change can opt for programs such as the Associate's Degree in Nursing (ADN), the Bachelor of Science in Nursing (BSN), or even an accelerated Master's of Science in Nursing (MSN).
LPN to RN Programs
Licensed practical nurses have already gained knowledge in providing basic patient care as part of their LPN coursework and work experience. For LPNs who want to become RNs to earn higher salaries and take on a larger role in patient care, an LPN to RN bridge program provides an accelerated pathway to RN licensure. The LPN to RN program at Cincinnati State lets students enter the nursing course sequence at the third level, taking the bridge and transition courses that verify basic nursing skills and also cover pediatric nursing skills and related clinical experiences. After completing their first semester of coursework, students in the LPN to RN program can apply for advanced standing in the program that further accelerates the timeframe to completion of the Associate's Degree in Nursing.
ADN Programs
The ADN degree pathway is considered the most basic of RN degrees. After just two years of study, students are ready to work with patients in various healthcare settings. Cincinnati State, for example, offers an associate's degree where students take courses such as Anatomy & Physiology, Nursing Concepts, and Microbiology. ADN programs are commonly found at community colleges and technical schools.
Direct-Entry BSN Programs
With an increasing number of hospitals and other employers requiring or favoring a 4-year nursing degree, the traditional BSN is a go-to choice for aspiring RNs. Miami University offers a pre-licensure BSN program aimed at preparing students to care for patients from diverse populations. Courses taken include Therapeutic Communication in Nursing, Nursing Research, and more.
Find out more about Ohio Accelerated BSN Programs.
Direct-Entry MSN Programs
These unique graduate nursing programs allow those without RN licenses a direct pathway to an advanced nursing degree. This is an ideal opportunity for those who know they want to practice at high levels. Mount St. Joseph University, for example, offers what they call an MSN-MAGELIN (Master's Graduate Entry Level into Nursing). This program is designed for those who hold a bachelor's degree in a non-nursing field.
Find out more about Ohio Accelerated MSN Programs.
Cincinnati RN Program NCLEX-RN Pass Rates
Top Ranked Accredited Nursing Programs in Cincinnati
Listed below are the top nursing schools in Cincinnati based on our RegisteredNursing.org RN program rankings for Ohio out of 95 other accredited programs offered in the state:
Galen College of Nursing - #7
RN to BSN/MSN Programs in Cincinnati, OH
For RNs who hold an ADN or diploma, an RN to BSN or RN to MSN bridge program can advance their career opportunities in an accelerated format. These programs give enrolled students credit for the courses they have already completed, making them shorter and more cost-effective.
RN to BSN Programs
The RN to BSN pathway allows registered nurses to earn a bachelor's degree in nursing in just about 2 years. In the Cincinnati area, Good Samaritan College of Nursing and Health Science offers an RN to BSN with a total of 48 credit hours for completion. The curriculum includes courses in healthy aging, statistics, and continuity of care.
Learn more about Ohio RN to BSN Programs.
RN to MSN Programs
Like its RN to BSN counterpart, the RN to MSN program allows RNs to earn a master's degree in nursing, increasing a nurse's earning potential exponentially. Xavier University, for example, offers an RN to MSN to students who do not hold a bachelor's degree. It requires 36 credit hours and is delivered in an 8-week course structure.
Learn more about Ohio RN to MSN Programs.
APRN & Nurse Practitioner Programs in Cincinnati, OH
For those committed to obtaining the highest nurse practitioner positions, an advanced degree is required. In and around Cincinnati, the Master's of Science in Nursing (MSN) and Doctor of Nursing Practice (DNP) pathways are all possibilities.
MSN Programs
The traditional MSN degree can be completed in roughly 2 years once a BSN has been obtained. A number of advanced specialties are available as part of the MSN curriculum. For example, Xavier University offers an MSN degree with specialization tracks including Administration, Clinical Nurse Leader, Informatics, Family Nurse Practitioner, and more.
Learn more about Ohio Nurse Practitioner Programs.
DNP Programs
Doctoral nursing program are the highest degrees that RNs can earn. Focusing on clinical practice, these programs can propel nurses to advanced positions in a variety of areas. The University of Cincinnati offers a BSN to DNP program in a variety of specialties, including Nurse Anesthesia, Psychiatric-Mental Health Nurse Practitioner, and many more.
Learn more about Ohio DNP Programs.