DNP Programs in Ohio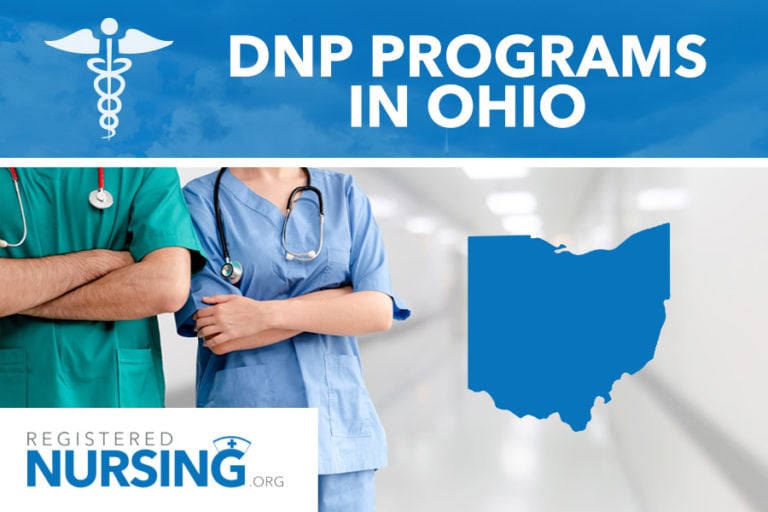 The Doctor of Nursing Practice (DNP) is the most superior form of advanced degree for clinical nursing practice. Nurses that graduate from a DNP program with an executive leadership track have several options ranging from clinical leadership to hospital administration.
In the state of Ohio, a post-master's DNP program will usually range between 28 and 38 credit hours, depending on the track selected. BSN to DNP students are expected to complete 65 to 72 unit hours with clinical hours devoted to precepted NP practice and mentored hours where the student develops,7 implements, evaluates, and disseminates their project.
The competencies that DNP students will have mastered include the following:
Information systems/technology and patient care technology for the improvement and transformation of health care
Advanced pharmacology
Health care policy for advocacy in health care
Inter-professional collaboration for improving patient and population health outcomes
Advanced health and physical assessment
Population-specific studies
Advanced physiology and pathophysiology
Advanced quantitative research methods and evidence-based practice
Evaluate and influence health care policy and systems
Appraise and utilize current technologies to advance the quality and accessibility of care
Evaluate systems responses to health and illness as a basis for the promotion, restoration, and maintenance of health and functional abilities and the prevention of illness
Choosing a DNP Program
Keeping a few things in mind can make finding the right DNP program in Ohio a breeze.
What to Consider When Choosing a DNP Program
Program Cost—Tuition for DNP programs in the state of Ohio vary from institution to institution. If you are a resident of the state, expect to pay anywhere between $421 to $703 per unit hour. If you're a non-resident, depending on whether you decide on attending at public or private university, you will probably pay between $726 and $1,400 per unit hour.
Online/Campus Options— Of the 10 universities offering DNP programs in the state of Ohio, 9 of them offer students BSN to DNP pathways:

Case Western Reserve University: Students can opt to come to the intensive on-campus classes during three sessions (January, May, and August), take online courses, or attend cohort off-site classes with a partner institution of the university
Kent State University: The post-MSN to DNP program can be taken completely online
Mount St. Joseph University: Students typically take two, concurrent 10-week courses each semester and meet on campus only twice per semester for each course. The remainder of the course is completed online.
Ohio State University: Students have the option of completing all their coursework online. However, BSN to DNP students as well as students pursuing an additional post-master's specialization may be required to attend additional on-campus classes
Otterbein University: The program is offered online with only one or two on-campus meetings each semester.
University of Akron: The university's DNP program is delivered in a hybrid format, with online learning modalities supported by intensive face-to-face sessions.
University of Cincinnati: Students are required to attend on-campus sessions only one week each semester, with the remainder of the course requirements completed online
University of Toledo: Available online
Walsh University: Offers its DNP program completely online
Accreditation— DNP programs in the state of Ohio are accredited by the Commission on Nursing Education (CCNE).
Residency Options—
Admission & State Licensing or Certification Requirements
Admission
Admission to the DNP programs in Ohio will inevitably vary between schools; however, nursing students may be required to:
MSN from a CCNE or NLNAC accredited program
Minimum GPA of 3.0 on a 4.0 scale
Official transcripts from all previous academic institutions attended
Have a current, unencumbered RN or APRN license
Maintain certification as an APRN (for MSN applicants)
Complete a basic health assessment and statistics course (for BSN applicants)
Interview with faculty
Submit GRE scores
Submit a resume/CV
Certification
Ohio DNP programs allow graduates to sit for state board certification upon completion of programs. DNP tracks offered at universities in Ohio allow students to become certified in the vast majority of advanced practice nursing specialties.
Licensing
In Ohio, nursing students who've completed the DNP track, they will need to be licensed by the Ohio State Board of Nursing. Requirements for licensure include:
Completing an application
Passing a background check
Providing transcripts from all educational institutions
Submitting verification of specialty certification
Completing fingerprinting
Ohio BSN to DNP Program Options
Of the 10 universities offering DNP programs in the state of Ohio, 5 of them offer students BSN to DNP pathways:
Case Western Reserve University: Offers both BSN to DNP and post-masters DNP programs
Kent State University at Kent: Offers a Doctor of Nursing Practice degree with two entry points; post-MSN to DNP and post-BSN to DNP
Ohio State University: Main Campus offers both BSN to DNP and post-masters DNP programs
University of Cincinnati: Offers both BSN to DNP and post-masters DNP programs
University of Toledo: Offers both BSN to DNP and post-masters DNP pathways
Related Education Paths
Helpful DNP Agencies and Organizations in Ohio
List of Campus and Online DNP Programs in Ohio
Akron, OH
Athens, OH
Cincinnati, OH
Cleveland, OH
Columbus, OH
Dayton, OH
Kent, OH
Pepper Pike, OH
Toledo, OH
Westerville, OH
Are we missing your school's program or need to update information listed? Please contact us so we can make the necessary changes.
Find DNP Programs By City: